Millersylvania State Park, an 842-acre area in south-central Thurston County, is one of the county's greatest parks. Consisting of Deep Lake and its surrounding wetlands and woods, the state park was originally created by a generous land donation from the Miller family. The park gained much of its current appearance and character during the Great Depression through the hard work of the Civilian Conservation Corps (CCC).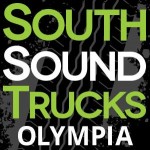 The area around Deep Lake was home to Native Americans for thousands of years. In the 1850s, American settlers claimed farms in the area. In 1882, the Miller family, consisting of John Leonard Miller, his wife, Anna Barbara, and their adult children, Frederick Jacob Xenophen, Christina Mary, and Matilda Sophia, bought land from an earlier homesteader. That, along with adjacent land they later purchased, forms the core of the current state park.
John and Anna Miller were most likely farmers from the German province of Bavaria, but a local legend developed about their origins. According to this tale, John had been a member of Emperor Franz Joseph I of Austria's personal bodyguard who had fled after an attempted revolt and whose true love Princess Anna gave up court life to join him in exile. Sadly, while this legend makes a good story, it has no basis in fact.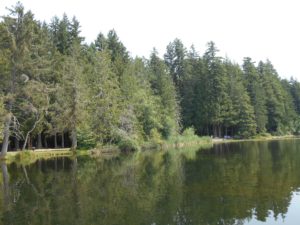 After his father's death, Frederick, who loved nature, established a will donating the family's land to the state for a park. However, he had several stipulations. He insisted that the park be named "Millersylvania Park," which literally means "Miller-Forest Land Park." He also insisted that only dead or downed trees could be removed from the park, thus banning logging. After the death of his youngest sister in 1923, the land passed to the state but remained undeveloped until 1933.
What changed things was the Civilian Conservation Corps. Formed as one of President Franklin D. Roosevelt's New Deal public work relief programs, the CCC (1933 – 1942) enrolled unemployed single men aged 17 – 28 from families receiving government financial assistance. Over its nine year span, three million men from around the country participated in the program. The CCC accomplished a wide array of conservation projects, working to both develop and protect America's natural resources. Washington State had 187 CCC camps, mostly dedicated to reforestation and fire control. These included 11 state parks which had most their buildings built by the CCC during this period. Millersylvania is one of those parks.
Initially, "Camp Millersylvania" was manned by CCC Company 1232. This group consisted of 200 men from New York and New Jersey. Enrollees lived in four bunkhouses just north of the current main administrative complex for Washington State Parks' Southwest Region. The camp had its own laundry and mess hall along with classrooms and a library in the former Miller home. They formed camp orchestras and sports teams. The camp even had its own paper, the "Millersylvania Grapevine."
The most visible signs of CCC work at Millersylvania are the beautiful buildings they created, although the group also graded roads and built trails. In completing the park, the CCC constructed an entrance arch, perimeter fence, caretaker's cabin, ranger's cabin, manager's office, main office building, engineer's office building, conference room building, and storage building. For park visitors, they constructed two "comfort stations" (bathrooms), four kitchens, two bathhouses, several stone drinking fountains, stone steps near Deep Lake, fire rings, horseshoe pits, outdoor furniture, parking areas, and campsites. They also set up four miles of trails and the swimming area still used today.
CCC architecture successfully blended into the natural landscape, and most of these buildings survive. These quality structures, created in either the National Park Service Rustic or Bungalow/Craftsman styles, have lasted decades. Almost all construction work was done with very simple hand tools. Door hinges and handles were forged in the camp blacksmith shop. The CCC workers were very creative. For example, the community kitchen building was first framed upside down and turned over to its finished position.
The CCC left Millersylvania in 1939. Since that time, the park has grown with the acquisition of other land adjacent to the original holdings. In 1939, the park acquired the former H. P. Taylor homestead site at the west end of Deep Lake. That area now forms the Environmental Learning Center.
Over the years, Millersylvania Park has hosted swimming classes, fraternal and veteran organization picnics, and countless private parties and visitors. Today, visitors can buy an annual Discover Pass that allows unlimited access to all of Washington's State Parks. Millersylvania offers camping, picnic facilities, hiking and bike trails, swimming, boating, interpretive activities, and wildlife viewing. Fishing is allowed during certain months.
Whatever you choose to do, a visit to Millersylvania State Park is always rewarding. By developing Millersylvania State Park, the CCC left a legacy for the people of Washington to enjoy today and in the years to come.
Thrifty Thurston highlights inexpensive family fun in Thurston County. The weekly series focuses on family-friendly activities throughout our community. If you have a suggestion for a post, send us a note at submit@thurstontalk.com. For more events and to learn what's happening in Olympia, Lacey, Tumwater and the surrounding area, visit our complete event calendar.