Yelm High School girls' wrestling coach Amy Earley rarely takes the time to add up potential team scoring scenarios while her squad is competing at a tournament.

She leaves that up to her wrestlers.
"They're always telling me how scores could line up and I'm always saying, 'We just have to take it one match at a time,'" Earley said. "I want to wait until everything is over, but they're always looking ahead and figuring out the points."
This certainly was the case at the Mat Classic as before the official announcement was even made the Tornados already had done all the math. They knew Yelm was headed towards its first state championship.
The Tornados advanced a school-record six wrestlers to the state championships. All six placed, including three who advanced to the finals, as Yelm edged Federal Way to capture the state girls' wrestling championship at the Tacoma Dome on February 18.
"It is very much a team atmosphere here," Earley said. "This group of girls just love to win tournaments and that's not always the case with a team, but I think that's what makes them special."
Yelm finished with 97 points. Federal Way, which defeated the Tornados the previous week to claim the team title at the regional tournament, registered 91 points, while Othello finished third, tallying 72 points.
"I call them my magical team because it took all of them to get the points to be able to get us this title," Earley said. "We brought six and we placed six. I knew the six we got through are the ones who are typically on the top, finishing first or second at most tournaments we've been at this year. So I felt pretty good coming into it that if everyone made it to Saturday we could make a run for it."
Sophomore Phoenix Dubose (115 pounds), freshman Carly Smith (125) and senior Ariana Zemke (145) all notched second-place finishes.
Prior to this season, Yelm had only advanced two wrestlers all-time to the championship finals. Danielle Curlis won the 125-pound crown in 2008 and remains the program's lone state titlist. Shanelle Berry, runner-up in the 235-pound division in 2014, was the only other Tornado female to wrestle in a state championship match prior to the team's strong performance this year.
The Tornados also received a fifth place from freshman Brooklyn Cutler (115), a seventh from senior Jasmine Welch (170) and an eighth from junior Chelsey Rochester (135).
Yelm's previous best team finish came in 2008 when the Tornados finished third overall. The team's only other state placing occurred in 2010 when they came in eighth place.
Dubose, who was also a state placer last year as a freshman, lost in her finals to Davis junior Cameron Guerin, a three-time state champion who has yet to be defeated during her high school career, by pin (1:45).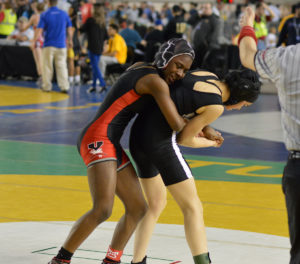 Dubose's championship appearance came on the heels of her thrilling, 9-8, semifinal victory over Ephrata's Mya Spencer. In the match, Dubose trailed late in the third period, before scoring a two-point takedown with 10 seconds remaining to pick up the victory.
Smith notched pins in her first two victories before handing Naches Valley's Kaylee Moore, a state runner-up last year, a 10-6 loss in the semifinals.
Smith's run towards the state title came to an end in the finals where she lost to Mount Vernon senior Brenda Reyna, a two-time state champion, 11-1.
"I would have loved to have had Carly be a four-time state champ," Earley said, "but Brenda is very good. That girl is a national champ. Several coaches came up to me afterwards and told me they had never seen Reyna scared, and Carly got her scared. So credit to Carly for making her earn that state title. Hopefully, Carly can walk away from that knowing she might not have won, but she wrestled like a champ. I have no doubts she'll get three state titles after this."
Zemke scored three consecutive pinfall victories before losing to Wilson's Flor Parker-Borrero, a three-time state champion.
"We're graduating Jasmine and Ariana, but as far as the rest of the group goes, they're young," Earley said. "A couple years ago we started bringing our middle school girls up to practice with us. Now I have these freshmen out here kicking butt and I think that's because they're in the room with us. We have a tough group of girls coming up again next year. So that's exciting."