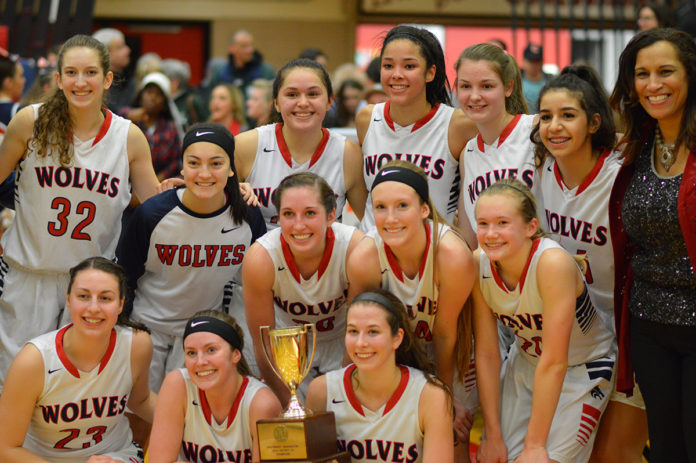 With a lineup that features Emma Duff, Lindsey Nurmi and Maisy Williams, the Black Hills girls' basketball team is not lacking in offensive firepower this season.

However, the Wolves can point directly to their defense as the reason why they are now the two-time 2A Southwest District 4 champions.
Top-ranked Black Hills overcame a rare off-night offensively and put the defensive clamp on 2A Evergreen Conference rivals W.F. West to win the district title for a second consecutive year with a 36-33 victory over the Bearcats at Saint Martin's University's Marcus Pavilion.
It marks the 18th consecutive victory for the Wolves (21-1) and the third straight win over W.F. West this season.
"Those are all hard things to achieve and every time I think this team has reached their potential they go past that," Black Hills coach Tanya Greenfield said. "It's hard to win twice in a row against this team. Everyone who stepped on the floor tonight did their job. I thought we made some mistake at the end, but we were able to be in a position to win by getting defensive stops. It was a battle."
Williams paced the Wolves' offense with 10 points and 11 rebounds, while Nurmi scored 9 points.
With Duff, the EvCo MVP, struggling to find her shot, Black Hills received four huge 3-pointers in the second half, two from senior wing Rachel LaBelle.
"Obviously, this wasn't the prettiest game, but we will take it," Duff said. "I was struggling out there on offense and having other players like Rachel come in and hit some clutch 3s is a really good sign for this team heading into state. Everyone contributed tonight."
The Wolves will take its top ranking into the regional round of the state tournament this week.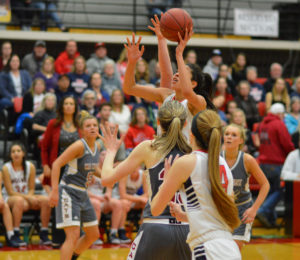 They return to the scene of their district triumph on February 25 when they face eighth-seeded Archbishop Murphy, champions of the Cascade League, at Saint Martin's. Tipoff is scheduled for 2:30 p.m. The Wildcats bring an 18-3 record and a 13-game winning streak into the contest.
Regardless of the outcome against Archbishop Murphy, Black Hills, which finished sixth at the state tournament in 2016, is already assured a berth in the competitions at the Yakima SunDome.
A victory at regionals sends the Wolves directly to the state quarterfinals on March 2, while a loss places them in a loser-out game on March 1.
In the district championship game, Black Hills raced out to a 9-0 lead after the first quarter, but saw their advantage dwindle to a single field goal at the intermission when the team took a slim 18-16 lead into the locker room.
The Bearcats took the lead midway through the third quarter as the Wolves' offense was shutout through the first 5 minutes of the second half and W.F. West enjoyed its largest lead of the game at five points before the Wolves started hitting from long range.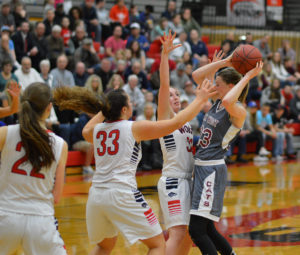 LaBelle hit two 3s, while Nurmi and freshman Megan River each buried a triple to regain the lead for good for Black Hills.
"We know that's what you have to do. When teams fly right at you, you have to swing the ball and you have to make your open shots," Greenfield said. "Rachel LaBelle hit two wide open 3s that were critical. I called a timeout and told them this is what we need to do to win a championship. We need one score and two stops and that's what we got."
The Bearcats had one last chance to send the game into overtime, but Shasta Lofgren's 3-point attempt rattled off the rim in the final seconds.
"This was so much fun," Duff said. "We have freshman out here hitting big 3s. Everyone was getting involved."
The Wolves now find themselves just four wins a way from claiming their first state championship.
3A Boys Basketball
Capital and Timberline are both headed to the regional round of the 3A boys' state basketball tournament.
The Cougars, champions of the South Sound Conference, survived three straight loser-out games, the last coming in a 58-53 win over North Thurston, to secure the district's fifth and final seed, while Timberline knocked off Spanaway Lake, 55-54, to earn the third seed.
Both teams are headed to the state tournament, which begins March 1 at the Tacoma Dome, due to their RPI rankings. Capital was ranked fourth and Timberline sixth.
The Cougars face undefeated Pierce County League champion Lincoln (24-0) in regional play at Saint Martin's University on February 25 at 4:30 p.m. The Blazers travel Bellevue College to face West Seattle (19-6) at 2 p.m.