If you're a business owner in Thurston County, Josh McCarty has some advice for you: enroll in the next Scale Up or Tune Up program. "Just do it. Don't hesitate," says the owner of Mint Landscapes. "Make the time to work on your business. You'll have the most perfect mentors who want to help you succeed."
McCarty is a graduate of both programs, which are offered through the Thurston Economic Development Council. The TuneUp program is offered in partnership with the City of Olympia. In the words of another alumnus, "You would be absolutely stupid not to take these training programs."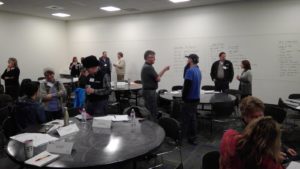 Both courses provide training and mentorship in the nuts and bolts of growing a business, from developing effective systems to understanding financials. "The benefits are unbelievable," says Kevin Leneker, owner of Single Handed Consulting. "I knew I needed all these resources but I didn't know where to get them. You can obtain all of this knowledge for very little cost."
Daryl Murrow, Business Growth Strategy Manager at the EDC, teaches both classes. Scale Up uses a curriculum designed by the Kauffman Foundation, a nationally recognized organization the supports entrepreneurial development. The course begins with a welcome ceremony, lasts for 14 weeks, and culminates in a graduation ceremony.
"We start with a 30-minute group mastermind session and discuss the challenges and wins of the week," says Murrow. Each week participants discuss a different topic, and Murrow brings in specialists as guest speakers. "The very first topic is sizing up your business," he says. "We open up the hood and take a look inside your business to learn  what's working really well and what needs work, and then we develop a vision."
Other topics include market research, identifying growth strategies, and using financial tools. "For a lot of people, it's the first time they've done any budgeting or forecasting," says Murrow.
"We finish each session with their homework for the week, so they can get started on it before they leave. It's all working toward putting together a three-year growth program."
The 14 week training program also features two events.  "Money Talks"   is an event where participants meet bankers, alternative lenders, and angel investors to learn about the different resources available in the community. The second event, 'At Your Service,' introduces class participants to consultants and other important resource providers that businesses may need as they begin to grow. "We introduce them to everyone from HR specialists to attorneys," he says.
To qualify for Scale Up, businesses need to have been in operation for at least two years and bring in between $150,000 and $500,000 per year. The program is funded by the Small Business Administration, which awarded the Thurston EDC with funding in 2015. It is one of just 15 such programs throughout the United States.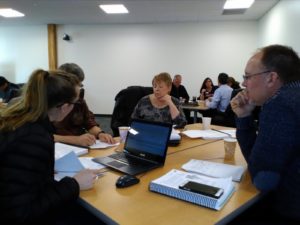 Although they offered training in Profit Mastery and Procurement Technical Assistance, which trains businesses in how to earn contracts with the local, state, and federal government, the staff at the EDC had identified a gap which Scale Up fills. "We'd been doing trainings that helped businesses at the start-up phase," says Murrow. "This program allows us to serve growth-oriented businesses as well."This was an area that we didn't have any formal classes for."
Tune Up is a complimentary course to Scale Up, in that it teaches people to better organize and manage their business. This course is eight weeks long, and is offered twice a year. The cost is $395, but businesses located within the City of Olympia have an opportunity to have their tuition paid for in full through a grant that is currently being offered by the City of Olympia. "This partnership with the City of Olympia is innovative and shows that the City really cares about their businesses," says Murrow. "They are making an investment to help their businesses develop and prosper.".
For graduates like McCarty, the training has been life-changing. "We went from having three employees to ten, and from bringing in a couple hundred thousand dollars a year to a plan to do over a million this year," he says. "Daryl taught us how to build our systems and management structure to succeed."
Leneker says his business might not have made it without the trainings. "Our revenue went up 55% in one year and we've doubled the number of employees. If I hadn't gone through Scale Up, I don't think I would have survived. They bring all of this content to one place and you learn about finance, how to get your business plan in order, and systems and processes from businesses that are successful in the community."
Part of what makes the program so effective is the collaboration with other business owners, he believes. "It's really a safe place to talk among like-minded individuals and troubleshoot whatever's going on. Most of us are hesitant to say, 'I don't understand my financials,'" he says. "Sometimes as a business owner you think you don't have anybody to talk to, but the mentoring you get is incredible."
McCarty agrees. "Having someone to call and ask questions has been a huge blessing," he says. "My wife and I have started working on our business instead of in it. The one-on-one mentoring and talking with other colleagues helped us with our organization and financial skills."
Both programs are relatively new, with Scale Up starting its third cohort in 2017 and Tune Up beginning its second, but already the results have been impressive. That's exactly what Murrow had in mind. "Providing tools that can create some relief and help to make businesses more effective has a ripple effect," he says. "The more money that comes into our community, the more people they can serve, and that benefits everybody."
The Thurston EDC is now taking applications for ScaleUp Cohort 4, which begins on May 4. You can click here to apply. The next cohort for TuneUp will begin in September.
To learn more about Scale Up visit www.scaleupthurston.org. To learn more about TuneUp, please visit www.businesstuneUp.org.
Sponsored