Gardeners, take note: There is a better way to water, and it is like nothing you have ever seen before. The WiserWand, invented by Olympia resident, Tom Ryan, is a new tool that waters plants directly at the roots, saving tons of water. With gardening season just around the corner, I caught up with Tom to learn more about how his invention came to be and how you can soon have a WiserWand of your own.

Meeting with Tom is an energizing experience. As we sat at a Lacey Starbucks, he held out two prototypes of the WiserWand to the interest of many café-goers. Holding the device, one can immediately see how sturdy, streamlined and well-thought-out it is. A steel stake with foot pegs and a squeeze-handle attachment at the top, it waters where it is most needed – only at the roots of the plant, eliminating waste and run-off from watering leaves, sidewalks and all the other places we gardeners know all too well where excess water goes. This device also saves water from wind and evaporation and you can use it any time of day. Furthermore, it is versatile, and waters everything from seedlings to fruit trees. When you are finished with it, just stake it in the ground for easy storage.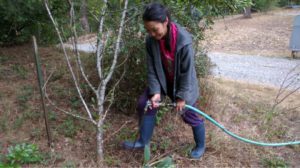 The WiserWand is built to last. As Tom explains, "Don't worry about breaking it. It's shovel-tough and guaranteed for life. The first one you buy is the last, unless you want two." In short, this versatile tool just may change the way masses of people everywhere water their gardens.
It is also easy for just about everyone to use. "The WiserWand makes gardening accessible to children, seniors and people with temporary or permanent disabilities," he shares. Check out this video of six-year-old Aiden watering with ease and precision. Tom says the possibilities are huge: "Kids are exposed to a practical, hands-on, high-efficiency watering method. As adults, they'll expect high-efficiency products and the market will shift because of it. Within one or two generations, high-efficiency hand-watering products will be the norm and low-efficiency methods will sit on store shelves."
Currently, the Environmental Protection Agency (EPA) estimates that up to half of outdoor water use in the US goes to waste as a result of inefficient watering methods. Tom is clearly on a mission to help change this.
How the WiserWand Came to Be
Over five years ago, Tom, an avid gardener, began looking around for a smarter way to water – one that did not waste so much of this precious resource. He first tried using a fork tool as he watered, digging with it in one hand as he added moisture with the other, reaching for the roots of each plant. He scoured the internet high and low for a more convenient answer and, to his surprise, did not see many alternative watering products – just the usual nozzles, hoses and sprinklers. Thus, the mission to create the WiserWand was born.
Tom contacted a local welder, Josh Strathern, to design the prototype. He has also worked with a machine shop, various manufacturing companies, a graphic designer and a web designer, as well as marketing specialists to bring the project to life.
Once the prototype was refined, Tom started distributing the wand to local gardeners (and some as far away as Nevada and Illinois) to try out. "Josh built them, and I gave them away," he says. Last summer, over 50 local gardeners and groups tested out the WiserWand, including folks at Sunrise Park Community Garden, Olympia Community Garden, Capital Vision Christian Church Community Garden, the GRuB garden, the Food Nook (read more about the Food Nook here), cooperative houses and individual property owners. The Wise Wand was a hit and at the end of the summer, the majority said they would continue using it next season.
WiserWand versus Drip Irrigation: WiserWand Wins Big-Time
Want more evidence that the WiserWand really works? Last summer, Tom partnered with Erin Conine, Water Conservation Program Coordinator at the City of Olympia, to put it to the test. Steve Yantis, a local gardener in West Olympia, volunteered to use the WiserWand instead of the traditional drip irrigation he had experimented with the previous three summers.
Fortunately, Erin was able to pull the savings in "gallons billed" for each year. The results are impressive. Steve saved an astounding 48-82% of water using the wand. He told Tom, "Drip irrigation just can't do as good a job as this can," and he is now another devoted WiserWand convert. Erin plans to perform even more studies in the future.
What's Next for the WiserWand?
Tom's excitement about his invention is contagious. How big does he see the WiserWand being? Eventually, he would like to raise enough capital to sell it on Amazon. He is also in the process of patenting the design. From right here in Olympia, Tom is launching a product that can quite possibly change the way the world waters.
As his website states, "I'm a gardener, not a businessman." While he has the skills to make this project succeed, his aim is truly one of helping others. Tom plans to donate 25% percent of profits to organizations working to increase access to safe drinking water and sanitation in support of global goal 6. The first non-profit to receive donations will be Friendly Water for the World here in Olympia.
Ultimately, Tom is an altruist a heart – he plans to give away many more WiserWands to build interest in the project. He will be attending both the Northwest Flower and Garden Show in Seattle and the San Francisco Flower and Garden Show to demonstrate it.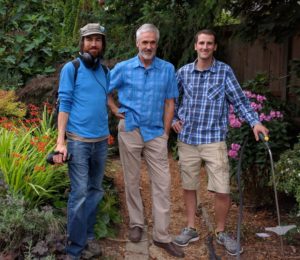 The journey has been extremely personal for Tom. He lives, sleeps and breathes the project. "I evolved with the WiserWand," he shares. "My passion was soccer – water never crossed my mind. The day the working prototype was ready, I knew my life would never be the same." After working in the IT industry for over 30 years, including at Labor and Industries, he decided to make the WiserWand launch his full-time life's work.
Tom is an active guy – if he is not fine-tuning the WiserWand, you will find him playing soccer or tennis, practicing yoga at True Self Yoga or meditating. He has also served as a Big Brother through Big Brothers Big Sisters. In fact, his "Little Brother" is now grown and was a WiserWand tester and videographer.
Your Support is Needed
Tom won the Thurston Economic Development Council's first place award for Best New Product last summer granting him $500.00 toward the project. Otherwise, Tom has funded the project entirely by himself, and now he is counting on fellow gardeners and water activists to help bring it to the masses. He will soon be launching a site at KickStarter to raise funds.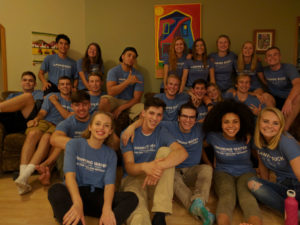 Follow the WiserWand website, Facebook page, and Twitter account for updates on the Kickstarter launch date. You can also subscribe to this YouTube channel for fun, easy-to-watch videos of the tool in action. Tom is currently working on printing a new batch of "Brown is the New Green" and "Lawns Suck (Water)" t-shirts, which you can soon purchase on the website.
Start planning now to garden with your very own WiserWand. Though Tom is humble and does not want the recognition, just remember – his invention took off here, in our own backyard.