At auditions for this year's Olympia School District Players' annual show, things were different. The usual complement of teachers and their spouses signed up to sing and dance, but this time, it was OSD employees' daughters who came to shine. When it was announced that the annual show would be "Annie," a dozen or so young girls all decided to try out.
Every person who enjoys being on stage has a dream role. Sometimes the character is far too old. Sometimes the character is far too young. And sometimes the timing is perfect and you are the perfect age for the perfect role. For most young girls around the age of 12, that perfect role is the title character in "Annie," a musical based on the comic strip "Little Orphan Annie."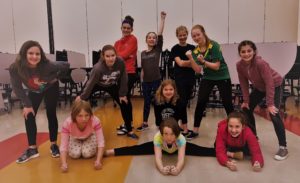 Since the musical first opened on Broadway in 1977, thousands of little girls have belted out the iconic theme song, "Tomorrow," in auditions, hoping they would land the lead or, at minimum, a role as one of the orphans who sing, dance and steal the show in such classic numbers as "It's a Hard Knock Life," and "You're Never Fully Dressed Without a Smile."
When the OSD auditions were held last December, two girls stood out as prime candidates for the role of Annie. They were the right age. They could both sing. They could both dance. They could both act. They also happened to be sisters – twin sisters.
Lily and Hannah Halvorson are the youngest daughters of Chris and Jon Halvorson. Jon, a sixth-grade language arts teacher and administrative intern at Washington Middle School, is a veteran of more than a dozen OSD shows. Chris, a faculty member in Early Childhood Education at SPSCC, and their oldest daughter, Emily, have also participated in multiple OSD shows. But this time it was the young Halvorson girls who were up for the lead.
As educators and parents, Chris and Jon know that it is thrilling when your child earns something they have worked for. But it is equally heartbreaking when a child does not get something they have put their best effort into. Chris says she and her husband had to be pro-active with their girls about how to handle their unique situation. "We talked a lot about what they would do if one of them got the role and the other didn't. We discussed jealousy and how to handle it," she shares. They were smart in their approach, but thankfully, the show's director, Colleen Powers, had a wonderful solution to the dilemma.
The girls were double cast in the title role and will alternate performances. When not playing Annie, the twins will swap out as the orphan Tessie, who is known for the line, "Oh my goodness, oh my goodness!" Says Chris, "They were thrilled when they learned they get to share the part."
She and Jon had a heads-up about the casting, but they let the girls find out along with everyone else. "I was kind of nervous that one of us would get cast and the other one would be sad because we were going for the same part," says Lily. "We were checking the email every day to see if the parts were announced yet and when we checked, and it said Lily and Hannah are playing Annie, we were kind of stunned."
"It didn't really feel real until we started rehearsing," adds Hannah.
Now with the show's opening night so close, the girls are busy learning lines and lyrics. Their favorite numbers are the ones involving the rest of the orphans. "It's a smaller group and we're getting close to each other," says Lily. "And, we get to do a lot of really fun choreography."
The twins, who are in the seventh grade at Marshall Middle School, already knew most of the other girls who auditioned. Many of them have participated in past OSD shows. Older sister Emily plays Pepper, the bossy, oldest kid who is usually on the outs with the rest of the orphans. She is having fun helping corral the rest of the cast members, some of whom are as young as eight or nine.
Mom and Dad are participating this year, too, albeit in much smaller roles than usual. Sometimes it is kind of fun to sit back and watch your kids shine.
The OSD Players have been producing shows since 1993. Since 2005, all proceeds from the shows benefit the Olympia School District Education Foundation (OSDEF). The Foundation is a non-profit 501(c)(3) organization whose programs include classroom and tutoring grants, emergency funding for student needs and outdoor education.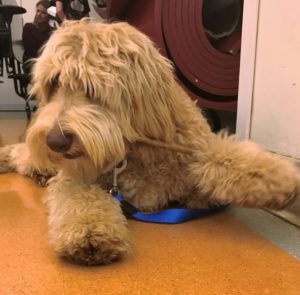 Show times for "Annie" are:
Thursday, February 23, 7:00 p.m.
Friday, February 24, 7:00 p.m.
Saturday, February 25, 2:00 p.m. and 7:00 p.m.
Sunday, February 26, 2:00 p.m.
All shows will be held in the theater at Olympia High School, 1302 North Street SE, Olympia, WA 98501.
Tickets are available online now. For more information, visit osdef.org, email info@osdef.org or call 360-596-6110.
This year's sponsors include: Titus Will, Twin Star Credit Union, WSECU, Fiddlehead – Wubenna Family, ABC Pediatrics, Harbor Wholesale Foods, Yamaguchi Family Dentistry and Dr. Kapust Orthodontics and Pediatric Dentistry