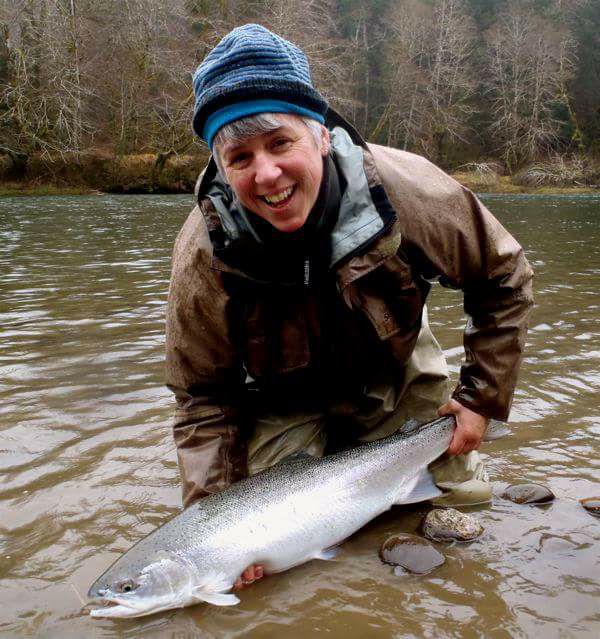 Walking in to meet J. Michelle Swope, founder of Olympia Women on the Fly, I knew she was going to be a lot of fun. For one, she chose a great meeting spot—Northwest Beerwerks, a friendly neighborhood bar. And two, she was tying a cute, fuzzy, bright pink fishing fly at her table.

Michelle is the founder of Olympia Women on the Fly, an organization that supports women who want to learn, progress or participate in a fishing community. J. Michelle started the group last year, modeling it after Spokane Women on the Fly and working in conjunction with her role as Women's Initiative Chair for the Olympia chapter of Trout Unlimited.
Olympia Women on the Fly's services have three main components, each with an educational focus.
This is where you'll find J. Michelle teaching a group of up to 15 women the art of fly tying. Using the vice grips and materials she provides, J. Michelle teaches the proper materials and methods to craft the perfect fly.
"So far, it's been awesome. I've had a really good turnout," she shares, noting that most women have never tied a fly before meeting at Hops and Hackles.
"The group was both fun and inviting in a laid-back setting," said Jennifer Enright, who recently participated and tied her first fly, the Gold Ribbed Hare's Ear, in no time at all. "J. Michelle worked with us both as a group and individually and is a patient and excellent teacher with great technique."
Participation is $10 and the group meets the last Thursday of each month at Northwest Beerwerks, who is happy to host and offers a 10 percent discount on beer orders.
In this class, J. Michelle (and sometimes guest assistants) helps participants tackle the components of fly fishing. From types of flies to river and bug characteristics,to casting, the class covers fly fishing basics.
Michelle jokes that a handful of women participate just so they could learn the sport from someone other than their husbands.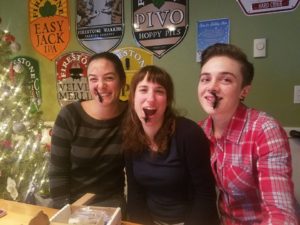 "J. Michelle, and those who assisted the 101 class, were inviting, knowledgeable and had a wealth of knowledge and experience when it comes to angling," said Jennifer, who is quickly becoming a fan. "They were patient when they taught us about fly fishing history, the basics of fly rod set up and worked closely with us one-on-one for casting techniques."
The class also learned various angling topics such as the responsibilities of those who choose to fish the Washington waterways, explained Jennifer. This was something she didn't expect and shared she was grateful for.
"The class was well rounded, fun, exciting and overall a great experience," she said.
Fly Fishing 101 is slated to occur once a month as well. Follow Olympia Women on the Fly for event updates.
Outings:
The outing component of the group is two-fold; fishing expeditions and conservation efforts.
In late winter and early spring, they visit The Olympic Peninsula. And in summer and fall, Olympia Women on the Fly will visit the eastern side of the state to places such as the Yakima River. Plus, the girls take an occasional getaway to Montana and Alaska.
Locally, trips will take place at the Deschutes and Skokomish Rivers as well as local beaches. In late winter, Sea Run Cutthroat, Rainbow Trout, and Steelhead will be the catches.
"The trips are designed to get women fishing, and feeling comfortable doing it," says J. Michelle, who follows the seasons and loves the fact that you can fish year-round.
The conservation outings will be different. With these trips, families, kids and partners are welcome, not just women-only. Groups will work to conserve, educate and repair. Cleaning up streams will be a common activity. The group's philosophy is, "if you take care of the water, the fishing will take care of itself."
Michelle's Story:
Since she was a toddler, J. Michelle has had a rod in hand. Her love of fishing stemmed from her father who loved the sport and would often take her along.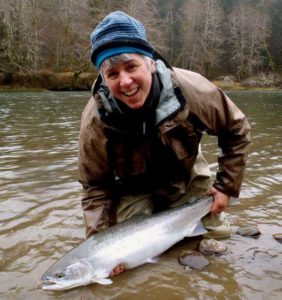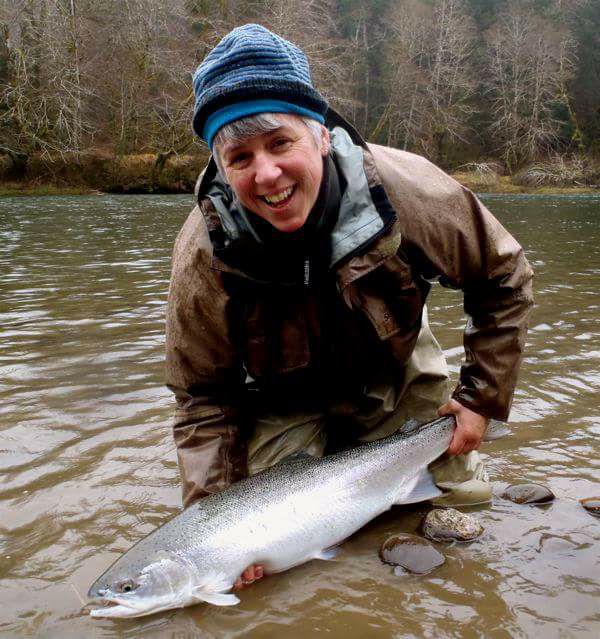 It was on her ninth birthday when she discovered fly fishing at Lake Lenore in Eastern Washington. She recalls seeing a group of guys whipping something overhead and when she called her dad to shore, he explained they were fly fishing. She knew right then she was hooked.
Even though her dad didn't know much about fly fishing, he bought her a fly rod and the rest is history. Growing up on a farm in Poulsbo, she was never short on natural supplies, but would often get a scolding for stealing her mom's sewing thread or cutting off a tuft of hair from the milk cow or family dog.
"Honestly, I haven't changed much," J. Michelle says with a chuckle. "I eat and breathe fishing."
As she grew older, she discovered the therapeutic benefits of fly fishing, specifically after suffering a personal trauma. She feels fishing saved her life and now gives back by volunteering on expeditions with youth and veterans, such as a recent 9-day canoe float in the Arctic. Project Healing Waters Fly Fishing, Soul River and Trout Unlimited all benefit from J. Michelle's passion and expertise.
If you are interested in joining Olympia Women on the Fly, you are encouraged to attend an event and follow the group on Facebook.