When most babies were just learning how to walk, thirteen-month old Micki Renick was learning how to roller skate. She was not just learning how not to fall down, however; she was practicing how to speed skate. Just after her fifth birthday, Micki competed in her very first meet. "I've been hooked on it ever since then, and eight years later here I am," she tells me, smiling as we sit down with her mom Meagan.
With two parents who literally grew up at Olympia's Skateland and competed themselves, Micki followed naturally in their footsteps. However, mom and coach Meagan says it was never about their own love of skating. "I do it for her; that's it. I've always said, 'The moment that you're done with this, over this, then I'm out.' There's no pressure to continue. We've always said, 'Don't think you have to do it just because we did it, too. You can do whatever you want to do.'" It seems that skating is exactly what Micki wants to do, though.
When roller derby took off, Skateland geared itself more toward that avenue because that activity brings in large crowds. Unfortunately, in 2014 their speed team dismantled, and the local kids had to find new places to skate.
This dedication drives Micki to push through five or six practices a week and countless different meets each year. Meagan tells me that Micki now practices in Auburn because there is no longer a speed skating team here in Olympia, which means a lot of time spent on the road every week. "I try and juggle it as best I can, honestly. I do homework, badge work, sleeping, all in the car on my way to and from speed meets," Micki explains.
However, Micki tells me she still enjoys going to skating sessions for fun at Skateland and hanging out with the other "rink rats" as they call themselves.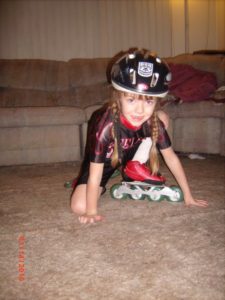 Skating is really its own somewhat exclusive club that I have to say I was lucky enough to be a part of growing up, too. You do not wear rental skates, you know the owners of the rinks, and you are more excited about the newest line of wheels than you are about a school dance. It's a culture completely its own, but Micki says that is part of the draw. "Fellow skaters just get you and going to a speed meet is a social event. I have friends from all over including Colorado, Florida, and pretty much every other state. And friends out of the country," she explains.
Even though Micki loves to skate and enjoys seeing her friends, she is also just really good at it. With a room full of awards and more being added every year, it is obvious this girl is going places. Just this past summer she competed at the Indoor Speed Skating National Championships and came home with seven different medals. At the time she was also the only one competing in two different sports. Micki was skating for a roller hockey team while also doing speed on her in-lines and quad skates. Meagan says the competition schedule actually had to be organized around Micki to accommodate her games and races.
While winning at nationals is a big honor, Micki still wants to pursue her dream of an Olympic medal. Unfortunately, speed skating is still not recognized as an Olympic sport, so these athletes often have to take a different route to realize their goals at that level. Short track ice skating is an obvious choice, but the two sports are very different from each other, and it is not always an easy transition. For Micki, though, the only trouble has been balancing yet another sport and making it to practices. Once again she has to head north to an ice rink and try to find the time, but it could be worth it. "My goal is to eventually transfer fully over to ice and then kind of balance it back and forth and then eventually make it to the Olympics," she tells me.
When she is not on the ice or at another skating rink, Micki is still a very busy 12-year-old. Her mom tells me that her name was recently drawn in the lottery to attend Aspire Middle School, and she accepted. "You only get one shot at it. So I told her go and try it out and if you don't like it, you can always switch back, but you can't ever go back to Aspire so take the opportunity and try it because you never know," Meagan shares with me. She says they looked into Aspire because it has advanced classes and a wonderful music program where Micki can pursue her clarinet and bass clarinet playing.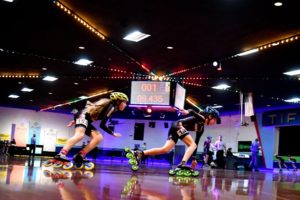 Yes, that is right; this girl also plays in her school band. What is more she participates in Girl Scouts, runs track, and finds time to cheerlead as well. To be honest, I do not know how she does it, so I ask her, and she just laughs and says she likes to stay busy. Micki goes on, "Sometimes, though, it is really hard, and I'm like can't I get a little time for myself. Even though I love doing all the things I do, sometimes I just need a break, like have a friend spend the night." Meagan says it has been important for them to encourage Micki to try a number of different activities to see what she really likes. "That way when she goes into high school she'll have a pretty good idea of what she just wants to focus on. Where other kids are just starting to try some of those things, she will have already done it," Meagan elaborates.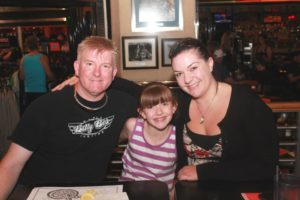 Micki always seems to return to skating, however, not just because she excels, but because she truly does love it. Obviously, her parents are proof that you can carry that love over well into adulthood because it is a lifelong sport. They will never pressure her to skate, though. As a coach Meagan says that all too often she sees kids who are really great choose to skate but just do not absolutely love it. "I always told my kids, 'Do this because you love it. Don't do it for the medals, don't do it for the recognition, and don't do it for your parents. Don't do it for any other reason other than the fact that you love to do this.'"