Luckily for me, anytime I want to reminisce about high school football games, my favorite teacher, and many other memories, I can just open one of my old yearbooks. But what if I did not have them? Maybe I switched schools during the year, or lost them to a fire or during a move. Or it could be I just did not realize their importance at the time and never ordered one. Whatever the reason, it would be nice to be able to see those memorable pages online.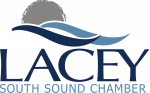 Thanks to Timberline High School Career and Technical Education (CTE) teacher, Kevin Gary, and the hard work of a group of students, many Timberline alumni can now do just that. Kevin says he first got the idea a couple years ago after seeing websites charging large amounts of money to see old yearbooks online. Gary and a couple of students went to work building the website, but it was not until this year that the project truly took off. "You really have to have kids who are engaged with the project and can take time to do scans and not just whip them through. Thousands and thousands of people are going to be looking at these pages. So, I needed a core group who were interested in doing this," Gary explains.
Senior Noah Dobson was one of the students who urged his teacher to get back to finishing the project, and he ultimately ended up in charge. "The yearbook project stemmed from seeing North Thurston's and I wanted to do it too. We ground through all the yearbooks, but it took forever," Noah says, laughing. North Thurston High School is the only other area school that has published most of their yearbooks online. Because of this, they had the scanner Timberline needed and the two schools could network and make the project happen.
It is this kind of collaboration that North Thurston Public Schools' CTE Director, Brad Hooper, likes to see happening. "They share technology; they share resources. Because when they go out in the business world you have to learn how to work with other people to create your business. That's why it's so exciting for me as a director to watch Kevin working with other teachers. Just this entrepreneurial theme happening."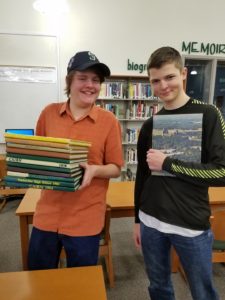 So, with a great team in place, and a scanner to do the work, the group started the daunting task just after Thanksgiving. It is not easy to take these large books and transfer them to a website. Every single page must be scanned, by hand, one at a time. Kevin says his TA's spent many class periods and time after school working on the project.
Sophomore Christian Egnor tells me he did not immediately get involved, but saw they could use more help. "I scanned four yearbooks, and it was just insane." The group finally finished up around the end of January with the yearbook from 2009. Kevin says they did not want to go much further because they still want students to buy the actual books each year. "However, maybe in another ten years we'll add some more," he says, smiling.
Although the work was sometimes a bit boring, the students get something much bigger out of the experience. Hooper tells me, "Kevin put students in charge of it. They're running it. They're working for the community, so the skills are transferrable when they leave high school and go into the job force or further education. It's also something they can put on their resumes." They will have something to show prospective employers.
There has already been a great response from the community about the project. As each book was finished and uploaded, Gary says he got lots of positive feedback. "I think it's a great way for us to really connect with our alumni. I think the biggest thing is how we can reach them, how we can give back to our community, especially with these books that are no longer in print."
Thanks to Gary and his students, people can now look up their neighbors, parents, friends or whomever they want. It brings together multiple generations all in one place. After my interview, I took the time to find my brother, a proud graduate from the Timberline class of 1987. Oh man, I'd forgotten what a headful of hair he had.
All in all, Noah and the other students say the project was very satisfying. "Hopefully people who went here who maybe did not get a yearbook, or cannot find theirs, can see and appreciate the work that was done to get them all online." Hooper agrees and sees the project doing even more. "For me it's the organization and what the kids are learning, that's just huge. And attention addressing the school, because it's really important to have the community attached to the school. This has done a great job of getting the word out."
If you would like to view the online yearbooks for Timberline High School click here.