Presidents' Day weekend poses an exciting opportunity to enjoy a mid-winter break. While many families head out of town to somewhere warm, there are plenty of adventures awaiting us right here in Thurston County.

If the weather cooperates, one of the best ideas for thrifty fun can be found right here in our backyard. Our beautiful county boasts mountains, ocean beaches, valleys and waterways. We are so incredibly lucky to have so much to choose from.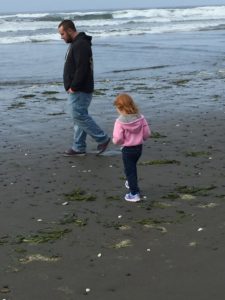 Are you looking for a day trip? It may not rival your co-workers' vacation in Mexico, but we have some pretty amazing options. Start off with a day trip to the beach. Winter on the Washington coast can be one of the best times to watch the crashing ocean waves and search for shells in the sand. My family's favorite beach is Westport. The beaches there are secluded, the town is full of cute shops, and even on a rainy day, Westport Winery makes it worth the drive.  Check out this article about day tripping to Ocean Shores or Westport.
Another option would be to head north to uncover the tranquility of Hood Canal. Less than one hour from Olympia, this distinct fjord is a jaw-dropper. You can pack your own picnic or hit up one of the delicious burger joints in Hoodsport. Make sure to pack your Discover Pass to visit some of the best parks in the state as well.
You can always start out your adventure outside by lacing up your shoes for a local hike. Breathtaking views and perfect picnic spots await explorers in some of our nearby parks. Burfoot Park and Priest Point Park are two of my personal favorites. Whether you are an experienced backpacker or you are simply looking for a family-friendly trail, there are many to choose from in our all-encompassing hiking guide. Many of these trails are pet friendly or at least located near an off-leash dog parks.
From exploring the land to discovering the sea, be sure to take advantage of our scenic waterways in a kayak. If you have not made the investment in your own, kayak rentals are plentiful in our area and are scattered up and down the Puget Sound.
Do you want to head outside with the whole family in tow? Thurston County has some of the best parks for kids around. My toddler cannot get enough of the swings at the quaint McGrath Woods Park or the zipline at nearby classic LBA Park. If you are looking to play a family game of soccer, basketball or baseball, do not forget to visit Rainier Vista Park to take advantage of their vast fields.
Yet another choice would be to take in a piece of history with a guided tour at the Capitol Campus. Free, fifty-minute tours are offered daily at the Washington State Legislative Building between the hours of 10:00 a.m. and 3:00 p.m. They begin at the tour information desk. Be sure to get there early as they tend to fill up quickly on weekends.
Why not take this extra time off for a downtown Olympia dining experience. There are so many tempting eating places to investigate. Start at the newest fixture of downtown, 222 Market. This gem boasts an airy one-stop-shop. Bring an empty stomach, so you can take in either The Bread Peddler, Broth Bar, Creperie or Chelsea Farms Oyster Bar for lunch. Sofie's Scoops serves fresh gelato to end your meal, and Blind Pig Spirits is sure to have a supply of drinks to keep you warm on these cold nights.
Once your tummy is full, head over to some of the most unique shops in town. Compass Rose and Archibald Sisters are distinctly Olympia in their quirky supply of local items. Children of all ages should not miss a chance to stop in at Captain Little. They frequently host story time with local authors, but you can always make yourself at home on a bean bag chair with a good book. This store is all about letting your inner child play.
No matter what you decide to do during the long Presidents' Day weekend, you will not regret making the decision to wander through the backyard of Thurston County.
Thrifty Thurston highlights inexpensive family fun in Thurston County. The weekly series focuses on family-friendly activities throughout our community. If you have a suggestion for a post, send us a note at submit@thurstontalk.com. For more events and to learn what's happening in Olympia, Lacey, Tumwater and the surrounding area, visit our complete event calendar.