Just a short drive south to Centralia Outlets can bring you a world of savings, especially when shopping for highly-sought after brands.
Centralia Outlets has been a staple along the I-5 corridor for nearly 30 years, and while shoppers know of the bargains that can be found, some may not know that three of these outlets offer additional savings through clearance stores.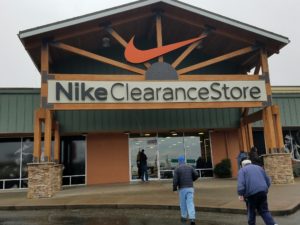 And, those clearance stores are hard to come by. Along with the Nike Clearance Outlet, the Under Armour Clearance House and Polo Ralph Lauren Clearance are the only stores of their type in Washington State.
"These are items that are brought in from regular stores and then let go for final clearance," explains Renate Johnson, marketing and property manager. "Prices are usually 30-50 percent off the lowest ticketed price. You can get a $150 item for $14."
At Nike Clearance Outlet you will find a fabulous assortment of Nike products for men, women and children at a great value. Because this is the only location in the state, people come from far and wide searching for the best deals. Most days the store gets very busy, and those dedicated shoppers who choose to make the trip are rewarded with special discounts.
"It's like a treasure hunt," says Johnson. "You just never know what you might find, it's a true adventure."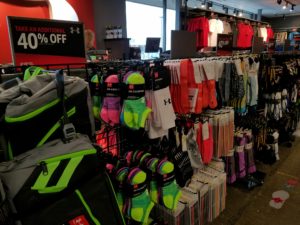 At Under Armour Clearance House, similar deals can be found with a huge selection of performance apparel, footwear, and accessories. The brand's moisture-wicking fabrics are engineered in many different designs and styles for wear in nearly every climate. In the Pacific Northwest, we have a temperate climate that makes Under Armour a blessing for year-round performance. Under Armour is worn by athletes at all levels, from youth to professional.
Even if sports and weather performance isn't your thing, sometimes the Under Armour style is. Everyone deserves a cute pair of sneakers, even if the only running is to mailbox to see if you've won Publisher's Clearing House Sweepstakes yet.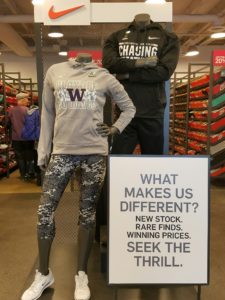 Polo Ralph Lauren Clearance is where the fashion really kicks in. Clothing for the whole family coupled with stylish accessories are often sold at less expensive prices than thrift store prices. And remember, this location is unique to the area, you won't find these deals anywhere else.
Another hard-to-find store, and while not clearance, is Bath & Body Works Outlet, the only one in Washington State. There you can find their famous fragrances with products including shower gels, lotions, candles, and accessories.
For more information on the outlet clearance stores, other outlets, hours, coupon books, and more, visit Centralia Outlets online or veer off I-5 at exit 82.
Sponsored