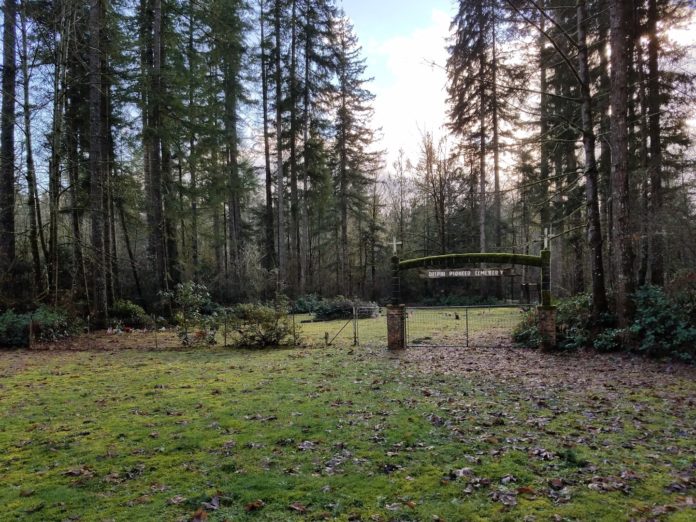 As a child I created many memories, living in the Delphi Valley, but none I remember quite as clearly as when I stumbled upon a bit of history. After all these years I've still wondered about the small cemetery in the woods I happened upon as a kid. It took a lot of digging around, but I was finally able to get some answers about the Delphi Pioneer Cemetery.

Located less than a half-mile up Waddell Creek Road, tucked beneath the giant fir trees on the left-hand side, the iron gate marking its entrance can be found. While some might find old cemeteries a bit spooky, I love the stories they have to tell.
For Pam Keselburg these aren't just stories, but her family history. Many of her ancestors are buried in the cemetery, and she has been taking care of and managing the property for more than ten years. "I got involved in about 2003, by then most the others had passed on, so I started getting all the records together so we could see who was there, how we're related and so on," Pam explains.
Delphi Pioneer Cemetery, or Stoney Creek as it's also called, was originally part of the John Harlow homestead. He established the cemetery in the late 1800s and made sure it would always remain in existence, even after his and his wife's passing.
"From the will and the deed on the property, it had to be owned by a church. And the United Methodist Church is who it was originally given to," Pam continues. However, according to her the church never really did much with the cemetery over the years. They didn't maintain it, and it was left to the descendants of those in the cemetery to keep up the property. Because Pam's family originally settled in the Delphi Valley, it's basically become a family tradition to maintain the historic property. "My great grandfather wrote the will for the Harlow's, and he is not buried there, but his descendants are," she says. Strangely enough, the Harlow family themselves are not buried there either. When John Harlow passed in 1911, he was the only Harlow originally laid to rest in the Delphi Pioneer Cemetery. Some fifteen years later he was moved to Odd Fellows Memorial Park in Tumwater for reasons unknown.
Not only has Pam's interest in the cemetery led her to collect and research genealogy records but also to create the Delphi Pioneer Family Chapel. In 2003 the Methodist church decided it no longer wanted the liability of owning the cemetery. The responsibility fell on those maintaining the property to do something to save it. The congregation created a new church and their own Articles of Faith as well as registered them with the Secretary of State. Pam says they usually meet at the Black Lake Grange for services but occasionally will hold them in the cemetery when weather allows.
Because many of the Delphi Valley's pioneering families were laid to rest in the cemetery, it's interesting to walk around and see this unique piece of history. Included among its residents is one of the town's very first doctors, Joseph Brown, who passed away in 1909. As a small child I remember a very old cluster of graves whose image still haunts me today, those of unnamed babies. I've always wondered about their stories. Sitting down with Pam, I finally found out who they were. "We had those babies there with no information. Molly is the only one with a name on the headstone," she explained. Thanks to census information, Pam says they were able to find out which family the babies belonged to and gave them their last name of Provoe.
These days if you are a descendant or spouse of one of the pioneer families, you can be buried in the Delphi Pioneer Cemetery, but good luck getting a room at this hotel. Pam laughs as she tells me, "We have people calling, wanting to have plots, but they're all taken. We're filled! If we had the money to enlarge significantly, we could develop the other side of the road." Although the cemetery owns land directly across Waddell Creek Road, it would take a lot of permits, public hearings, and environmental studies to make it a reality.
There have been some genealogy exceptions made over the years for residents living in the area or for those who have helped maintain the property. Pam offered several reasons why, "It's so old, and it is the history of this area, who lived here, and some people think that the setting is scary. I think it's very peaceful because you can hear the creek running and there's not a lot of traffic. And it just represents family. Even if I wasn't a part of that family, it represents how a family stayed together." These days it's rare to see multiple generations in one cemetery because families are often spread across the country.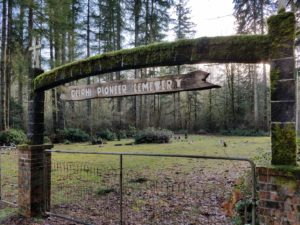 Whether you have relatives buried in the Delphi Pioneer Cemetery or are just like me and are curious about this small piece of history, it's worth a visit. Even the FBI decided to stop by one day for an investigation. Pam tells me a relative of hers was a bank robber in the 1980s and was rumored to have hidden stolen money in the cemetery. However, when the FBI came to explore the area, the money was nowhere to be found.
But just remember to tread lightly if you do visit and take Pam's advice to heart: "Do not disturb the property, don't leave trash, and remember that these people are someone's loved ones. Just be respectful; these people are loved and honored by their families. It's just an old-fashioned country cemetery, but the dwellers are all very special to their families."