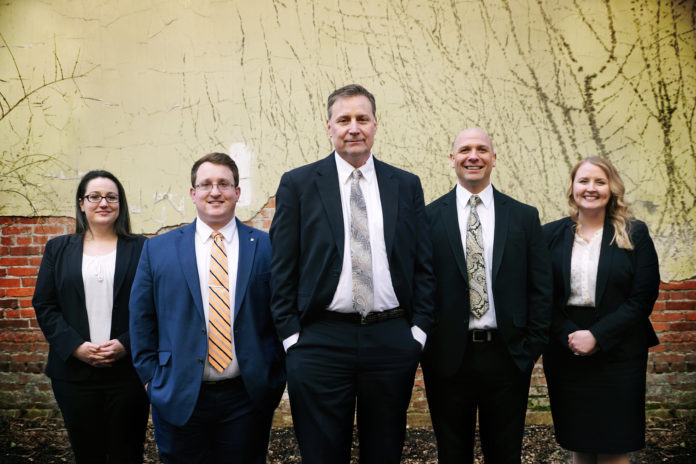 The law firm of Althauser Rayan Abbarno, LLP has been serving the communities of Thurston County, Lewis County and beyond since 1946. Last year, while celebrating 70 years of service, the firm opened a brand new office in Olympia at 3025 Limited Lane SW, Suite #101. This office is their second with the first located in downtown Centralia. The new office allows the six attorneys to serve their clients' needs even better than before. For partners Todd Rayan and Peter Abbarno, who focus on personal injury and worker's compensation, it's exciting to be able to offer clients more convenience.
"We've always practiced in Thurston County," says Rayan. "Our practice has grown to the extent where we really need to have a footprint here, to better serve our clients in Thurston County and beyond. While we will always hold on to small-town client attention, our firm has clients throughout the State of Washington."
Equal Access to Justice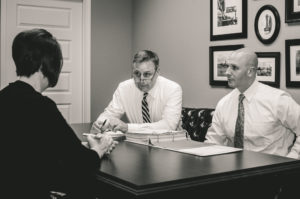 No matter which office you visit, you receive the same service and attention to detail that our clients have appreciated for more than 70 years.  Many of the attorneys have a personal connection to the area – Todd Rayan lives in Olympia, went to Saint Martin's University and taught at River Ridge High School. They are just as much at home in Thurston as they are in Lewis County and they truly care about the people who come to them for help – usually during very emotional and difficult times.
For the entire group, it's all about what Peter Abbarno calls "equal access to justice."
"When someone is injured and fighting against a multi-billion-dollar insurance company alone, the fight's unfair," explains Abbarno. "Our job, and what we are passionate about, is fighting to make it an even field. To use our knowledge to argue the best possible case for every client."
Rayan says the Olympia office is a continuation of this mantra – it's all about giving people access to justice. Since Rayan and Abbarno's clients often have, or are recovering from, injuries, having an office that is closer or more convenient for them is a big deal.
For example, Peter recently had a worker's compensation client who was injured in a serious logging accident. He was flown to Harborview Medical Center and was then transferred to intensive care at St. Peter Hospital in Olympia.
"I drove to St. Peter and met with him in his hospital room," Abbarno says. "Meeting me in Olympia is easier and more convenient for some clients. It's really about providing options for our clients. And since we have so many clients in Thurston County, we wanted to provide access to them."
People suffering from serious injuries are not up to traveling far. Some physically can't. The new Olympia office is all about helping these clients get justice. "It's not convenience for us, it's convenience for them," Rayan adds. "We want to make sure all of our clients can reach us."
Abbarno adds this is another way their firm is efficient. Location combined with advanced technologies allows them to make thorough and substantial cases for every client. When it comes to technology, the firm uses everything available to them.
In personal injury cases involving vehicles, one such technology the firm uses is the retrieval of the Event Data Recorder (EDR), standard in most cars from 2004 on. Like the "black box" in airplanes, it records information regarding what the car and driver were doing up until the exact moment of collision – vital information for a case.  The data from these boxes is hard to extract and, if your lawyer either does not know about them or doesn't act quick enough, they can be destroyed if the car gets totaled. Abbarno and Rayan not only know all about EDRs, but work with experts needed to extract the data from the EDR; like Forensic Mechanical Engineers (FME).
"We try to use technology and stay ahead of the curve in all our practice areas inside and outside of the courtroom," said Rayan. "Our conference rooms are wired for video depositions and conferences. When you have clients all over the State, being able to hear and see your client for "face to face" meetings is important. We want to provide as much of the small town law firm comforts as we can- and that means face to face meetings."
Attorneys with a Focus
Even if you do not have a personal injury or worker's compensation case, Althauser Rayan Abbarno can help. Unlike many law firms, each lawyer focuses on specific areas of law: personal injury, worker's compensation, family law, criminal defense, estate planning/probate, contract and property disputes, and business/corporate law. The breadth of legal practices with Althauser Rayan Abbarno benefits each client of the law firm.
"Our firm wants to create long-term relationships with our clients," said Abbarno. "Many clients come to us for help in one area of law and we help them resolve other legal issues as well. We want them to know that we're here for them no matter the legal need."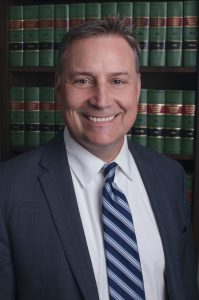 Focusing on an area of practice also benefits the client because their attorney stays up-to-date on new developments in a particular practice area. Our appellate courts publish new opinions frequently, it is important to stay up to date on these as you never know when a holding in a court opinion may be applicable to on ongoing case. Attorneys that have breadth of knowledge but focus on certain areas of law, like our attorneys, are better able to stay on top of changes in the law.
"Just recently we were able to recover on behalf of our client costs and attorney fees, a result that was a direct result of an appellate court case that was directly on point," noted Rayan. "If you are not staying on top of [new case law] and reading them closely, you may cost your client money, or worse, lose a case. Many attorneys practicing too many areas would have missed it because they are spread too thin."
Althauser Rayan Abbarno offer free injury consultations to people injured at work or due to the negligence of others; like automobile collisions. For more information, visit the Althauser Rayan Abbarno website, call 360-880-2399 (emergency hotline) or 360-352-1134 (Olympia Office).
Sponsored