Is there any better food than the cheeseburger? The meaty, cheesy, bready amalgam is the perfect summer dinner, especially if you're rounding out a day of hiking and exploring Hood Canal. My hiking partners and I have a bit of a tradition, especially on difficult or multi-day hiking trips, of fantasizing about the cheeseburger we will enjoy at the end of the hike.
Hood Canal is home to some of the region's greatest hikes and some excellent burger joints. Naturally, the two go hand-in-hand.
Here are some of my favorite Hood Canal hiking and cheeseburger pairings.
If you haven't hiked Mount Ellinor I'm certain you've at least heard of it. It's not easy, but it is easily accessed and makes an excellent half-day hike. Mount Ellinor, Olympia's favorite mountain, is a bit of a choose-your-own-adventure, with three trailhead options creating 3.2, 6.2, or 13.8 mile roundtrip hikes. You could take the shortest route, and if you're crunched for time it's a nice option. But if you're really looking to work up an appetite try the lower trailhead, or for the heartiest of hikers, start at Big Creek Campground.
Follow up your Mount Ellinor victory with a trip to Kelsey's All Natural. This new burger joint south of Hoodsport, in Potlatch, brings all-natural, from-scratch dining to the area. Everything is made from scratch, from home cut fries, homemade buns, and house sauces to house made all natural sodas and ice cream. Order the fish and chips or a bacon cheeseburger and definitely try the fries.
Whether you make a long day hike or a weekend backpack out of the 11.5-mile roundtrip Marmot Pass, surely you've earned your after-hike burger after the 3,500 foot elevation gain on this breathtaking hike. Another requisite Hood Canal foray, this hike along the Big Quilcene River climbs for several miles through evenly graded wooded areas before the final mile push to excellent views into the Olympics and down to Puget Sound.
Eagle Creek Saloon makes the perfect cap to this excellent hike. You have likely noticed this iconic Lilliwaup restaurant and bar with its incredibly large fiberglass cheeseburger adorning the patio roof. With ample indoor and outdoor seating, Eagle Creek Saloon will satiate your appetite after conquering Marmot Pass. They have excellent food and a decent craft beer selection. If you're really hungry, try the Eagle Burger, a whooping one pound burger patty served with bacon, fried egg, grilled onions, mushrooms, jalapenos, lettuce, tomato and pickle. You may never be hungry again.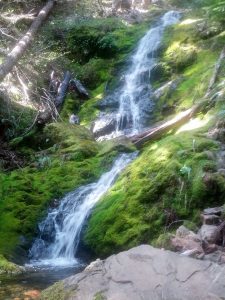 One of the steepest hikes in the Olympics, Mount Rose gains 3,500 feet in three miles, which is likely steep enough to have you dreaming of a burger on the way down. This 6.4-mile lollipop-shaped trail starts at a trailhead near Lake Cushman and climbs for several miles before revealing great views of surrounding peaks, Lake Cushman, and Hood Canal. The panoramas may not be quite as sweeping as nearby Mount Ellinor, but the trail is much less crowded and offers a nice change of pace.
Celebrate your grueling climb and knee-aching descent at the Burger Stand. A Hoodsport favorite, the burger stand offers no-frills favorites at great prices. Have a mushroom burger and, of course, a huckleberry shake.
Long days spent on the trails of Hood Canal and leisurely dinners at local restaurants are a lovely way to while away long summer days. Grab the whole family, a hiking partner, or the family dog and rediscover Hood Canal. It has a lot to offer.