If you have been to the newly opened 222 Market downtown Olympia, you've probably been more than tempted to stop and smell the roses at Fleurae. Few can resist the inviting storefront and bounty of blooms beckoning from beyond the glass doors. In addition to being impeccably designed and thoughtfully stocked with locally made goods, the story of how it came to be is an especially beautiful one.
I had only heard bits and pieces of the story through a friend and was excited to meet the creative team behind Fleurae and learn more for myself. Their story is one of love, loss, hardship and friendship – a tale of two talented women who found inspiration in the midst of their grief and turned it into something special.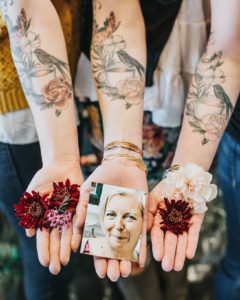 Carissa Dickson and Iana Franks are the owners and masterminds behind the downtown Olympia floral shop. They met years ago, working together at The Filling Station on the east end of downtown Olympia. Dickson's mother owned the coffee shop and Iana was an employee there. They quickly grew from co-workers to friends and then to best friends. When Carissa's mother, Cyndi Rae Dickson, was diagnosed with cancer in 2014, their friendship grew into a true connection. Iana stepped up and worked extra hours and ran the coffee shop to lighten the load and save the day. "Cyndi was like a second mother to me," Iana said.
When Cyndi passed away just a few months later, the girls were determined to create a legacy to honor her memory. Cyndi Rae had a passion for the community and her customers at The Filling Station. She took the time to get to know them and was well loved in return. Her passing came quickly and unexpectedly and left a hole in the hearts of many.
One thing the women both lovingly remember about Cyndi was her passion for flowers and gardening. "She always had flowers around the house," Carissa recalled. The women were both pursuing creative efforts on their own – Carissa as a jewelry designer, and Iana in interior design. But something kept them coming back to the flowers. "I don't want to sound too woo-woo," Carissa said, "but I feel like she (Cyndi Rae) was leading us here."
Carissa and Iana had been spending time working with flowers to find comfort in their time of loss. And the more time they spent arranging blooms, the clearer it became that this was something they both wanted to pursue. The name Fleurae came from the French word "fleur," meaning flower, and Cyndi's middle name, Rae.
Fleurae debuted as a pop-up shop at Spruce in West Olympia. They sold bouquets and cut flowers. Their popularity was on the rise and before long they were approached by 222 Market with an opportunity to open a storefront. This was their chance to create a living legacy for Cyndi Rae. So, they said yes. It was far sooner than they had anticipated opening a store, but it felt right. Everything was falling into place.
As they began to make plans for their new store, they knew they had made the right decision. They were now also afforded the opportunity to support local business and designers just as they had been supported by their community. Fleurae's retail shop strives to feature both local creatives in their merchandise and local farmers in their floral offerings. At Fleurae, you can purchase anything from fresh cut flowers, locally made paper goods by Maly Tross, framed prints by Poppi Photography, and jewelry that was handmade by Carissa.
Since their opening in November 2016, the shop has seen great success. They have been embraced by the community and their fellow small business owners in the 222 Market space. And although their story begins with a tragedy, what they have created despite their loss is truly inspiring.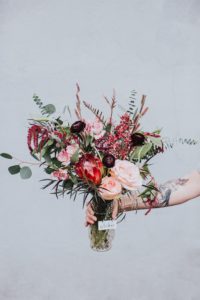 Fleurae offers a la carte flowers, custom arrangements, local delivery and wedding floral design from Olympia to Seattle and surrounding areas. You can also sign up for a floral subscription for monthly or weekly arrangements delivered to home or business. They focus on providing quality designs with flowers sourced from local farms. Their commitment to supporting and buying local is a strong part of their constitution. The retail offerings at Fleurae aim to be complimentary to the needs of the flower shopper and they truly succeed in this effort. I couldn't leave the shop without buying a few items myself.
Fleurae
222 Capitol Way N, Suite 110
360-556-1281
Hours: Tuesday-Saturday: 10:00 a.m. – 5:00 p.m.
Sunday: 10:00 a.m. – 4:00 p.m.