It was a program first for River Ridge and an all-time high point total for North Thurston at the 2017 state cheerleading championships as both high school cheer squads earned top honors in their respective divisions.
The Hawks captured the Class 2A state title in the non-tumbling division, while the Rams were the top-ranking 3A team in the coed competition, giving North Thurston Public Schools plenty to cheer about.

"Our original goal was just to make it to state," said River Ridge coach Penny Rasmussen, "but here we were ranked No. 1 in our division."
Competing in the 2A non-tumbling medium classification, the Hawks finished with a division-best 64.25 points, holding off Steilacoom (62.75 points) and Mountlake Terrace (62) to secure the program's first ever state championship.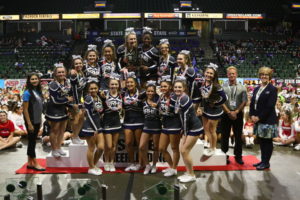 "This has been an amazing year for River Ridge cheer," said Rasmussen, who is joined on her coaching staff by Monica Key and Tia Kutz. "We started off the year by earning first place at our Lakefair cheer competition and things just kept getting better from there."
Prior to the start of the season, nine members of the River Ridge team were nominated for All-American honors at camp with three eventually earning the title, according to Rasmussen.
"We began our competition season slowly, not finding much success at our first competition, but we listened to the judges' comments," said Rasmussen. "We came home and made a lot of changes to a routine that we all loved. These girls worked hard and stayed focused."
Following some fine-tuning to the routine, River Ridge took first place at the previous week's state qualifying event, then proceeded to parlay that success into their state championship performance.
The toughest part of the Hawks, however, may have been the wait as the team was one of the first to compete in their division at the state championships at Everett's Xfinity Arena and didn't receive their results until hours later.
"We had a slight mishap in one of our stunts which made us all uncertain of the results," Rasmussen said. "We were all thrilled when they announced the title of state champions for the 2A medium non-tumbling was going home with River Ridge."
The River Ridge state championship cheer squad consists of Alexa Kolpinski, Ashlynn Padden, Caitlin Gibson, Carlie McKee, Jami Ayers, Laurel Poncé, Lindsey Agmata, Makaela Henderson, Marilyn Barrera, McKenzie Brearley, Samantha Baloga, Samantha Lehr, Selaina Sayan, Stephine Leiba, Tamara Krall and Tayvian Horlick.
While the Hawks were celebrating their big achievement, North Thurston was putting the finishing touches on a school-record setting performance.
The Rams posted a score of 85.5 in the coed division, the highest point total in team history.
It also marked the top score for any non-4A school at the state championships and the fifth highest overall.
The Rams' first competition this season took place at Gig Harbor High School on January 7 – a month after team try-outs – where they finished first in their division with a score of 67.
The Rams would better that score by more than 10 points two weeks later at the state qualifying event a Kentwood High School.
"When it was our turn, the entire gym was packed," said Anna Conner, who shares coaching duties at North Thurston with Jara Wright. "The routine started out and the crowd went nuts. They were yelling and cheering for us so loudly that the team couldn't even hear their music. It was such a positive environment and the team did amazing."
Once at the state competition, the Rams continued to improve on their score as they entered the event with the eighth highest score among state squad, but exited with some much-deserved hardware.
"We had improved nearly 20 points from our first competition," Conner said. "Looking at the state results, we increased our ranking position to fifth out of all teams in the entire state.
The team was comprised of seven girls (Faith Capito, Hannah Holloway, Ashanti Johnson, Kimberly Ramirez, Savannah Sederberg, Jayla Sommons and Lamour Latham) and seven boys (Rudy "Tre" Adams, Travis Krack Evans, Wesley Krall, Anthony Rybalkin, Nathan Ostler, Evan Williams and Kameron Sloan).
North Thurston was the 2011 2A/3A coed state champions. The Rams also finished fourth in the small coed division in 2008 and 2009, seventh in 2010, sixth in 2012 and third in 2013.
"We are sad to see our seniors go," Conner said, "but we look forward to increasing our score next year and defending our title. I can honestly say this is my favorite team I have ever coached."