At Steamboat Animal Hospital, the motto is 'We Give the Care, You Get the Love.' That's a motto the seven veterinarians and more than 40 employees take to heart, providing the best possible veterinary care through the use of progressive modern medicine and surgery. The staff treat each pet as if it were their own and communicate compassionately with clients. Continuing education is an important part of the practice and all staff are offered opportunities to learn about new techniques and information.
Meet the Veterinarians
Dr. Cindy Goldsmith
Dr. Goldsmith's love of animals started early. After a new veterinary clinic opened in her area when she was 15, she was the third person through the door and was hired literally on the spot. She attended college in her home state at Colorado State University before transferring to Michigan State University for a Master's Degree in Animal Science and eventually, Veterinary School. Prior to moving to the pacific northwest, she spent 15 years in Arizona where she owned her own practice. One visit to the Puget Sound was enough to sell her on the natural beauty and proximity to the ocean and they now consider Olympia home. Dr. Goldsmith's latest addition is an ultrasound machine she will use for guided biopsies.
Dr. Michael Murray
Dr. Murray knew from the age of four that he wanted to work with animals, inspired by the example of the local family vet in the southern Oregon community where he grew up. After attending Oregon State University he transferred to Washington State University in Pullman. Upon graduation, he lived and practiced throughout the west including Las Vegas, southern Oregon and Wyoming before the northwest called him home. When he went searching for a small practice near the beach, mountains and trees, he found what he was looking for at Steamboat Animal Hospital. One of his feline patients was named Anne Murray in his honor after his extensive and successful efforts to save her leg.
Dr. Vicky Smith
Although Dr. Smith has always loved animals, she spent several years on active duty as a member of the United States Air Force before enrolling in a veterinary program. She is currently a member of the Army Reserve, deploying worldwide to vaccinate and deworm animals to improve public health. She initially worked in a mixed practice with large animals, including many horses, but eventually switched to small animal practice. Dr. Smith specializes in forensic medicine and also handles cases of animal cruelty. Since moving to Olympia six years ago, she has enjoyed exploring the outdoors with her husband and their dogs as well as trail riding and training in dressage and hunter/jumper horses.
Dr. Scott Capsey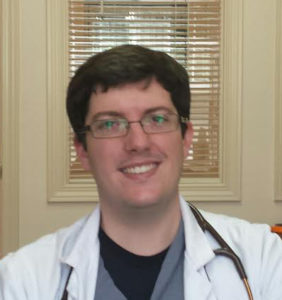 Growing up, Dr. Capsey's family home was a menagerie that included multiple dogs, cats, hamsters, turtles and more. While he was first attracted to medicine, he eventually discovered that animals were his true calling. After completing his undergraduate degree at Oregon State University, he moved to Minnesota for veterinary schooling but missed the multitude of outdoor adventures the pacific northwest has to offer. A search for a home in a city with a small town atmosphere led him to Olympia, which is conveniently close to his family in Portland. Dr. Capsey works closely with Adopt-a-Pet, an extended network of more than 16,000 shelters and rescues that work to place animals for adoption.
Dr. Lesley Parker
Dr. Parker has had unique opportunities to spend time with animals. While she was growing up, her mother completed a rhinoceros study at the Jakarta Zoo in Indonesia and as part of her veterinary training at Ohio State University, she participated in an overseas program at the Maasai Mara National Reserve in Kenya. There she studied zebras, elephants, wildebeest and more, meeting her husband in the process. They found the pacific northwest a perfect place to raise their two children, and enjoy exploring the region through hiking and camping. Dr. Parker handles urgent care cases on the weekends, so anyone who needs immediate assistance at Steamboat Animal Hospital on non-week days will find her there.
Dr. Jacki Fraser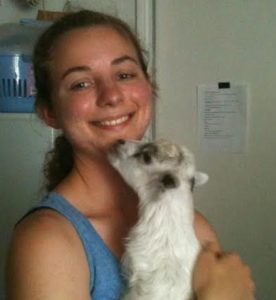 Growing up in Couer D'Alene, Idaho, Dr. Fraser developed a love of both animals and people which led her to veterinary school at Washington State University. She enjoys teaching and problem-solving as part of her practice and is interested in particular aspects of veterinary medicine such as exotic and wildlife animal medicine, cardiology, dermatology and dentistry. Dr. Fraser works with Freezer Cryo, a cryogenic storage system that supports veterinary science. Aside from hiking and visiting the beach, she enjoys playing the clarinet and spending time with her family.
Dr. Michael Murphy

Dr. Murphy was influenced early by the experience of helping his older brother, a veterinarian, with animals at local farms in their area. Another influence was All Creatures Great and Small, the bestselling biography by English veterinarian James Herriot. After completing veterinary school, he joined the military and became responsible for overseeing the large population of military dogs on three bases surrounding Vicenza, Italy. That responsibility also included sanitation and proper food handling. At one point Dr. Murphy and his family were based at Fort Lewis where they fell in love with Washington state. He opened Steamboat Animal Hospital in 1992 and has enjoyed serving the people of this community and their pets ever since.
Sponsored