Phil Degon figured he'd just be a fill-in, a temporary man behind the microphone.
He was already going to games to watch his son, Peter, play basketball for Yelm High School anyway. When his son's playing days were over, he'd turn the announcing of the school's home basketball games over to someone else.
But something unexpected happened. He stuck around. For 26 years, Degon has been the announcer for Yelm's home boys and girls basketball games, bringing some Kevin Calabro like excitement to Yelm basketball. He's like the national anthem, a part of Yelm basketball tradition.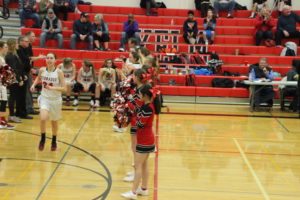 "Welcome to the home of the Tornadoes," Degon booms prior to every game. And the fans erupt with excitement.
"I really didn't think I'd do it for this long," Degon said. "I did it really because I was going to the games because my son was playing. And I thought when he graduates that would really be it."
Now 26 seasons and about 520 games later, Degon is still on the mic, bringing excitement to every basket.
"I love it," Degon said. "It's a lot of fun."
Since 1992, Degon has been on the mic, missing only five games. He has his coined phrases, comments fans love to hear. After made baskets he'll boom the player's last name and add, "rainbow three," "rafter ratter," "banks one in for two," or "goes to the bank."
Steve Misskimens, who has been attending Yelm basketball games since 1999 as an assistant coach or a fan, appreciates the excitement Degon brings.
"Compared to the other schools I've been to, he's by far one of the better announcers," Misskimens said. "His enthusiasm for the game is phenomenal. He's excited when we score. He's got the lines that go with it."
Ron Barnard, Yelm's athletic director for the past 19 years, is impressed with Degon's dedication. What keeps Degon coming back year after year isn't the money. He doesn't get paid. It's his love of the community, the kids and the school that keeps him coming back. Barnard never has to worry, "Now, is Phil going to show up?"
"Phil has been my go-to-guy forever," Barnard said. "He does a great job."
A couple of years ago, Degon was Barnard's solution to a problem. The Yelm's girls basketball team had a playoff game at Fort Vancouver High School. Unexpectedly, the game's public address announcer didn't show up.
"I said our announcer is here," Barnard said. "And they grabbed Phil and he ran with it."
Over the years, Barnard has appreciated Degon's dependability and his lively delivery.
"Out of all the announcers, I'd say he's in the top one percent," Barnard said. "He's entertaining and he's very clear when he announces so people can actually hear him. He gets into the contest."
Russ Riches, the girls basketball coach at Yelm for 21 seasons, likes Degon's exuberant style of announcing who scored, who entered the game and who made the big play. And Riches appreciates that Degon has been the steady voice on the mic over the years.
"He brings excitement," Riches said. "And he loves the kids."
Degon, now 65 and retired from the state's employment security department, shows up about an hour before tipoff and always chats with the kids, seeing how things are going with them.
"He's in it for the kids," Riches said. "He doesn't get a dime for it, volunteering his time. So he just does it for the love of the game. He loves the kids and he loves high school basketball and he loves Yelm. He's got a special place in my heart for sure."
Degon's energetic delivery – "Nothing but net for Zimmerman" – helps bring energy to the game and to Riches' players.
"He'll say things like, 'From down town,'" Riches said. "He definitely gets into it. I get locked into the game. But he brings excitement to the gym. He's a great guy. I thoroughly love him. I hope he doesn't quit until I do."
Degon will ask Riches if there's anything he can do to help, too. He's announced some games for Riches even during summer practice.
"That's the kind of stuff he does," Riches said. "Great guy. He deserves all the credit he can get."
Throughout the basketball season, Degon will sit at the scorer's table behind the mic two or three times a week. Over the years, Degon has been careful not to cheer only for the home team. And, he's careful not to criticize the refs.
"I just tried to get it to be all about the kids," Degon said. "It went from there. I think they've liked what I've done and they trusted me as far as being fair."
Kids come up to him and say they were thrilled when they heard their name mentioned. To hear their name and "drills a 3-pointer!" adds to a memorable moment.
"I put some emotion into the good plays," Degon said.
So, while the kids have come and gone over the years, Degon remains, bringing excitement to Tornado basketball night after night.
"I love it," Degon said.
And the community feels the same way about their man on the mic.