Honesty is proven most valuable through actions. These actions, seen in your neighbors, colleagues, and family, are positively contagious. Pantry, located in the 222 Market Place, is much more than a local artisan grocery shop – it is a statement of honesty. Owners Kevin and Casondra Gerlich are successful in creating a sustainable community-oriented store and learning environment for all.

It began with tamales at Christmas in 1998. This life changing moment for Kevin set him forward with a clear distinction between food as a source of energy and food created with inspirational energy and longevity. "I moved here in 1998, didn't know anyone and was in Olympia all by myself with no opportunity to go home for the holidays. Christmas was the time we got together and made tamales," Gerlich remembers. After calling his grandmother to wish her a happy holiday she happily talked him thorough her tamale recipe, and he made five dozen.
Making tamales is a labor of love, and after coming back inside from a break Gerlich was hit with a haunting aroma of warm tamale air. "I wasn't in Olympia anymore, I was in my Grandma's kitchen with all my cousins and family," Gerlich describes his olfactory senses reaching a place of nostalgia, creating an "out of body experience with tamales." From that point on he was hooked and only read cookbooks and was determined to land a restaurant gig to "build a rapport with food in order to be creative with food."
Kevin's career as a professional chef over the past 18 years has included preparing dishes at Cicada Restaurant (now Oly Rockfish Grill) and Dockside Bistro & Wine Bar. Kevin gained catering skills through working with Saint Martin's University, prior to opening Pantry.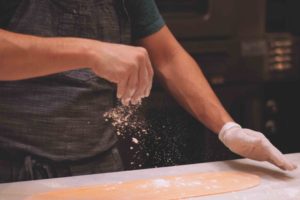 Pantry is an artisan grocery store using a full professional kitchen. Pantry offers a variety of take home dinners, cold salads, shrubs, and other menu items all made in house. "The reason why we make tamales, lasagna, slow cooked brisket, and mac and cheese is because they're easy comfort food. Often when people are less patient, a good meal can really change the day," Casondra says about their crafted take home meals.
Pantry supports local businesses by selling snacks, sauces, salts, oils, beer, wine, coffee, and more all sourced within the Pacific Northwest. "We had about nine months to plan and understand who we are, finding food producers, ranchers, and farmers," Casondra explains when discussing the process of picking and choosing vendors. "We tasted their food and got to know their names and stories, which fueled the momentum to keep going for our passion." There are over 35 Washington based food producers featured in Pantry, 20 of which are based in Thurston County.
Pantry is a neighborhood favorite for bagel lunches, road trip snacks, on-the-go drinks, and dinner options, but more importantly it is a place to explore learning opportunities. In the past the Gerlichs have hosted classes on tamales, kombucha with Oly Culture and fermentation with Oly Kraut. Pantry offers a pop-up butcher block on Saturdays and Sundays, featuring fresh grass fed, finished and humanely raised, beef and pork. Pantry also takes requests and reservations for private dinners for 10-14 people and private cooking classes for 6 -10 people. Information about current cooking classes can be found on Pantry's Facebook page.
Future goals include the creation of more jobs and cooking classes for adults and kids. "The possibilities are endless. We can always do new things, it's never going to get old, and there are so many ways to be creative and meet people's needs," Casondra says. Pantry is a working example of what a viably progressive and supportive business looks like. Casondra and Kevin Gerlich are taking action with the best they have to offer for Thurston County and beyond.
Pantry
222 Capitol Way N. in downtown Olympia
360-819-6703
Open daily from 10:00 a.m. – 6:00 p.m.
For more information, visit https://www.222market.com/pantry/ or follow Pantry on Facebook.