While many turn to Seattle or Portland for a quick weekend getaway, there's a hidden gem even closer to home that can provide all the same delights as these big cities, with none of the drawbacks. Established in 1875, Centralia is experiencing a renaissance. The downtown is beginning to hum again with a unique blend of historic and contemporary shops, restaurants and entertainment that promises something for everyone. And while the big cities offer you hours of driving, congested traffic and high parking rates, you'll find none of that here. In fact, you can leave the car at home and take the Amtrak if you wish.
"I came home to Centralia in the 1990s. In 2007, I started to see things pop-up again, like Santa Lucia, and it inspired me. It laid the foundation for the vision I had of revitalizing downtown Centralia," Scott White, president of Historic Fox Theatre Restorations, says. Comprised of all volunteers, the volunteer-run non-profit organization is restoring the Fox Theatre on South Tower Ave in Centralia to its original splendor.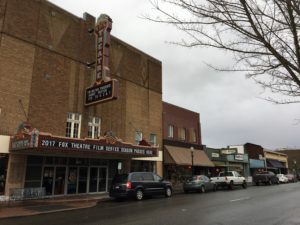 Since then, downtown Centralia has seen the openings of many different businesses, some keeping the past alive, some bringing in the future, and others blending the two. The shop owners are like a big family, supporting and helping each other succeed. And while this may sound too "Mayberry" for you, give the city a chance. It's quite possible you will never find a "Main Street America" street quite like this one. Brick roads, historic buildings, and trendy shops with modern owners that exhibit small town hospitality. One only need to walk down the street to fall in love with this little city.
Starting with Santa Lucia Coffee Co., an urban style coffee shop that looks like it would be situated in North Portland, is the home of direct trade coffee that is roasted right there inside the café. You can watch Justin Page, the owner, actually roast beans while you sip your latte and consume a book off the shelf. Justin and his wife Lucy are dedicated to making sure their business is fair, hence the direct trade.
"With Fair Trade, the farmers aren't really getting all that much more money," he explains. "It's a label. Direct trade means I go directly to the farmer, bypassing the market. I've been to my grower's home in Guatemala. I know their needs and they can feel secure that my order will be coming with the agreed upon payment. They don't have to worry if the market it goes down."
When it comes to shopping, there is more to look at in the few blocks of Tower Ave than you could get to in a few hours of shopping. It could easily take you all day to explore each shop, which provides an eclectic mix of historic and contemporary.
Of course there are vintage stores for those looking for unique treasures or a kitschy gift. But there is also Embody, a new yoga studio with a shopfront carrying all natural lotions, mineral make-up, and yoga attire. There are tattoo parlors, beauty salons, and HUBBUB, an incredible store that carries a wide range of items – from jewelry and clothing to umbrellas and gifts – that are handmade by artists around the world. The owner, Rebecca Staebler, is an artist herself. Shoe enthusiasts must stop in and see her incredible boots handmade in Isreal.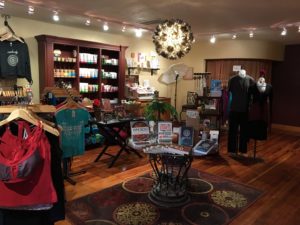 If you are interested in beading, Bead Opus has an assortment you won't believe as well as classes. Owner Travis Pollanz, a former Portlander, loves his new home. "It reminds me of 23rd Avenue in Portland the way it used to be," he says. "The shop are fun and the people are accepting of alternative lifestyles and are friendly."
If history is your game there is plenty to be had here. From old-fashioned lampposts, wall art, and brick streets, just walking down the road is a walk through history. There are also many museums within close proximity to downtown. The King Agriculture Museum is just a couple blocks from downtown. A short ride to Chehalis and you can go to The Chehalis-Centralia Railroad & Museum and the Lewis County Museum. And right in the middle of the shopping strip is The Shady Lady, a two-story second-hand store with gently used name-brand clothing and vintage furniture. It is also the home to the Bordello Museum. For just $2, Holly Phelps, owner, will take you back in time and explain about the "shady ladies" of the past and why the buildings in downtown are connected, allowing you to travel between buildings without going out on the street (you won't believe the answer and you'll have to visit to find out).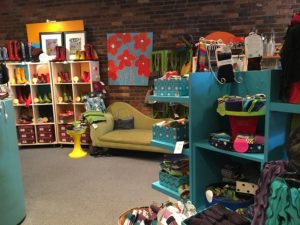 When you're hungry, you still won't have to leave Tower Avenue to satisfy your cravings. It boosts many restaurants including Tiki Tap House, a Tiki-themed pizza place to the mediterranean cuisine at Boccata. Dawn's Delectables is known for their amazing house-made desserts. Her shop is so popular that a second expansion is in the works. If you have allergies or dietary restrictions, Dawn's Delectables is a great option as they always have vegan, vegetarian and gluten-free options. Grab a pint at O'Blarney's Irish Pub to kick off the evening or close out the night.
As if that wasn't enough, there are many activities around as well. The Historic Fox Theatre has a full year of events planned, both movies and live performances. Their season starts on February 25, with a special screening of Harry Potter and the Sorcerer's Stone. Tickets are available at Holley's Place, Book 'N' Brush, and online at Brown Paper Tickets. More information about upcoming events can be found on the Fox Theatre's website.
The Evergreen Playhouse, organized in 1959, boasts a season of fan favorites. There's McMenamins Olympic Club Hotel & Theater for current films and Centralia College, which always has some event on the calendar. The Southwest Washington Fairgrounds is also just down the road and offers events throughout the year.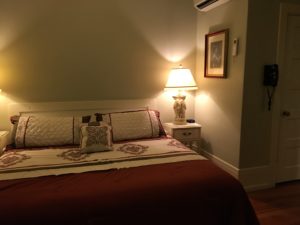 And finally, after a day of exploring, you can head to one of the many amazing hotels, some within walking distance of the main strip, that offer modern convenience paired with vintage charm. The gem is probably the Centralia Square – an incredible historic building that has been restored to it's 1920s grandeur by owners Neil and Jodi White.
You could spend a whole day just at Centralia Square, including breakfast at the famous Berry Fields Cafe, look around the amazing vintage hotel, shop in the antique store downstairs and finish with the Branch Bar and Public Room for dinner. These restaurants are two of the most popular in Southwest Washington.
So no matter what you are looking for when it comes to a getaway in the city, Centralia has it to offer, along with the wonderful charm and friendliness that can only be found in small town America.
Sponsored