Before Jeannine Kempees opened Belleza Ropa in downtown Olympia, she created a line of jackets in the 90's. Her idea was to have them manufactured by a small production company in Seattle, which had been home to a substantial clothing manufacturing industry. 
To her dismay, she found that nearly all of those companies had moved overseas and only two or three were left. "I connected with this small company of 20 women who sewed and had them create a run of about 3,000 jackets which I then offered wholesale to stores like mine," says Kempees. "It made me really sad to realize that all of those sewing jobs were gone."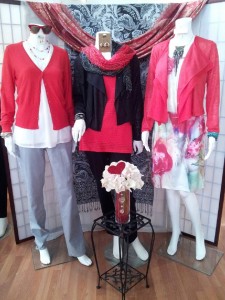 Today that trend is reversing itself, driven by consumer demand. "In the U.S. we're seeing a turn back toward manufacturing locally," she says. "A lot of our vendors are providing more things that are made in America."
The same thing is happening with clients, she says. "People have started asking for it. The price point is something people are willing to pay for. It's kind of a 'put your money where your mouth is' moment for America. If you want things that are made here and you want to bring jobs back, you have to be willing to admit that things cost more than you're going to spend elsewhere."
Although point of origin is not the driving factor in how Kempees picks her products, many of the brands sold at Belleza Ropa are manufactured in the U.S., including Not Your Daughter's Jeans out of Los Angeles, B.ella Socks on the east coast, Smart Wool from Tennessee, and many jewelry lines from the Pacific Northwest.
Kempees scours regional events with the customers in mind, attending local crafts fairs as well. "For every season, in advance, we put a lot of thought into the styles we offer," says Sales expert Sarah Buffington. "Every two months you can find us at apparel marts and fashion shows, thinking about our customers while choosing next season's fashion style."
Not every product in Belleza Ropa is made in the U.S. but everything in the store is curated by Kempees.  "Sometimes we'll have a product line that's from out of the United States but it's literally handmade and the production is small and it's not a giant factory," she says. "We're looking for a very personal design." 
A good example is Fridaze, a linen line out of Hong Kong that handcrafts every item of clothing. Some of those wares will be on display at Belleza Ropa's second annual Love Yourself event on February 11, a chance for women to celebrate Valentine's Day by taking care of themselves. "To love who you are is not expecting it to come from somewhere else. It's loving who you are right now," says Buffington, who came up with the idea last year. "It's an opportunity for women to treat themselves to something nice."  
The day will include samples from local vendor Totally Edibles Artistry Chocolate as well as refreshments, wine and a trunk show from Fridaze. "Linens are normally wonderfully wrinkly," says Buffington. "Fridaze clothing doesn't wrinkle, is washable, and it makes fantastic travel gear. You get business and casual all at the same time." 
To learn more about Belleza Ropa, visit www.bellezaropa.com or call 360-352-7672.
Sponsored