There is nothing better than celebrating the holiday season with a family outing. This year, the historic Centralia Fox Theatre is proud to present the 4th annual Voetberg Family Christmas Show on December 17 and 18. It will be the first live music event since the theater reopened on October 29.
"Every performance has been a sell out and it's becoming a holiday tradition for many families each year in Centralia," Scott White, Historic Fox Theatre Restorations President, says. "The Voetberg Family has raised nearly $20,000 for the Fox Theatre Restoration over the past three years, and all proceeds from this year's concerts will go to the restoration as well.  This is our largest annual fundraising event."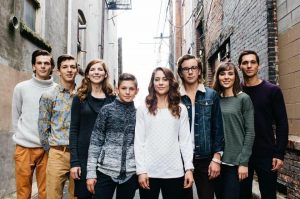 The Voetbergs are a local Centralia family consisting of eleven children who were all blessed with amazing musical talent: Joby (bass, guitar, vocals), Brice (piano, vocals), Liddy (lead vocals, fiddle, piano), Elisha (guitar, vocals, mandolin), Annnie (cello, fiddle, guitar), Lilja (piano, fiddle, guitar), Tucker (drums, fiddle, vocals, mandolin), Deter (bass, fiddle), Vance (fiddle, vocals), Rudy (fiddle), and Lisa (vocals). Imagine what it sounded like growing up in that house with that many kids learning to play instruments. This talent didn't just come from anywhere – their mom was musical.
"Our family originally began music by singing with our mother at home and church," Lilja says. "We were home schooled and singing as a family was part of our daily routine and academics. When my oldest brother turned eight he began classical piano. All of us have studied classical piano through our school years. As the older ones progressed in piano, they grew interested in other instruments."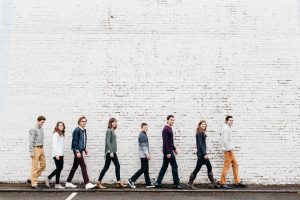 She added that the band just fell into place naturally because they were all at home playing together. Then, they were asked to play at their church and their group took off from there. You may be wondering how so many siblings can get along long enough to get through one song, let alone a whole set. Lilja says they take turns playing the different instruments—all of the kids learned piano and fiddle –so they never really fought over who would play what instrument. As for artistic differences, she says that just made them stronger.
"We definitely have had some conflict, especially since there are many musically opinionated people in our family, but we've learned to get along and honor those who've put thought into different arrangements and their ideas," she says. "We see our differences as an opportunity to grow in our communication skills and draw closer to each other. Overall, we all enjoy each other and music brings us together."
This year's show is a two-hour culmination of the family's musical talents. It promises to be the biggest one so far – with the entire family in attendance, including some grandchildren. This is a rare occasion, as the children have grown up, married, started families and can't tour as easily as they used to.
The Voetberg Family Christmas Show is a delightful musical concert featuring all your favorite carols—some unique arrangements, some traditional—along with audience participation and even dancing. Lilja's personal favorite is "Sleigh Ride" because it's so "festive and has a really cool chord progression," so it's sure to be on the list of songs performed.
The Voetberg Family is performing for two nights only: December 17 at 7:00 p.m. and December 18 at 2:00 p.m. and 7:00 p.m. Tickets are $10 for adults, $7 for 13 and under, and lap sitters are free. They are available now at Fiddlers Coffee, Holley's Place, and Brown Paper Tickets.
Sponsored