Randy Trowbridge helped found the Evergreen Swim Club in the early 1980s before heading off to coach in Wisconsin for the next three decades.
Upon returning to the Olympia area three years ago, Trowbridge slid right back into his previous coaching position, as if nothing had changed.

That, however, was part of the problem.
"The swimming (times at the Evergreen Swim Club) were faster back in the 1970s and 1980s compared to when I came back in 2013, generally speaking," Trowbridge said. "Every area has advanced in swimming. That's what happens, but our times didn't change. I still don't know the reasons for it, but I do know swimming was significantly faster when I left. It was an eye opener. So, my goal is just to bring that high standard and quality of performance back to the area."
Alex Wright, Everett Werner and William Christenson have certainly contributed to Trowbridge realizing his goal as all three club swimmers secured spots at the 2016 Speedo Winter Junior National Championships West, December 9-10 at College Station, Texas.
The event will feature the nation's premiere swimmers under the age of 18 west of the Mississippi. The East Championships will be contested during the same time period in Columbus, Ohio.
"It's a big deal. When I came here three years ago we didn't have anyone anywhere near making the cut," Trowbridge said. "They've had people do this before, but it's been quite a few years. Apparently we are on the road right now to hitting those high standards."
Wright and Werner, who are both juniors at Olympia High School, will each compete in four events.
Wright is entered in the 200 fly, 200 back, 400 IM and 500 free, while Werner advanced in the 200 and 400 IM, 200 back and 200 fly.
Christenson, a freshman at Olympia, will join his teammates in the 200 fly.
Werner received an added recognition for the meet, earning Scholastic All-American honors, which is awarded to swimmers who not only make the cut for junior nationals, but also maintain a grade point average of at least 3.5. Werner currently sports a 3.9 GPA.
"These aren't normal kids, they're exceptional," Trowbridge said. "They all maintain high grade point averages, and they do that while practicing between 3 and 3 1/2 hours a day."
The weekly routine for all three includes 90 minutes of morning workouts Mondays, Wednesdays and Fridays, combined with 2 1/2 hours in the pool during the afternoons Mondays through Saturdays.
"It's a lot of swimming," Christenson said, "but this is the effort I need to put in to reach my goals."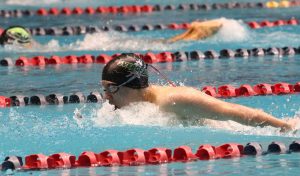 For all three, the junior nationals will serve as a platform for them to showcase their skill sets to colleges.
"There's going to be a lot of college coaches there and they definitely will be paying attention to how everyone does," said Wright, who has already drawn the interest of such notable schools as Kentucky, Tennessee, Duke and Harvard. "The best swimmers in the nation are going to be there. It's the best of the best."
One thing Wright will have going for him this time around is some valuable experience, having competed at a national-level event a year ago.
"It was a little too much last time," Wright said about his previous trip to nationals. "I was a little overwhelmed by all of it. This time I am really looking forward to the competition. It's good to swim against fast kids and see where the bar is at. You need it to get to the next level."
Christenson will also draw on some of his own past experiences as in August he competed at the Western Zone Championships, an event featuring the best swimmers from 12 states.
"I'm a little of both," Christenson said when asked if the upcoming junior nationals ignites excitement or nervousness in him. "You go from these smaller meets, swimming against people from the Thurston County area, to this larger one which has swimmers from all over the country. It's exciting and it's a new experience, but it's a little bit overwhelming, which isn't necessarily a bad thing. It gets you excited. This is what I love to do."