Locavore. You've probably heard the term in pop culture by now. It generally refers to someone who is enthusiastic about local food, usually grown within a 100-mile radius of consumption. Locavore Mercantile shopkeeper Beth Mathews encourages shoppers to see the term a little more broadly. In this case, the new "pop-up" holiday shop, which houses about 25 Puget Sound and Northwest-area artisans of all creative stripes, is a celebration of our area's artistic talent. With the motto "Locally Made. Goods. Gifts. Art.," Locavore is an absolute oasis for gift shopping.

Situated on tranquil Steamboat Island in the new Steamboat Square plaza, Locavore is a place where Olympia residents can find one-of-a-kind holiday gifts. I was warmly greeted by Mathews, a Steamboat peninsula local and multi-talented artist. Inside, an artfully arranged treasure trove of discovery awaits. Locavore opened its doors in October, and has been charming those who stop in ever since.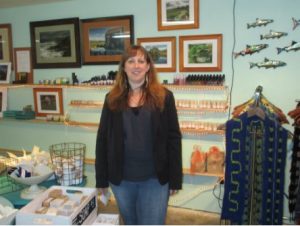 The idea behind Locavore is that it is an artist cooperative. For a very reasonable price, artists can showcase their works for the entire season. Artists find it a blessing to have their goods set up in one place, and Beth lovingly weaves together each display into a beautiful, easy-to-shop tapestry. As shopkeeper, Beth does it all: taking care of inventory, maintaining displays, cashiering, managing the website and social media, and generally doing everything needed to keep the shop running smoothly.
So, what are some of the gifts you'll find at Locavore? To put it simply, just about everything you can imagine, from housewares to body care. From metal stakes created by Randi and Lani Dial of Shelton, to wearable fiber art scarves by Julie Simpson, gifts come in all price ranges, so there is something for every budget and taste. You can pick up some chic magnetic glass vases, a popular seller, or glass coasters made by Blue Fox Glass in Beaverton, Oregon. (Don't miss their fused-glass ornaments bedecking a tree in the front of the shop.) Handmade greeting cards are the perfect accompaniment.
Lining the walls are fabulous framed custom paintings, photography, Raku-fired ceramic fish by Ainslee Walden, and more terrific art for every taste. Custom quilted tapestries by Callie Martin showcase hours of work, and Gib and Nimm candles are ready to scent your home.
There's also something for the gourmand on your list. You'll find Westport-made Sassy Seafood and delectable sauces and condiments from Olympia's own Saucy Goodness.
Wanting to pamper someone special? You'll find an abundance for the natural beauty lover on your list. The back corner of the shop presents a bouquet of handmade jewelry by several artists and natural bath and body options (including Nature Nouveau items made by Mathews herself, along with several other local talents, such as Chris Kaitlyn and Wendy Blum's Amethyst Sky). You'll also love the brightly hued, healthy-for-you Pepperpot Polish and cosmetics made in Tacoma. These color-pop gems of would make a great gift for a fashion-forward girl or guy friend. NAEBalm provides a healing winter option. But there are too many talented artists to list here – you'll truly have to see for yourself.
In addition to gift shopping galore, Beth offers ongoing special events. She's hosted make-a-gift workshops, and artists are invited to have their own "trunk shows" at the shop (contact Beth via email to arrange a show). She's created an artistic oasis on Steamboat Island, something the community has never seen before, but that fits in just perfectly.
Mathews grew up nearby, in the McChord Airforce Base area, and lived in different areas before returning to Olympia. She is trained as an archaeologist in cultural resource management, and began selling her handmade jewelry and body products on Etsy in 2009. Beth is a veteran of local holiday craft bazaars and she continues to show locally, in addition to running the shop. Earlier this year she decided to transition from her job to starting Locavore full-time. She put out a call to local artists in September, and the response was rapid. The artists have been very engaged, perhaps because Beth provides a small studio space in back where she and other artists can work. (Beth works on her elegant skeleton leaves when she gets a rare free moment).
What's the most rewarding part of running Locavore? It has been a true labor of love (including weathering a storm on opening day), and Mathews radiates excitement about the shop. She says the biggest reward has been "everyone who comes in or is associated with the shop – that's a day-to-day bonus. Seeing all these local artisans and business people in one place, some meeting for the first time. We have an abundance of talent and ambition out here." Thus, for both artists and shoppers, Locavore truly brings it home.
Mathews thanks the community, and all the local artists who make up Locavore, for their support. She is quick to point out that it is a team effort. Artists have helped with everything from painting the space a cheerful aqua color to installing shelving, lending charming furniture, and even staffing the shop. Beth says the shop has fostered a sense of community for local art, with vendors stopping in frequently. Beth notes that Steamboat Animal Hospital vet Dr. Mike Murray, proprietor of Steamboat Square, has been wonderful to work with, giving her carte blanche to customize the space. In short, Locavore is a true gift to the community, both for artists and shoppers.
Stop in at Locavore this holiday season to do your shopping. Bring a friend and find something unique. The shop is just off Highway 101 at the Steamboat Island exit. You can also follow them on Facebook, Instagram, and Pinterest and check out Mathews' Kickstarter campaign for her all-natural deodorant here. Locavore offers the opportunity not just to buy locally, but to be enthralled with our local talent during the hunt.
Locavore Mercantile
6541 Sexton Drive NW
Olympia, WA 98502
Open Wednesday – Sunday 11:00 a.m. – 5:00 p.m. (Check for hours – may be open additional hours as the holiday season nears)