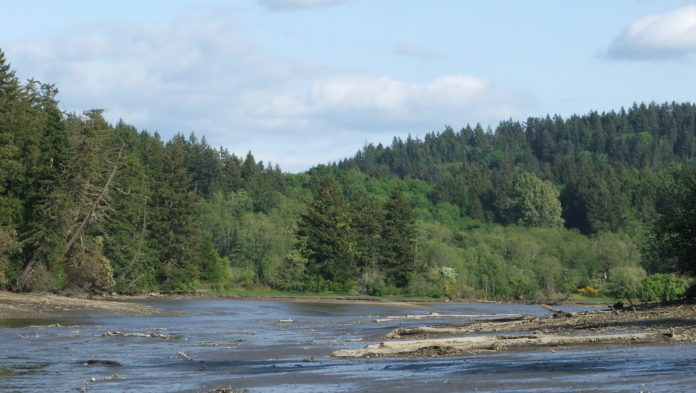 By Gale Hemmann

Bird watching, burgers and walks in the park. The Steamboat Island area, on the west edge of Olympia, has it all. It's close to the amenities of the city, but as you'll find while biking, strolling, or driving through, it's also a lush, tranquil world unto itself.
You've probably seen "Steamboat Island" bumper stickers around town, and it's no wonder locals are especially proud of their neighborhood. Rich in history and community events, the area has a close-knit, laid-back vibe. Nestled at the southern tip of Puget Sound, the area (officially defined by the boundaries of the Griffin School District) is where life moves just a little slower, and nature (think wildlife and plenty of trees) are a defining feature.
This ThurstonTalk writer (and Steamboat Island resident of five years) set out to learn more about the island's history, and what it has to offer for Thurston County residents. Whether you live in this neighborhood or just looking for a new corner of Olympia to explore, Steamboat Island has some can't-miss points of interest.
What's in a name?
Steamboat Island was originally the home of the Squaxin Island Tribe. The tribe's name means "people of the water," and its first inhabitants were successful shellfishers, weaving a deep connection to the land and sea into their customs and oral traditions. While the Squaxin Island tribe is now located in Kamilche, Washington, the tribe still cultivates shellfish in Totten Inlet today.
There are a couple of stories about how the area got named "Steamboat Island."  The consensus seems to be that European settlers to the area thought the land looked like the top part of a steamboat. Others think the name is a reference to the regular steamboat traffic that moved through the inlets, carrying logs and shellfish to processing plants. However, the land is more of a peninsula than an island – that part of the name remains a mystery.
Settlers came to the area for logging and oyster cultivation as early as the 1840's. The Mud Bay Logging Company, one of the biggest operations, stood where the Mud Bay Park and Ride now exists. There were several successful oyster businesses, and you can still see some of the old wood pilings today during low tide at Eld Inlet.
The area was officially incorporated in 1909, and served as a major stopping point for steamboats throughout the early 20th century. Lore has it that the boats not only stopped for provisions, but were known to pick up people who waved the boats down to travel aboard.
Why visit Steamboat Island?
So, what is there to do on Steamboat Island? Even if you don't live there, there are plenty of great reasons to check out this cozy little area. (To get there, take the Steamboat Island exit on Highway 101 North, or for a scenic drive, take the Madrona Beach Road exit, and trek down this wooded street to the main hub).
Kids can explore the playground and you can hike, picnic and gather shellfish at Frye Cove Park. For a short walk with great water views, also check out the historic William Cannon Trail. Framed by wooded shoreline, it's a popular bird-watching destination (look for Great Blue Herons and Bald Eagles). The trail ends at water's edge, and as you stand there, taking in the pristine view, you can almost imagine stepping back in time. And if golf's your thing, you can also check out the Steamboat Golf driving range.
After a day of walking and playing, you can stop by Steamboat Annie's (on Old Steamboat Island Road), a favorite stop for locals offering burgers, fries, and famous milkshakes (the author highly recommends the hot fudge flavor). You can also try the pizza-size (yes, literally pizza-size) "Barge Burger" to share.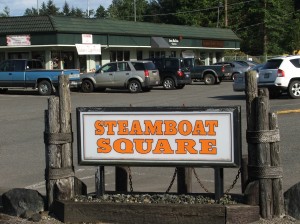 In fact, Steamboat is home to a lot of great locally-owned businesses. You can pick up amenities at the Island Market, grab a coffee at the espresso stand next door, meet rescued cats at Feline Friends, and catch fresh fruit and crab stands in the summer. (You can find a complete business directory here.)
Throughout the year, you can also catch fun activities at the Prosperity Grange. This local gathering spot, built in 1910, has long served as a hub for people to come together on Steamboat. (You can also rent the Grange hall for your special event.)
You can find community events throughout the year on Steamboat, from Cameron Garden's seasonal plant sales, to the annual Blueberry Bash, to a number of holiday bazaars.
What makes life on "the Island" unique?
The neighborhood boasts many long-time residents. People love "Steamboat life" for many reasons. It is home to the Griffin School District, with its small, high-quality elementary school that is deeply engaged in the local community.
For those who live on the water, this is another big draw. You can see all manner of boats, kayaks, canoes and jet-skis in nice weather. Many bicyclists are fond of the area for its road biking options.  A trip out Steamboat Island Road can last almost ten miles one-way.
No matter why people choose to live in this area, there seems to be a common denominator: people love the friendly atmosphere and serene bounty of the natural world around them. My partner and I love the area for its "sleepy little town" feel, and because we are likely to see deer grazing, hear birds singing, and see foxes and raccoons right outside our window (and an eagle or two has touched down in our yard).
Another neat thing about the area is it is always changing and evolving, as local residents come up with new ideas and events for ways to build community. A recent addition is the "Steamboat Little Free Library" at the Griffin Fire Department.
Yet one more thing that makes life here is that residents are passionate about the area's natural resources. They are committed to protecting the habitat around them, and the Griffin Neighbors Association partners with Capitol Land Trust to preserve the area.
How can I explore what Steamboat Island has to offer?
To learn more about this quaint, charming area, you can visit the lively Griffin Neighbors website for all things Steamboat-related. (You can also follow their Facebook page.)
Or, you can just load the family in the car, grab your picnic basket and binoculars, and head on out for a day of nature and fun – the residents of Steamboat Island truly welcome you.