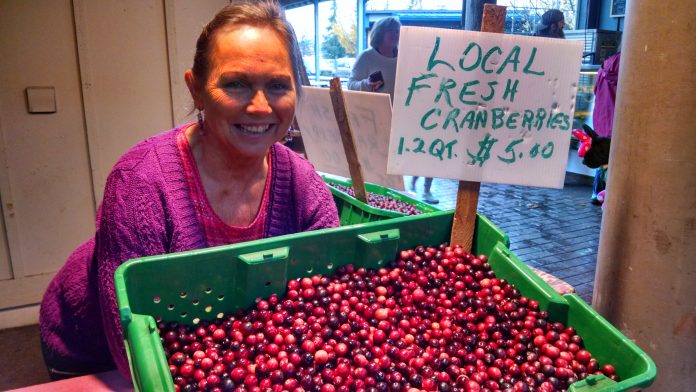 Are you or someone you know vegan? Gluten-free? Paleo? Avoiding added sugars? Low-carb? Gracious. We come together with family and friends through the holidays to share meals. There are as many eating styles as people.

It's not necessary or even possible to please everyone, but is possible to offer wonderful, healthy food. It is even better when that food takes only a few minutes to prepare. Here are ideas meant to appeal to you because they taste amazing, have short preparation times, and contribute to everyone's well-being. I'm talking cranberries, mushrooms and pumpkins.
Cranberries
Kathy and Felix Mahr's Bloom Creek Cranberry Farm berries are back at the Olympia Farmers Market. They are offering the Willapa Reds, tart with a hard skins. These berries are perfect for a raw relish. The Stevens variety is juicier and sweeter, making them great for sauce, adding to baked goods or stirring into your oatmeal. I've switched from my fading frozen summer berry supply to fresh cranberries for my morning green smoothie.
Once I learned that making my own cranberry sauce takes barely longer than opening a can, I stopped buying it at the store, reducing the amount of high fructose corn syrup. Your homemade sauce will use sugar or another sweetener, but you can put the amount and kind you want. What do you need for fresh cranberry sauce? Berries, water, and sugar, and if you want, orange or lemon zest. It's made on the stovetop. Here's a recipe.
Cranberries and apples make a happy marriage. Fill your crockpot with fresh cranberries and chunked apples. You don't need to peel the apples, just remove the inner core. No added water is necessary. Cook on low for several hours. Use a potato masher to help the skins disintegrate. My apple-cranberry sauce is a family favorite. You can make the apple to cranberry ratio 50-50 or heavier to one side or the other. For a totally different treat, take off the lid when everything is cooked but keep the heat on. The extra water will evaporate leaving apple/cranberry butter. It's sweet and will spread on bread, muffins, pancakes and anything else that's lying around.
Bloom Creek will have berries through Thanksgiving.
Mushrooms
Right now The Fresh Approach is where you can find mushrooms from local harvesters. If you are not yet a mushroom fan, at least go and admire the many shapes, colors and kinds of mushrooms that owner Michael Kinnick has on hand. "It's taken me a lot of time to develop the relationships," he said when talking about expanding the varieties of wild mushrooms he as for sale that are sourced by licensed businesses.
Kinnick is happy to quickly sauté his treasures in butter. Then you can eat them alone or paired with just about anything. For example, oyster mushrooms go well with eggs. Chanterelles go with lighter red wines like pinot noir when the dish is lighter (pasta) or can go with a heavier red such as a cabernet sauvignon when serving with meat.
Put mushrooms in sauces, on meat, in sandwiches, in salads, or rolled up in your tortilla. Depending on the mushrooms, a cup can be packed with fifteen different vitamins, minerals and antioxidant phytonutrients. And, they taste good, too.
In my dreams, I'm poking about the forest looking for mushrooms and collecting them in my wicker basket. But that can be dangerous if I eat the wrong ones. I'll trust an experienced, licensed mushroom gatherer to do the work for me and I'll just melt the butter.
Pumpkins
I've noticed pumpkin puree in the can has been scarce at times at the grocery store. I like to have a couple of cans on hand because it's faster than doing my own. Most canned pumpkin has no added sugar, which saves the time of roasting my own (but that's fun, too). Pumpkin puree is a festive addition to morning smoothies and can be put in muffins or even a little in your morning oatmeal. However, let's talk dessert.
This is a super quick treat that is friendly to most ways of eating. The creamy texture of this Pumpkin Mousse is impressive. It has notably fewer calories than pumpkin pie, has equal pumpkin flavors AND is nutrient dense. You can call it pumpkin pudding, but mousse sounds more elegant.
Blend one 15-ounce can of pumpkin puree with a 15-ounce container of silken tofu. Add a small amount of white sugar, brown sugar, or maple syrup or honey. Add cinnamon, ginger, all spice and/or nutmeg. Spoon into cups and let it sit in the refrigerator. It's even better topped with whipped cream, but that's up to you.
I'm more relaxed with the holidays these days. I'd rather appreciate the time with family and friends than worry about finding a perfect gift or over-baking for the crowds. However, I do like food, and we'll be eating our share of cranberries, mushrooms and pumpkin puree. I wish you the joys of the holiday season. Food is an integral part of families and celebrating. By including easy-to-make, health minded food you'll do your body good.
Bloom Creek Cranberry Farm and The Fresh Approach can be found at the Olympia Farmers Market, open on Saturdays and Sundays in November and December from 10:00 a.m. – 3:00 p.m.