Years ago, date nights were wildly anticipated in our house. Our three children looked forward to a night without their parents, eating pizza on the couch, and bribing the babysitter to let them stay up late watching television.
For me, date night meant putting on a pretty dress and even dabbing a bit of perfume behind my ears. My husband, however, had to reach deep into the closet to find his dress pants and then use the lint roller to remove the dog hair.
It didn't happen often, but when it did, we celebrated date night. It was a big deal.
Now our children are grown and we have the freedom to go on a date any time we want. When was our last date night? I have no idea.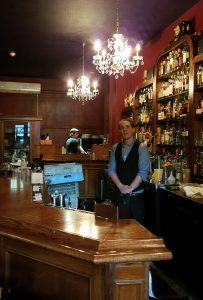 Olympia offers a myriad of places to imbibe a sophisticated cocktail, dine on meal prepared by a chef, enjoy a professional theatre production, and, even, spend a night away from home while someone else takes care of the dog.
It was time for a date night. I needed to find the perfume. My husband needed to find the lint roller.
We started our evening in downtown Olympia at Dillinger's Cocktails and Kitchen for pre-dinner cocktails. Happy hour starts 3:00 and ends at 6:00 p.m. We arrived at 4:00 p.m. on a Saturday night. It sounded like an appropriate time, but when we arrived, people were three deep next to the bar. I highly recommend reservations at this popular joint on the ground floor of the Security Building. Built in 1927, it is one of the oldest buildings remaining in Olympia.
One of the helpful wait staff saw us vainly looking for a small table. She squeezed us in next to the window and our next task was deciding what to drink. The drink menu was extensive. The cocktail list included spirits and mixers that were shaken, stirred, served straight up or neat. I decided to go with one of their recommendations – the Ritz cocktail. My husband chose a whiskey sour neat.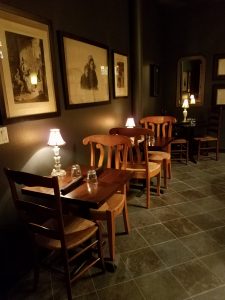 We proceeded to dinner by walking a few blocks to the Peddler Bistro at 222 Market. The atmosphere couldn't have been more different. There is a hush in the air at the Peddler Bistro. It is located behind the Bread Peddler at 222 North Capitol Way in Olympia, serving dinner Wednesday – Sunday.
The Peddler Bistro is loved in Olympia for many reasons; for me it's the bread. And the butter. The French bread is replaced frequently on the tables. It has a hearty crusty while the inside is light and creamy. It is also wise to make a reservation at the Peddler Bistro due to its loyal following. In fact, the waiter pointed out a couple in the corner who comes every Saturday. I decided to trust their choices. "We'll have what they're having," I said.
The Peddler Bistro menu changes seasonally to feature the produce and season-oriented sauces, meats and fish. That night, I had the Clams Provençale with peppers, fresh herbs, and Pernod while Paul dined on Oregon Rock Fish with braised greens, chanterelles, charred thyme with beurre blanc. I should have picked up the tab for those other diners. The entrees were amazing.
After our sumptuous dinner, we hurried down the street to the Harlequin Productions, an Olympia entertainment institution since 1991. Harlequin Productions effortlessly produces plays and musicals attracting audiences from all over Thurston County.
Harlequin supports the community in a variety of ways. General performances are frequently sold out. However, Harlequin offers a few alternatives. Thirty minutes before the curtain goes up, discounted rush tickets are released. It is not a guarantee that viewers will sit together. Another option is Pay What You Can which is an option on Wednesday after the opening weekend. Tickets go on sale at 12:00 p.m. and can only be purchased at the box office. Tickets sell out quickly! Last of all, the Harlequin supports Ladies Night Out on the second Friday of the month. Champagne and chocolate truffles are provided by Olympia's long time retail store, The Popinjay.
After experiencing one of Harlequin's powerful productions, we decided to splurge on a night at Olympia's new luxury hotel. Formerly the Red Lion, the Hotel RL has assumed its location on the hill overlooking Tumwater Falls Park and Capitol Lake.
Recently remodeled, Hotel RL is a new upscale, lifestyle hotel brand by Red Lion. We put away our bags in our room and wandered down to the lounge. We were delighted to discover a three-piece jazz ensemble playing old and favorite tunes. The cocktail menu offered late evening drinks. Back in the room, we looked over all the amenities of the gorgeous hotel and discovered it even offered pet-friendly rooms.
I looked at my husband and sighed. Next time the dog could come on date night in Olympia.
Sponsored