West Olympia has the Olympia Food Co-op, the east side of town supports the Puget Pantry, and the Capitol neighborhood has Spud's and the Frog Pond. The "corner store" is often the unsung gem of a neighborhood, and downtown Olympia's gourmet mercantile, Little General Food Shop, just moved into a new location closer to the core of the city.

Little General, Kim Murillo's elegant take on portable gourmet, began with a small space and a necessarily small food prep area, and featured a cooler of salads and sandwiches from several local vendors. The shelves featured a number of gourmet condiments and snacks, both imported and artisanal. Though the space developed a strong following, the size prevented her from offering as many prepared items as she would have liked.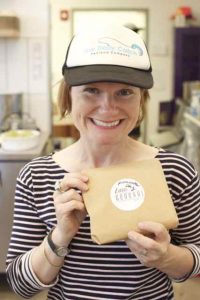 The new space, at the corner of Capitol and 5th Avenue, preserves the modern elegance of the original space, but has significantly more space on both sides of the counter.
"So many more people are living and working downtown," says Murillo. "It's becoming more of a neighborhood, and I'd like Little General to be able to accommodate that change."
This increase is especially clear from our vantage point at the high bar that circles the perimeter of the store. Across the street is Olympia's first mixed-use development, wherein modern apartments are situated atop restaurants and commercial spaces, with more slated for construction in the next few years. Behind us, the bustle of the biggest difference between the original space and the new is audible.
"We have a full-size prep area now," Murillo says, gesturing broadly as three aproned staff chop and toss ingredients behind the counter. The space formerly occupied by Acqua Via has undergone significant but subtle changes.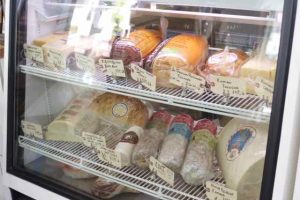 The prep area means that Murillo can indulge her taste for innovative combinations.
"We have salads and sandwiches, and then we have a lot of what I call 'salad bribes.' Eggs, beans and rice, bo-ssam, stuff like that," says Murillo. Bo-ssam, to the uninitiated like myself, is a Korean recipe similar to pulled pork, and made with a ginger scallion sauce. You can add this to a sandwich or put it on a salad, and this is an excellent glimpse of what Little General is all about.
"It's fun gourmet, basically," Murillo says. "We're also trying to get away from the modern obsession with packaging."
In addition to the prepared food which varies seasonally, much of it from local farms, Little General also hopes to provide some basic necessities that neighbors may need. The new location has food in bulk bins, as well as a wider variety of pastas and kitchen staples.
Speaking of staples, a popular aspect of the original Little General was its beer and wine selection. While small, it was particularly well curated, and the new location is no different. There are a number of notable imports (this summer, Little General was one of the few places consistently stocking Steigl radler, for example), as well as carefully selected French and Spanish wines.
The new location features a kegerator in addition to the bottled beer, with beer and kombucha on tap.
"We moved a few walls here and there, and we opened up the floor plan, but the layout is similar," she says. The main floor is bright and airy, the seating is ample, and the displays are as elegant and understated as ever. The late afternoon crowd is lined up at the counter. According to the board, soup is in the offing, unless it's too hot for soup.
Little General Food Shop
500 Capitol Way South in downtown Olympia
Open Monday – Saturday from 10:00 a.m. – 8:00 p.m.
Sunday from 11:00 a.m. – 5:00 p.m.