Kaleb Lunderville was a jack of all trades during his Yelm football days as a youth.
"I played a lot of different positions," Lunderville stated before rattling off the list. "I played everything from running back to quarterback to even defensive line. I've been a linebacker, a safety. I'm not sure there hasn't been a position I didn't play at least once."
That all changed when Lunderville entered Yelm High School as a freshman. New coach Jason Ronquillo took one look at him and new immediately knew where he was going to place him on the field.
"All he said to me was, 'You're going to be a receiver," Lunderville remembered. "I told him I was down with that."
Ronquillo proved to be a quick judge of character as three seasons later Lunderville has developed into one of the state's premiere wide receivers. The 6-foot-2, 200-pound standout snagged 46 catches for 893 yards and an eye-popping 15 touchdowns last year, and is one of the big reasons the Tornados have lofty expectations this year.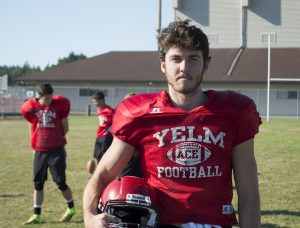 "We want to win a league championship and make the playoffs and I really think we can do it with the people we have this year," Lunderville said. "You always want to win a league championship and go to the playoffs, but every year here it's became more realistic. We're starting to recognize just how good we can be."
No doubt opposing teams in the newly formed 3A South Sound Conference have taken notice as well.  Yelm not only features arguably the best receiver in the conference, but also the top returning running back in Brandon Thompson, who rushed for more than 1,100 yards last year as a junior.
"We're just a new Yelm," Thompson said. "We put in the work for the last four years. There's probably even more than just (Kaleb and I). We have a lot of guys who are under the radar."
Lunderville and Thompson took similar paths towards Yelm High School football. Both moved to the town in fourth grade – Lunderville from Port Angeles and Thompson from Germany – and instantly turned to the gridiron in an attempt to meet their new classmates.
They were quickly embraced.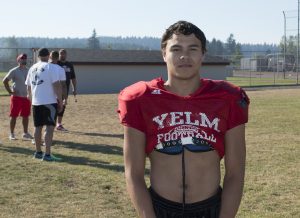 "It certainly made it easier moving into a new place where you didn't know anyone," Thompson said. "It seemed like everyone else knew each other forever around here, but once we got on the field football they immediately made us part of the team."
This year's seniors mark the first class to play all four years under Ronquillo, who overtook the Tornados program when they were freshmen. It's a bond that both players believe will result in wins on the field.
"The staff actually talks about that a lot," Ronquillo said about this year's seniors being the first group to go through his system. "This is the only program and philosophy this senior class has ever known. We are such a tight knit group. There's a lot of love between the coaches and the freshmen who came in with me. We want to see them be successful."
Thompson, who has piqued the interest of all three military football programs, but admits to leaning toward Army due to his family ties, states he is healed up from his last year's collarbone issues. The gifted running back broke his right collarbone in the season finale last year, then proceeded to break it a second time during a seven-on-seven passing league. Surgery was required in the offseason.
Lunderville, a hurdler during track season, also used the summer to rehab and strengthen from an injury as he dealt with a strained hamstring.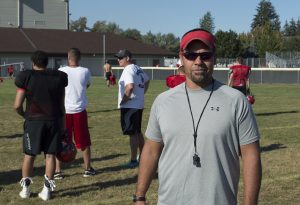 Both have showed no signs of slowing down leading up to the season opener.
"We're starting to recognize all of the talent we have out here," Lunderville said. "A lot of us have been playing together for a long time, which always helps. We have good team chemistry. We all know each other. We all know what we are doing. We have a lot of guys this year we can give the ball to."
The Tornados are coming off a 5-5 season as a member of the 4A Narrows League. They move down a classification this year and will open on the road on September 1 against Bethel in a non-conference contest.
"This senior class has put in as much time as anyone and because of that they deserve to be confident coming into this season," Ronquillo said. "They all have high grades and are all students of the game. The on-field leadership is there and the skill sets are there. They are leaders at the school. They are involved in getting things done on campus. These are things we want out of our players. This is what we encourage. It's just a great group of guys. I am really excited about this year."