Let's Paint is located in the heart of downtown Olympia and can be found nestled between The Painted Plate and Forever Tattoo World. Inside the studio, nearly every wall holds a colorful collection of paintings hung from floor to ceiling. With such an abundance of creativity it is easy to imagine Lexy Neff, the co-owner of Let's Paint, as inherently artistic.

Lexy was quick to set the record straight sharing, "I wasn't artsy as a kid. My brother was really artsy, and I tried copying his work all the time. But his art looked good and mine always looked terrible. I just assumed he was the artsy one in the family, and I wasn't. So I never pursued art as an extracurricular activity. I did like to color. I loved crayons! But I never thought of myself as artsy."
Originally Lexy attended South Puget Sound Community College with aspirations to become a marine biologist. However, after talking with one of the school's counselors, Lexy was turned on to the notion of becoming a teacher. Little did she know this was a pivotal step along the path that would lead her to become a painting instructor and owner of Let's Paint.
This path certainly had its twist and turns. Upon taking a drawing class Lexy confessed, "I felt overwhelmed." During a following quarter she found herself needing to fill one more slot in her schedule, and the only one which fit was painting. At first she felt intimidated, especially during the first few weeks when she was limited to working with black and white paint.

But it all changed the moment she was permitted to play with color. "Using color gave me so much freedom. I didn't know how to shade, or add texture, but all of a sudden I felt awake and at peace with myself. I loved it. I tried to incorporate magenta and orange in everything I made. I seek out to use those colors even to this day."
Lexy continued to pursue painting while at South Puget Sound Community College. She formed a bond with her painting professor, Melinda Cox, fondly expressing, "She changed everything because she encouraged me to try, and pushed me to do better. I adore her, and she is still like a second mother to me."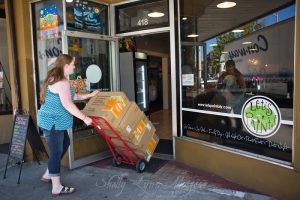 Desiring to further her studies, Lexy perused The Evergreen State College's Fall 2011 catalogue and planned on enrolling in their painting program. Though, when her registration window opened, she was devastated to learn they had cancelled the class and recounted, "I felt lost when I couldn't take that painting class at Evergreen. I almost didn't go to Evergreen, but I decided to still enroll. I met so many creative people and artists. They helped rekindle my desire for painting, and got me back on track to pursuing the arts."
Lexy described the feedback from Evergreen peers as "absolutely crucial. We would critique one another and invest in each other."
During her last quarter at Evergreen Lexy participated in their America Abroad program. She soaked up as much art as she could while visiting the United Kingdom, Ireland, and France. It was the architecture which spoke to her the most. She was able to visit multiple cathedrals, including Notre Dame during its 850th anniversary. "I'm not a religious person even in the slightest, but I was so moved because I loved the history. I valued how much life and effort had been poured into these buildings." Upon returning to Evergreen she was tasked to write about what she had seen and learned while abroad. It was then that she realized she was mainly interested in how art makes a person feel.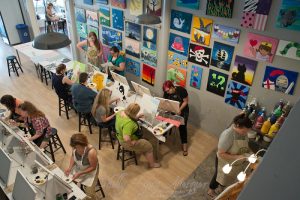 Nearly two years would pass between Lexy's time at Evergreen, and her first encounter with Let's Paint. During the interim she met Travis Nelson. Travis was related to the original owners of Let's Paint, and upon learning his girlfriend had studied painting, they offered her a part time position. When it came time to instruct her first class, Lexy admitted to being, "terrified, but then I got over my fear, and it was amazing." Her aptitude for teaching, her passion for painting, and her enjoyment of other people's creations suddenly fit together perfectly. "It was awesome to be in love with my job." From then on, Lexy and Travis would day dream about owning Let's Paint.  The couple made pages of things they would do and then one day the previous owners offered to sell them the business, and "what if," turned into, "when?"
Lexy and Travis took possession of the business during the first quarter of 2016. Since then they've been diligently checking items off of their dream list. Lexy excitedly shared how happy they are to finally have a beer and wine permit, proudly serving locally brewed ales from the Fish Brewing Company. She made a pun when referencing the newly installed air conditioning, "We're now the coolest date night in town!"
For Lexy, the most cherished part of owning Let's Paint has been "to see students paint for the first time, and watch them become enamored with it the way I did." She wants the arts to be accessible to everyone. Therefore her favorite update to Let's Paint has been the addition of open studio time. During traditional classes, patrons are provided with a canvas, acrylic paint, brushes and instructors to help guide them step by step through a specific painting. Open studio time provides patrons with painting supplies and a space to be creative. Whether you're a first time dabbler, or a seasoned pro, Let's Paint is a great place to play with paint.
Let's Paint
418 Washington Street SE in Olympia
360-789-6222
See their visual calendar for upcoming classes.