Imagining and then implementing innovative solutions to the challenges of small business ownership is part science, part art, and plenty of intensive work. Add to the mix the desire to hold personal values such as integrity in high esteem. All these factors are in play at The Good Karma Kitchen, a warehouse style space where numerous businesses maintain their independence and also work together cooperatively.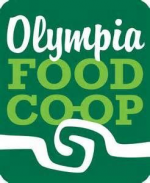 Founders Leland Harmell and Matt Eklund took over an industrial-sized space that was initially a shell. The idea was to install a certified WSDA kitchen that could accommodate multiple users. Many new ideas can't get off the ground for lack of start-up dollars. After purchasing equipment and supplies, there is usually a limited amount remaining for rent or real estate. Already into its second year, The Good Karma Kitchen is home to several local businesses.
Harmell's Rawk Star Creations and Eklund's Rainbow Cloud Kombucha anchor the space. Let's meet a few of the other businesses.
Smiling Mo's Bakery
After moving his Smiling Mo's Bakery business around Olympia, owner Mo El-Sokkary is happily settled in The Good Karma Kitchen. Every cookie that Smiling Mo bakes is wheat-free, gluten-free, corn-free, and preservative-free. Mo has worked on his recipes for years to get the right taste and texture for all cookie aficionados. His journey began years before gluten-free was household terminology. He wanted to make cookies for his wife, but she was seriously gluten intolerant. That's when his experimenting began.
Now you'll find Smiling Mo's (he does have a fabulous smile) cookies in coffee shops across town as well as a variety of other local shops. This is great news for those who can't eat gluten. Take note these actually taste like the cookies mom made. In fact, Mo said, "My mom is my inspiration." Two of his ingredients are dates and rose water, both used by his mother.
Mo bakes around 80 dozen cookies each week. All are gluten-free and one is vegan. The lemon cookie will delight your senses. Look for the pumpkin cookie when the season changes.
The Good Karma Kitchen is totally wheat-free, a real plus for Mo who wants a pristine environment that takes into account those with serious gluten issues.
"Funny how life happens," mused Mo. He was Leland's wrestling coach when he taught at Black Hills High School. Years later they had a serendipitous meeting and Smiling Mo's Bakery found a new home. Mo is very happy to be baking cookies – something he truly enjoys.
Covabrelli 
Eleven years ago Lou Nemeth started roasting coffee for Mud Bay Coffee. He fell in love with the process. When he discovered well roasted coffee didn't need to be altered with cream or sugar, he wanted to bring that experience of freshness and quality to everyone who likes coffee. He created Covabrelli, a company that roasts small batches of organic coffees and delivers it to your home or business.
The name Covabrelli comes from the names of his four children Corbin, Evan, Brian and Ellie. The business features at least one coffee from every major growing region: Central America, Indonesia, South America, and East Africa. All beans are organic and sustainable, most often from individual estates or farming cooperatives. With his Diedrich Roaster and computer software, five-pound batches are roasted with specific profiles for consistent quality and flavors.
Lou likes the positive spirit and collaboration at The Good Karma Kitchen. He said it's fun to see and be part of the ebb and flow of people who work there. Lou also appreciates the opportunity to use his passions and interests in his own business. His long-time friend Scott Ensign of Claddagh Coldbrew works next to him. You can find Covabrelli at the Olympia, Tumwater and Yelm Farmers Markets or contact them to make arrangements for deliveries.
Claddagh Coldbrew Company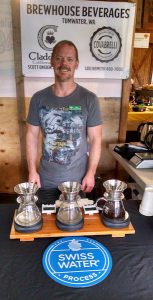 Scott Ensign likes coffee a lot. "Coffee is how we live life together," he said noting that it's one thing that people actually make time to drink, often with someone else. He values love, loyalty and friendship – and that's what is in every brew.
Claddagh Coldbrew takes about 25 pounds of Covabrelli Coffee at a time and turns it into a concentrated coffee called cold brew. He explains that he uses only two ingredients – coffee (Covabrelli's) and water – so "it's got to be good!" You can add hot or cold water, milk, cream, ice, or other liquids to cold brew to create your perfect beverage, such as a frothy chocolate concoction or a simple Americano. I can make a mini-iced coffee in about a minute. I've also splashed a shot into my morning smoothie for an extra kick. The multi-purpose cold brew (black gold) is a handy ingredient for marinades and sauces, too.
Ensign fills five-gallon kegs that go on tap at gyms, such as Valley Athletic Club, yoga studios and restaurants. Nitrogen, acting as a preservative, is used to push the liquid into bottle or kegs. The nitrogen also helps the coffee maintain a consistent taste, even when reheated. His cold brew has 70-percent less acidity than regular coffee. "It has a chocolate caramel forward and a light blueberry finish," says Scott about the flavor of his blend. Find Claddagh at the Olympia, Tumwater and Yelm Farmers Markets. He brews and bottles his coffee at The Good Karma Kitchen and has helped his friends with deliveries. "This place is amazing. I am blessed to be here."
Whole Life Superfoods
Owner Rok Caldwell connects health-minded people with nutrition-packed super foods from around the globe with Whole Life Superfoods. A health and juicing enthusiast, Rok has juice powders and lines of super greens. There are packages of organic spirulina, chlorella, gogi berries and cacao products. His sugar alternatives include organic coconut palm sugar and xylitol.
Whole Life Superfoods uses The Good Karma Kitchen as a warehouse and distribution center. Rok also sells rugs from around the world. Whether you are looking for a pound or a pallet of product, Rok as the connections you need. The Whole Life Superfoods website is in the process of being revamped, but you can still check out many of the products. If you have any questions or need more information, he welcomes your call at 619-892-0076. Rok said, "I love to talk super food."
The Good Karma Kitchen is a shining example of pooling resources for the greater good. Support these local businesses by shopping their products on-line, at our local farmers markets and coffee shops and at the Olympia Food Co-Op.
Eat Well – Be Well