Alex Rossiter has a vision. Odds are the ideas came to him as he was screaming down a mountain bike trail, but a vision nonetheless.
"I want to be a one-stop shop for mountainboarders," Rossiter said who bases his company in Tumwater.

If you are not familiar with what mountainboarding is, you are not alone.
In fact, once he started riding 15 years ago, it took Rossiter quite some time to find the culture and round up his plans for his projects.
"I saw a commercial for mountainboarding and I knew it was instantly something I wanted to do," Rossiter said about the sport which was originated in 1993.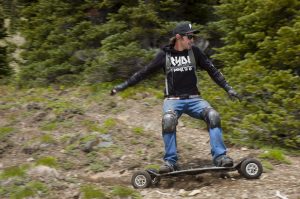 The best way to describe mountainboarding is to imagine an oversized skateboard, add four larger tires, in place of wheels.  The board is designed to sail down off-road locations, such as grass hills, snowless ski slopes and the aforementioned bike trails.
The sport is Rossiter's passion, and hopefully his long-term future.
One conversation with him and it's easy to see the pure joy he gets out of the activity. It's a sport he wants to see grow in the area and he's willing to spearhead that evolution as much as he can.
The only problem? Not too many people know about mountainboarding, even though we are talking about something that's been around for more than two decades and an area that features a high population of skaters, snow boarders, and even a few surfers.
"There were a few dealers back when I first found out about the sport 15, 16 years ago," Rossiter said. "You can't find a mountainboard anywhere. I've been looking since I first started riding."
Rossiter wants to change that by creating new fans of the sport and more opportunities to participate in mountainboarding through learn to ride events and rentals through Mountainboards NW, buy mountainboard-specific gear from Shred Life, and compete in the newly inaugurated competition series called Shred Fest NW.
It's a four-pronged approach. First, Rossiter is offering lessons to anyone who wants to learn how to mountainboard, then he provide rentals of the hard-to-find equipment and is developing a brand, and finally, he is penning a user's guide reviewing and detailing all the places in the Pacific Northwest you can participate in mountainboarding.
"We have a lot of awesome places to ride around here and it's underserved for mountainboarders," Rossiter said. "All the snow boarders, mountain bike in the off season and there are a lot of mountain bike trails and a lot of mountain bike services and I would say about two thirds of the mountain bike trails you can mountainboard on as well. There's a lot of opportunities in Washington and Oregon for this."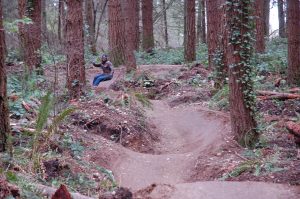 The first steps toward creating a new fan base has already been completed by Rossiter and his wife, Melissa. Mountainboards NW has a Facebook group fashioned simply to herd all the local mountainboarders into one location, while at the same time providing newcomers a place to learn and potentially cut their teeth on the sport.
Rossiter offers learn to ride lessons the third Friday of every month from April through October.  Watch social media for more details.
"I find that most people that come out and try it end up thinking it's pretty cool and they want to do it again," Rossiter said. "My method is to start the participant at the bottom of the hill, which is always grass and from there go up as high as they are comfortable with. If you skateboard, snowboard or surf, you can mountainboard; and if you're already a mountain biker, you already know where to go."
With six mountainboards at his disposal, Rossiter can also accommodate group lessons.
"We get a lot of people who came out this year," said Melissa. "One person said they have been looking and looking for something to do during the snowboard offseason. They came out, learned to ride, and fell in love with it. It was exactly what they were looking for. Most people who just stumble onto mountainboarding, end up loving it."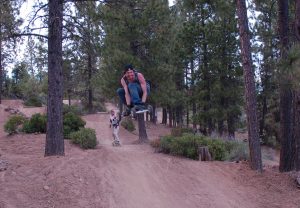 And if you're already actively involved in the sport, Rossiter is always looking for riders to join him for a day of mountainboarding.
"We are always looking for someone to ride with us," Rossiter said. "If you just want to ride, get a hold of us."
Rossiter has already created his own line of mountainboard clothing, titled Shred Life, and the next step will be writing his user guide.
"The guide book is next. Here's your lessons, here's your mountainboard and now where do you ride? That's what the book will detail," said Rossiter, who has a working title of Mountainboard Adventures Northwest. "You end up spending all your day searching around for places to ride. This will help tell you where you should be riding. It will give first-hand information on where to go."
Rossiter hopes this all leads up to an increased population of mountainboarders in the Northwest.
"We have fun," Rossiter said. "We want to create a culture of riding around here. We want to honor the trails and create destinations for people to go and experience this sport."
To learn more, reach out to Mountainboards NW via Facebook or follow their Instagram account (@shred_life_stoke).  You can also shop for mountainboard gear at www.shredlifestoke.com.