Submitted by The Washington Center for the Performing Arts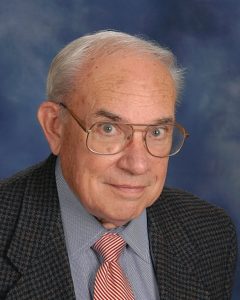 The Washington Center for the Performing Arts was contacted by the family of Andy Crow (June 8, 1933 – July 12, 2016), the well-known organist, organ builder, and restorer, to share the sad news that Mr. Crow passed away on July 12, 2016, at the Panorama Convalescent and Rehabilitation Center in Lacey. Andy had been living with Parkinson's Disease; he was 83.
Andy Crow started piano lessons at the age of eight and began to study the organ at age 12. After achieving educational degrees in music, Andy spent two years in the Army Medical Corps at Fort Lewis – during which time he played at the chapels on post as well as at theaters in Tacoma and Seattle.
As a pianist and organist, he performed for more than 60 years; principally in the Northwest, but also for twelve years in the 1960s and 70s, touring the United States promoting the Rodgers Theatre Organ as a member of the Worth-Crow duo. With Ted Alan Worth, they played 366 concerts in virtually every state. He played the organ for over 20 years at the Tacoma and Bellevue Pizza & Pipes restaurants, and for more than 30 years was organist at Olympia's First United Methodist Church. He was a fixture in downtown Olympia as the owner of two theaters and, for many years, lived in the Capitol Theater building.
He was also famous for his improvised accompaniments to silent movies – often held at The Washington Center for the Performing Arts – where, in 1995, he was in charge of installing the large Wurlitzer pipe organ. Now renamed in his honor as the Mighty Andy Crow Wurlitzer Organ, The Washington Center Board of Directors established an endowment for the preservation and maintenance of the pipe organ in the spring of 1999. For more information on how to support the Andy Crow Wurlitzer Organ, please call The Washington Center at (360) 753-8585 x103.
News of Andy's death comes as The Washington Center was preparing to award him with the inaugural Excellence in the Arts award for his commitment to the arts on July 28 at the CENTER Stage Awards & Gala. Jill Barnes, Executive Director, says "Andy was well loved here at The Center and in the community. Fortunately, his memory and legacy will live on and we will honor him every time we feature the Mighty Andy Crow Wurlitzer Organ."
A tribute from the Puget Sound Theatre Organ Society, including numerous photographs, can be found at the society's website, and memories and condolences can be left online at info@funeralalternatives.org