If you're pining for a taste of Europe but don't have time to travel, have no fear. Just pay a visit to downtown Olympia's Pizzeria La Gitana, which owner Marian Licxandru calls a 'European embassy.'
"No passport needed," he assures us. "We miss Europe and we love the U.S., so we decided to combine the two and change the ambience a little bit."
In the last year, Licxandru and his wife Lumy have added string lights, fresh roses on each table and an extra weekend night of live jazz. "Last year we only had it on Saturdays, but since more and more people wanted to listen to it every Friday and Saturday we now have live music," he says.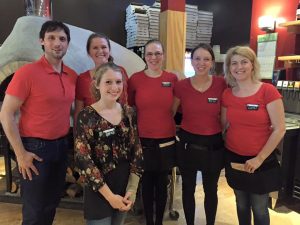 The original La Gitana restaurant in Yelm will also have live jazz every Saturday from 6:00 p.m. to 8:00 p.m., and since a third of the seating is outside, they've brought in large triangle patio heaters. "It's going to be a blast," says Licxandru.
They have added to the menu fresh house-made pesto sauce and a brand new salad with a house made dressing – as a result of one of their employee creativity. And very soon, they'll offer wine and beer flights as well as wine and pizza pairings. Licxandru developed the pairings with wine maven Anne Marsh of the Wine Cellar of Yelm. Each half a pizza will have a wine that complements it and enhances the flavor. "Whoever orders a flight, we're going to have a pizza that we recommend," says Licxandru.
Business has been booming at both locations, growing by almost 45% since the Licxandrus purchased the Olympia site. Reservations are now necessary, and the staff has a waiting list for people who don't call ahead. "Some people think, 'We need a reservation for a pizza place?'" says Licxandru.  "We're trying to tell them, 'It's not a pizza place. It is more than that. It is an upscale experience of wonderful meal and ambiance, plus it is mainly organic. It's a European embassy.' People come in and are blown away by the taste of the pizza and the ambience."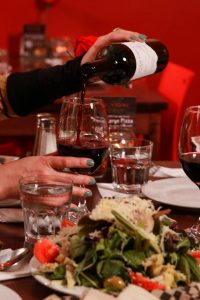 Word of mouth has played a large role in the restaurants' success, he continues. "Besides the regular tourists, we have people coming in because a friend told them about it. That helps very much. Even in Yelm, there are people from the surrounding areas that are coming in because they heard it's a good place. We've started to have the same problem in Yelm – no place to seat people."
He believes the appeal is a combination of two factors: quality food and great ambience. "We've had people say that it's the best pizza they've had outside of Italy, and it is true. We use organic flour, organic produce, and meat from animals raised without antibiotics or growth hormones. We also make our own desserts. Lumy, my wife, does a great job at it."
Staff are an important part of the ambience, and he believes in creating an environment that is less stressful and more autonomous than many restaurants. "Customers tell us that we have a great staff here. They're relaxed and happy," he says. "We hire people who can think outside the box and offer great service. When I think about our servers, they are not plate movers. They come in and create an ambience. It's not just about food."
When staff members have an idea, he listens. Recently, one of the chefs came up with an amazing pesto recipe and salad that have been added to the menu "We have as much freedom as you could ever imagine," says Clint McCloud, a cook. "There's no comparison to other places I've worked. It definitely makes it easier to go to work every day."
Server Kate Morgan agrees. "In Marian, I have an employer I can communicate with, whether it's an issue with other employees or a difficult table," she says. "If there's a question or disagreement about something, he's very open to accepting ideas about something that could work better. If we all come up with an idea, he's very open."
In an industry known for high turnover, Licxandru is happy with La Gitana's retention rate. "We have employees that were with us in Yelm since 2011," he says. "Ninety percent of the employees in Olympia have worked with us for more than a year. It's a good sign."
With both locations thriving, Licxandru is exploring ways to give back to the community. "We're working on a partnership right now with Big Brothers Big Sisters of Southwest Washington," he says. "Every day of the week we're working on offering a dinner value for two pizzas with regular toppings for families in their system. We should be able to feed some amazing pizza to about 730 families every year."
The Olympia and Yelm communities played a significant role in La Gitana's success, he says. "We feel like we get so much. It's not just us, it's what the community does. It makes so much sense to give back."
To make a reservation or contact La Gitana Olympia, call 360-753-2929. For the Yelm restaurant, call 360-400-2929. For more information about both locations, visit www. pizzerialagitana.com or follow La Gitana on Facebook.