Kasey Keller's remarkable life story is about overcoming, dedication and commitment.
His dream-come-true journey that took him from a small egg farm in Lacey to stadiums across Europe and then to the United State to play professional soccer in front of thousands of cheering fans is about believing.

When he was a three-time Parade All-American as a goalkeeper for North Thurston High School, Kasey's dream was to play soccer professionally in Europe. It was a crazy dream because no goalie from the United State had ever done that. Kasey was the first.
"His motivation was to excel," said Bernie Keller, Kasey's dad. "Once he made that decision to play pro, he was able to dedicate himself. When I mean dedicate himself, he was willing to give up a lot."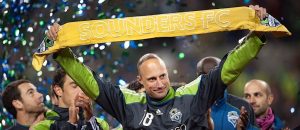 Last month, Kasey, a 1988 graduate from North Thurston, was inducted into the WIAA's Hall of Fame, giving him yet another deserving honor.
Eventually, Kasey's dream-come-true career was capped with three seasons with the Seattle Sounders. In his last game with the Sounders in 2011, a record 65,000 cheering fans came out to say thanks to Kasey.
But before Kasey became the goalkeeper fans around the world cheered, he was the young high schooler sacrificing his time to a sport he wanted to be his future. He'd miss 86 days of school his senior year at North Thurston to play for the United States' U-20 national soccer team, traveling to Russia, Chile and Guatemala to play in tournaments. Among the many events he missed out on, Kasey missed his high school graduation ceremony and his senior prom to play soccer.
"He sacrificed a lot," Bernie said.
Rob Walker, now the head soccer coach at Saint Martin's University, began coaching Kasey when he was 12. Early on, Walker could see something special in this young kid who seemed to have a sixth sense at stopping goals.
Walker told his young goalkeeper that one day he'd play for the United States.
"I said that in innocence," Walker said. "But you could see it."
Kasey, who was inducted in the U.S. Soccer's National Hall of Fame last year, is an original. When he was growing up, there were no role models in the United States to inspire him. But Kasey tasted success early. Kasey first made the big time when at 15 he made the 16-and-under national team that toured Russia. A key figure in Kasey's success story was his taxi driver who doubled as his mother, Deter Walker.
"My role was to get lost looking for every soccer field in western Washington," Deter said with a chuckle.
The little kid with big dreams and a no-quit work ethic grew up to become the goalie known around the world. He started playing soccer when he was six. When he turned 12, he started playing goalkeeper. And throughout that time, Kasey always had chores to do on the family's egg farm. It's there that Kasey, who was a four-time All-American at the University of Portland, developed his no-quit work ethic that would help him become one of the best goalkeepers the United States has ever produced.
"Growing up on the farm, he said he learned a lot of things," Bernie said recently. "He learned discipline, work ethic, and the value of money. He took that knowledge and used it very wisely."
Bernie remembers Kasey saying as a young kid that he thought he was over worked on occasion.
"And he probably was," Bernie said with a chuckle. "That's what happens when you grow up on a farm. You have certain duties."
The chores always came first. Before you played, you worked.
"I think that was a huge benefit for him, as it would for most kids to have that experience," said Bernie, who also graduated from North Thurston High School. "I think that had something to do with it. He was able to see what he needed to do to be successful and he went out and did it."
That's the difference between a good athlete and a great athlete – hard work. Kasey's college coach, Clive Charles, said that no one worked harder that Kasey.
Kasey, once the young don't-tell-me-I can't dreamer, became the all-pro goalie, playing 17 years in Europe from 1992 to 2008, in England, Spain and Germany. Then came his three with the Seattle Sounders. He was the first American to play goalie for a team in the English Premier League. When he signed with the Sounders, Kasey realized yet another dream.
"I said from day one when I left for Europe that one day I wanted to come home and play here," Kasey said.
What impressed Adrian Hanauer, the Sounders general manager who signed Kasey in 2009, most about Kasey weren't his impressive stats. It was his character. Kasey's dad agreed.
"Something I always tell people is all that he accomplished in soccer was as much as anybody could possibly do," Bernie said. "But what he accomplished more was remaining a really good guy."
It's called winning with class. Ambition, Kasey's big dreams, never interfered with being a good guy.