It's true my experience and knowledge of gambling will barely fill a thimble, but I do know gallons about having fun. During my recent visit to Hawks Prairie Casino, I learned that the people who work there – specifically Table Games Dealers Brianna Marten and Judy Bennett – are ready, willing and able to ensure I have a good time. It's not about separating me from my money; it's about relaxing, enjoying some food or a cocktail and playing a few games.
No doubt there are more serious players, but Brianna and Judy are totally happy to give me the low-down on any of the games and help me to get up to speed.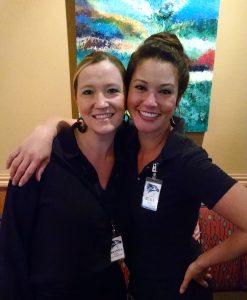 Both reiterated that most people come in to take a break from work or other concerns and are looking to unwind. Customers appreciate the food and the friendships they have with employees and other guests. People know each other's names. I guess I wasn't expecting such camaraderie at a casino.
Hawks Prairie Casino and the Riverbend Restaurant are located next to the Hawks Prairie Restaurant & Sports Bar. Some people don't realize these are two separate restaurants even though the casino property opened in 2001. Brianna started at the casino when it first opened. Except for a brief time when she lived out of the area, she has worked here. "It's the best place (to work)," she smiled and noted that the turnover rate of workers is very low. Brianna considers her co-workers and guests as part of an extended family. She's not only expecting her guests to have fun, but she, too, likes to be in on that energy.
Judy likes working at Hawks Prairie Casino so much that she continues to commute from her home in Spanaway. "I love it," she told me with her million-dollar smile and contagious laugh. She, too, values her customers.
During their regular shifts, Brianna and Judy rotate through ten gaming tables. This means they deal all the various games and get to interact with all the casino guests who may prefer to stay at one certain table game. Both skilled dealers are able to keep their eyes and hands on the table while chatting with players, many of whom they've known now for years. "They know about both my kids," said Brianna, who worked while she was pregnant. Both Brianna and Judy also know the names and backgrounds of their regular guests.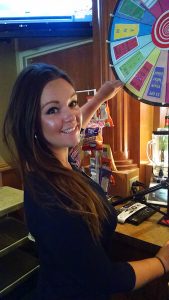 I wondered, "Who gambles?" According to the duo, just about anyone. They reported that there are moms and dads, teachers and doctors with ages from 21 to well over 81. People come to have fun, relax and enjoy the atmosphere.
At Hawks Prairie Casino, there are five poker tables (plus the other ten gaming tables), a pool table, an area for off track betting, pull tabs and a well equipped bar. It's not a tribal casino so there are no slot machines, but there are numerous games to play. One of the most popular is called Emperor's Challenge Progressive Pai Gow. There's also Blackjack with Lucky Ladies, and Spanish 21. Maybe you are up for Mini-Baccarat or Heads Up Hold 'Em. You can read more about all their games here.
Though many people are there to gamble, people also frequent the Riverbend Restaurant. Bar Manager Misty Rasmussen is another employee who delights in finding ways to satisfy new and returning guests. One of her ideas was to add a late night happy hour (11:00 p.m. – 1:00 a.m.) for people who work late, in addition to the 3:00 pm to 6:00 pm happy hour already in place.
She pointed out the restaurant's Fresh Sheet, a special page of seasonal, reasonably priced specials that change every month. People also like the $4 special meals (maybe Baja Chicken and Rice or Italian Chop Salad) and the fact that they use locally grown foods for their meals. The $5 pizza on Thursday night is popular too. Though children cannot sit at the bar, they are welcome to eat in the restaurant area. It's quite a varied menu with expected items like burgers and pasta but there's also barbeque, Asian inspired dishes and much more.
Misty, like Brianna and Judy, gets to know her regulars but is always happy to welcome newcomers. She recalled that one couple brought her in a homemade apple pie. Together they each enjoyed a slice.
Maybe you long ago discovered the neighborhood atmosphere of the Hawks Prairie Casino or maybe you've driven by a million times but never stopped. My experience showed me that there was a genuine desire for me to have a fabulous time. I can't promise that you will win a jackpot, but I do expect you'll have a fun time no matter which cards show up.
Gaming hours start at 11:00 a.m. and end at 4:00 a.m. The restaurant serves breakfast, lunch and dinner from 9:00 am to 3:00 am so it doesn't matter what time you arrive. Meet Brianna, Judy and Misty. Join the Mug Club and get two extra ounces with each beer you order. You'll receive a 20% discount on food and all day happy hour drink prices if you are active or retired military. Check out their Facebook page for special events and other updates.
Sponsored