Submitted by Lemon Family Dental
Lemon Family Dental now has a dental office in Olympia at 2705 Limited Lane NW, right next to Brewery City Pizza on the Westside. The new practice, which is locally owned by Dr. Jeff Lemon, offers comprehensive dental services to individuals and families in the Olympia area. The addition of the Olympia office allows Dr. Lemon and his staff to serve Grays Harbor, Thurston, and Mason counties as he also has a practice in Aberdeen.
As a dentist who was raised in Washington, Dr.  Lemon has seen how much dentistry has changed. The growth of large dental chains owned and operated by out-of-state corporations has depersonalized care and left patients with fewer options for developing long-term relationship with a family dentist. Dr. Lemon provides personal care to his patients while also offering the most modern equipment and technology too.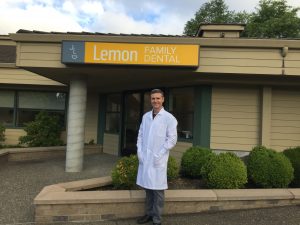 "As a resident of this community I want to establish relationships with my patients and their families that last for years to come. It is important to me that the communities I serve have access to all the most modern dental practices that are available in larger cities. My goal is to provide hi-tech care that serves my home-town roots," stated Dr. Lemon. The Olympia office is modern, bright, and friendly and was designed with patient comfort in mind.
About Dr. Jeff Lemon
Dr. Lemon started his private practice in Aberdeen in July of 1999 and strives to provide the best possible dental health care for his patients. A native Washingtonian, Dr. Lemon obtained his B.S. degree in Mechanical Engineering from University of Washington in 1990. After working as a systems analyst for Andersen Consulting and Nike, Inc., he pursued a career in dentistry and graduated from Oregon Health Sciences University in 1999.
About Lemon Family Dental
Dr. Lemon and his teams in Aberdeen and Olympia are dedicated and skilled. They are committed to making sure that patients feel relaxed and secure at every visit. The goal is to offer outstanding locally owned dental care to individuals and families. Lemon Family Dental offers a complete range of dental services, using the most advanced technology, in an environment that is gentle and calm.
Most major insurance plans are accepted. Additionally, Lemon Family Dental offers a generous Wellness Membership plan for uninsured patients.