"My work is my 'happy place,'" says artist Jenn Kliese.
"It is a place that I can go to and slow down my brain, and really notice what is moving to me about the world. I think about landscape and place in my work, and the relationship to the person and how it holds them. Everything I do is about the relationship of what it feels like to be in that place."

Kliese's drawing, The Oregon Coast, is featured on the cover of the City of Olympia's 2016 Spring Arts Walk Map. The City of Olympia holds a juried search each year to select the two artists who will be commissioned to create original work for the cover of the spring and fall Arts Walk Maps.
Luke Burns, Recreation Program Specialist for the City of Olympia tells me, "Each artist submits five images of their work, usually on CD. It is important for the jury to see consistency in the art work submitted. We had 21 artists submit portfolios. Three non-city employees who work in the arts in the community are chosen to jury the search."
"I have always been into both art and music," says Kliese."In college, I studied art, media, and video. A lot of my work is multi-dimensional. The music I compose is like a soundtrack to the art that I make."
Kliese tells me about one of her works that incorporated music she created. "A few years ago I did a temporary installation for the City of Olympia's 'Here Today' program. A handful of artists were commissioned to create temporary installations. Along with another artist, Jeff Shannon, we created a soundscape to be played over the sound system at the bus station. It involved making soundtrack music that would complement all these interviews of people I did at the bus station. I went down there and set up a card table with a mic. People came up to talk to me. I asked them about their experiences riding the bus and public transportation. I then complied all those interviews, and composed and recorded the music. We made an 'audioscape' to be played at the bus station."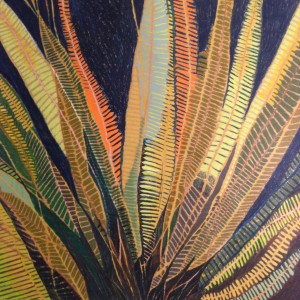 Growing up in Tacoma, Kliese first came to the area to attend The Evergreen State College.
"I stayed here in Olympia after college," she tells me. "I think the small town vibe, with things being just a little slower than a larger town, helps me focus inward. I am not being distracted by the busyness of the external environment. I am pretty contemplative and I think if I was in the middle of a big city, it would be harder for me to focus.
"Drawing wasn't my first inclination, it just sort of happened," says Kliese. "I was hanging out with a friend and she had colored pencils and we were doodling while we were chatting. I responded really strongly to the pencils on the brown paper we were using. So I ended up going out and buying colored pencils and brown paper and doing more. It just kind of happened. I wasn't seeking out a way to make two-dimensional art.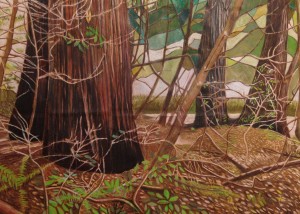 "I had a solo show with those first drawings, at the Stable Studios and Gallery, in downtown Olympia. My show was very well received," she adds.
The positive reception of her work at that show inspired her to continue drawing and to find a studio space in which to work. Kliese is one of six women artists who share the five art studios and gallery space on the upper floor of the Olympia Knitting Mills building on Legion Way, also in downtown Olympia. They are known as the Olympia Knitting Mills Artist Collective.
Kliese comments, "We are still new as a collective. We are imagining our gallery as a space that can be used in lots of different ways, including having a few events. We all have lives outside of art and studio life. I work as a graphic designer and layout artist for the Olympia Food Co-op. I try to live simply with less expenses, to be able to afford studio space and be able to spend more time on art work.
"Our gallery space will be open during Arts Walk April 22 – 23. My drawing 'The Oregon Coast' will be there for viewing," says Kliese.
After Arts Walk, the commissioned artwork becomes part of the City of Olympia's Public Art collection and is installed in one of their buildings for the community to enjoy.
To learn more about Spring Arts Walk and to download a map, click here.