Joe Arnett got his first guitar when he was 17. "I wanted to play since I was about five," he says. "I don't know why it took me until 17 to get one."

"I am kind of at the newish end of performing," he says. "I played for a long time, but I did not perform until about two or three years ago. My daughter Linnaea and I played together recently at the Hootenanny on Easter Sunday, held at Traditions Cafe and World Folk Art. She plays the violin and sings."
"I love to play music, folk music, traditional American songs, and acoustic music of all kinds," Arnett adds. "I do write some of my own songs. It is incredible how many songs there are."
His favorite folk musicians include Gordon Bok, Bill Staines, and Kate Wolf.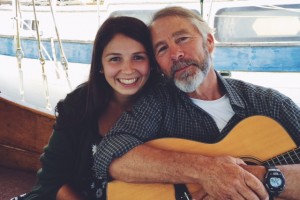 Joe and I are sharing a sunny bench at Sylvester Park, in downtown Olympia, to talk about his music as well as his association with Arbutus Folk School, where he has been a teacher, volunteer, student, and open mic participant.
"Arbutus is the Latin name for Madrone, a tree native to this area," Arnett informs me.
The school opened in downtown Olympia in the fall of 2013 and offers classes for adults in woodworking, blacksmithing, fiber arts, ceramics, and music.
"The first time I walked into Arbutus was for an open mic," Arnett says. "I was too late to sign up to play, but since then I play almost every month unless I am out of town.
"Arbutus has the best open mic in town," Arnett claims. "It is a very respectful audience. People are very quiet and listen; there is no conversation while people are playing. It is a very supportive crowd, too. Some people have never played in front of people before and others have played professionally for decades. Everyone gets a chance to play. There is a great sound system with microphones, but all of the instruments are acoustic."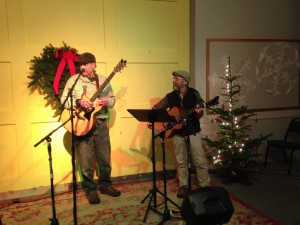 "I was going to the Arbutus open mics for about one year when director Stacey Waterman-Hoey asked me if I would be interested in teaching a class. She thought I would be easy-going and supportive, which was a great compliment. She was interested in finding a guitar class for her daughter. I taught a beginners class for finger picking guitar to accompany singing. The biggest beneficiary, of course, was me. I had to think systematically about how you learn how to play. The class included Stacey, her daughter, a family of three, and a couple other adults."
While Arbutus charges for the class, Arnett said that he did not want to be paid. "I have never taught music before and I am not supporting myself by freelancing. I was glad to contribute the time."
A rare plant botanist specializing in endangered species, Arnett works for the Washington Natural Heritage Program, which is housed in the Washington State Department of Natural Resources building. Prior to working as a botanist, he made his living as a woodworker for about 15 years, building boats, carving, and making cabinets.
"I had a little cabinet shop," he says. "I quit all that when I went to graduate school and was able to make my living as a botanist."
He still enjoys woodworking and has taken a furniture-building class at Arbutus. "They have talked about setting up an open shop time and I hope that happens. I have quite a few unfinished projects I would like to work on. I don't have the space, since I live on a boat."
Arnett talks about the Arbutus school philosophy of reconnecting people to manual skills. He feels strongly that this is important and explains that as a culture, we have lost contact with many skills and crafts.
"A huge change has happened and we now have a majority of our people living in an urban setting," says Arnett. "Many of us do not have the opportunity to learn these skills from our immediate or extended family."
He says that it is hard to know how much a school like Arbutus can hope to fill that gap.
"There are a few folk schools around the country that Arbutus looks to for a model, but I don't think any of them are urban. The others are all rural places where people go to stay. So this is, in my opinion, unique. Arbutus is an urban place on Fourth Avenue, in downtown Olympia."
"A lot of us have interests outside of how we make our living and it is exciting to have a place where we can develop those interests like music, or woodworking. It is a very different kind of place. It will be very interesting to see what directions it takes," he adds.
"I am not a professional musician, but it is something I really enjoy and it is something that continues to grow. Some things, as you get older, you can't do as well. Music for the most part, is something that can go on forever."
Joe Arnett welcomes you to an open mic at Arbutus Folk School on the second Monday of each month. Sign up is at 6:30 p.m. Music starts at 7:00 p.m.
Arnett will perform with some friends in front of Arbutus during the City of Olympia's Arts Walk on the weekend of April 22 and 23. It will also be the grand opening of Arbutus Folk School's gift shop, which will feature crafts made by people who are involved with the school.