A miscommunication has Peyton Dungan scrambling to get to the shot put. It's a little after 10:00 a.m. and the annual Rainier Icebreaker Invitational track and field meet has just started.
Dungan, a senior at Rainier High School, has just been informed her group of shot putters are up earlier than she originally was told.

With less than adequate time to settle in, she lets it fly on the fly.
Spectators, mostly comprised of coaches and competing athletes, look impressed by her throws. It's a different story for Dungan, however, as she appears disappointed, bordering on disgusted.
"I didn't do well. I got 36-10," she states. "Obviously, I'm mad."
To put the distance into perspective, had Dungan produced that exact same throw at last year's Class 2B state championships it would have been good enough for third place – a tremendous feat by any standard.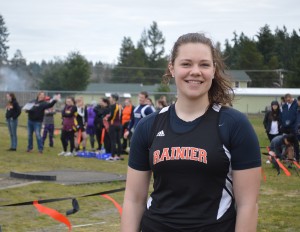 As it was, Dungan's throw of 38 feet, 5 3/4 inches claimed her the state shot put title in 2015.
"I still got second though," Dungan said about her runner-up performance at the Icebreaker Invite, "but I don't care about the placing. I want the distance."
Titles are admittedly nice, and while a second consecutive state shot put championship would be a fitting end to Dungan's extraordinary high school career – it's obvious the endgame for her senior-season goals – she is ultimately only competing against herself.
"If someone goes out and throws what they can throw and it's better than mine, congrats," Dungan said. "I will be right there congratulating them. At the end of the day, I'm just going up against myself." 
The benchmark this season is to crack 40 feet.
"That's been the distance for a while," Dungan said. "I'm right there."
She nearly eclipsed the mark at last year's 2B Pacific Sub-district and District IV meets, posting 39-7 at both events before going on to win the state championship with a slightly lesser throw.
She opened her final season with a remarkable throw of 39-4.5 at a Pacific League meet – besting the competition by almost 10 feet.
"The first meet was really good – to start off where I finished last year was a goal for me. I was happy with it," Dungan said before turning the conversation back towards her most recent throw at the Rainier Icebreaker. "Everyone has their off days, I guess."
That actually hasn't been the case for Dungan. Throughout her four seasons she has been the model of consistency, constantly upping the bar as the year progressed, setting marks then obtaining them.
"I really think this should be my hardest year," said Dungan, who also placed seventh in the discus as a junior. "I want to make it my hardest season. I've always worked hard, but I want to do more this year. I just don't want to get first in state again. I want to beat my records."
It's an ambitious mindset for an athlete who only took up track for one reason.
"We didn't have fastpitch in middle school," Dungan said. "So, I went to track to just try it out. And it got to the point where I just started loving it. When I got to high school, I had the option of fastpitch or track. I chose track."
It's proven to be the correct decision as she became the first Mountaineer in school history to capture the girls state shot put championship.
It was Dungan's third consecutive trip to state in the shot put as she placed fifth at the 1A state meet in the event in both her freshman and sophomore seasons.
"My freshman year, I told myself if I didn't make it anywhere, it's not really worth it," Dungan said. "I ended up going to state and placing. So, then I thought, I guess I will stick with it.
She enters her senior season of track on the heels of a stellar basketball campaign. At 6'4″, Dungan was a double-double machine this past basketball season for the Mountaineers, averaging 15 points and 18 rebounds a contest en route to being a first-team all-league selection.
"In basketball, you have to be more of a team player," Dungan said. "You have options when you have the ball, do you pass or shoot? Here you have to take every shot yourself. There's no one else out there with you. I look forward to every season because I love being active. Track is definitely fun because you can see yourself getting better throughout the season. And that's really what I'm for."
But that's not to say Dungan isn't willing to show support and offer help when needed.
"I'm a really competitive person," Dungan said, "but we are all friends out here. We're pushing each other. Coaches from other teams will give you advice. When I watch younger throwers, I remember all the seniors that helped me out when I was that age. We've all been there. So, I just try to do my best to motivate them, even if it's someone not from our school."