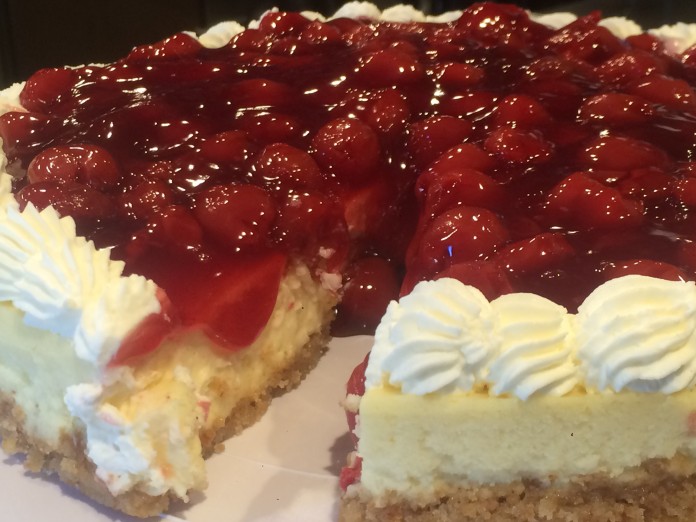 Submitted by Forrey's Forza
From the first moment walking in the door to Forrey's Forza, home of TC Pies, guests find an inviting place to be. They are greeted with a warm, inviting atmosphere and personal welcomes from the staff. Enticing smells of coffee and homemade baked goods are in the air.  A display case of pies and baked goods tempts with promises of old fashioned goodies including Tom and Mom's amazing quiche and scones, to name a few.
TC Pies….Yes, please! 
"What is TC Pies?" That's a question regularly asked by guests as they order their beverage or food. The answer comes from the server with a smile. "It's our on-site bakery. Everything that you see is made right here in the store." As eyes grow wide and mouths gape, "ooo's" and "ah's", escape lips. The server's words spur the guest to have another look at the display case.
"Is that apple pie?"
"Yes," comes the response from the other side of the counter. "Can I get you a slice?"
A happy face responds with, "Yes, please!"
Coffee, Café and more…
Tom and Christine Forrey, recently named Entrepreneur of the Year by the Lacey South Sound Chamber, are the owners of Forrey's Forza in Lacey where TC Pies is housed. Forza is a coffee shop, cafe and more. As with most coffee shops, one can order a drink of their choice. Anything from a black cup of drip coffee to a gourmet espresso with all the trimmings. Fresh sandwiches, salads, and flatbreads are a feature on the main menu. Breakfast burritos and sandwiches, as well as quiche, headline the breakfast menu. However, when Forza opened its doors in April of 2013, Tom opened the oven doors to TC Pies as well and coffee patrons were in for homemade treats.
The choices of pie range from classics like apple, and cherry, to seasonal flavors like pumpkin and rhubarb. They can be purchased either by the slice or as a whole pie. How it's served offers yet another delicious choice. Any slice of pie can be served a la mode with a scoop or two of ice cream.
These fresh homemade pies do not stay on the shelf for long. Most are sold the same day they come out of the oven. The secret, Tom Forrey will tell you, is in the crust. Like all good tradesmen at their craft, though, he's not going to share what that recipe is.
Forza – A Place for Family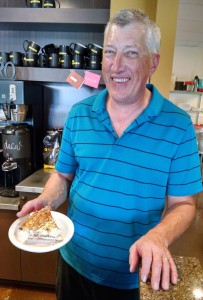 Not long after opening Forza and TC Pies, Christine's mom, Maureen, decided she too wanted to add her ingredients to the mix. So she did. It started with her carrot cake, which today has earned the title of a Forrey's Forza favorite. From there, her creations have continued with the addition of cookies, macaroons, and brownies. Her cakes, muffins, and cheesecakes have also graced the display case.
Over the last few years, TC Pies has expanded beyond the walls of Forza. Custom orders are common. Maureen's Chocolate Mocha Cake and Tom's Cherry Pies are couple of the more commonly requested items. To place an order, one need only talk with Tom or Maureen (with a couple days' notice) regarding the details. From there, a personalized creation is underway. Catering is also another way that TC Pies has expanded. Ricardo's Restaurant on Lacey Boulevard compliments their entrees with Tom's Pecan Pie as well as other delicious choices.
Forrey's Forza Give's Back
As any local business is proud to do, Forza is involved in the community in many ways. Such involvements allow Tom and Christine to support the very community that has supported them.  One of these community involvements is coming up this weekend at the Capital Food and Wine Festival on the St. Martin's University campus. TC Pies has been invited to provide desserts and treats of many different shapes, sizes, and tastes to attendees of the 27th annual fundraiser. Regular guests of Forrey's Forza can expect to see plenty of their TC Pies favorites. For those who have yet to try one of Tom or Maureen's savory sweets, this is a great chance
Forza and TC Pies are also a P.I.E Partner for the North Thurston Public School District. As a Partner In Education (P.I.E.), Tom and Christine support the local schools.  According to the North Thurston School District website, "The P.I.E. program is designed as a partnership between a school and business to cultivate positive relationships that benefit education and student learning."
When asked how Forza's, among other businesses, involvement contributes to the P.I.E Partnership, Cortny Martin, Community Relations Coordinator with North Thurston Public School said this:
"It's important for students to know that there are people in the community who want to help them and see them succeed in school. The Partners in Education (P.I.E.) Program allows for this to happen. In a nutshell how it works is we have been partnering local businesses with our schools. The business is asked [for a financial contribution]. This money goes directly back to the school to be used for student achievement. The business is also asked to participate in at least three events or activities throughout the year. This can vary from guest speaking in a classroom, volunteering at a family math night or donating pizza coupons to be used as student academic incentives. There are so many different options out there. We work with the school, depending on its needs and the business in finding what activities and events would be best for both. In return for all of this and for being a P.I.E. Partner, the business receives some extra promotion within the school that other businesses aren't allowed. There are a lot of people who want to be doing business with people who are involved in their community. This is a great way for businesses to do something great and to help students."
What does the future hold for TC Pies? More pies, of course! Tom hopes in the near future to treat customers with personal sized pies. He also would like to add meat pies to Forza's main menu. He's even made mention of baking his own breads. More catering opportunities are always welcome as well as custom orders.
Forrey's Forza, home of TC Pies, can be reached by phone at (360) 338-0925, email at laceyforza@gmail.com, found on the web at www.ForzaLacey.com and on Facebook/forreysforza.