With the proliferation of computerized music-making tools has come some criticism: making music on a computer is too easy and formulaic, and as a result the product lacks imagination. That's a perception that local record label Wayfarer Records and its owner, Dave Luxton, are working hard to overcome.
A classically trained guitarist and professional-level musician on multiple instruments, Luxton didn't approach the use of computers to make his job easier. He saw the computer as an instrument in itself – and one with an immense capacity to create sonic landscapes that are unattainable with traditional instrumentation. "Synthesizers provide a much broader pallet of tones, and the computer allows you to create, alter, and mix sounds in ways that are otherwise not possible," he explains. Inspired by classical music, especially by Johan Sebastian Bach, as well as contemporary electronic music such as Tangerine Dream, Gary Numan, and Brian Eno, Luxton began making electronic music decades ago and has honed the craft ever since.
"Many people assume that electronic music means beat-heavy rave music or synth pop," he's quick to point out. "It is in fact a very diverse musical genre that includes Ambient and Spacemusic." His music is an extension of his other profession – as a licensed clinical psychologist and affiliate faculty member at the University of Washington. The music he produces is an environment of sound, creating and resolving sonic tension, which he feels can have a psychological benefit.
In 2007, Dave started the label Wayfarer Records, initially as a home for his own music. "The wayfarer is a person who wanders the world on their destination to 'somewhere,'" Dave explains. "A wayfarer is also a person who, in a sense, explores their inner and outer worlds – a concept that resonates with me personally and that is reflected in my music." But after incorporating and officially launching the label on January 1, 2009 in Olympia, Dave also began to promote the music of other electronic music artists who share his passion for quality innovative music.
As more artists joined Wayfarer, Dave realized that the kind of intricate, artist-driven music he was promoting needed a business model that leveraged the Internet to promote and distribute music but that was also fair to the artist. So instead of a standard label-artist relationship, he built the business as more of a cooperative that focuses on artist development and quality product. Artists receive substantially more return on the sales of their music, and the cooperative model encourages collaboration.
That's led to some interesting collections. In 2014, for example, Dave released "Ambient Music to Heal: An Album for our Wounded Warriors." The album featured music by some of the best-known artists in the ambient music genre, including Robert Rich, Boreal Tiaga, Byron Metcalf, Steve Roach, Jon Jenkins, Vic Hennegan, Matt Borghi, and Michael Teager. All profits from the album are directed to charities benefiting service men and women who have been injured physically or mentally in their service.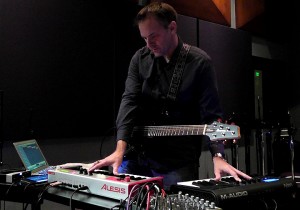 Although the community of creators and fans of ambient music is small in Olympia, Dave has appeared at the Olympia Experimental Music Festival (in 2015) and enjoys working with fellow musicians in the Puget Sound region as much as possible. Daren Keck is a University of Washington Alumnus and current post-grad student at Oregon State University, and JimDe – founder of the band Boreal Tiaga – grew up in Seattle.
But the label, like the music it promotes, is global. Most Wayfarer artists have come to the label through referrals or through connections made while Dave is on the road, and the market is spread out across the world.
That's something Dave likes. While his own music is inspired by his love of the South Sound – and by the peaceful grandeur of the Olympic Mountains in particular – the international nature and flavor of the work connects the label in a much larger context. Touring with other artists in this niche space, as he did on his East Coast last year, connects him to a much larger music community.
Perhaps that sense of connectedness supports the larger project of Dave's life – his commitment to healing others. He published his first nonfiction book through Elsevier last year, "Artificial Intelligence in Behavioral and Mental Health Care," in which he explores groundbreaking and potentially controversial work in AI technology, and he's working on a science fiction novel on the topic of AI, ethics, and climate change – "it is Brave New World and 1984 for the current generation," he says.
For now, that intersection just produces great music. You can keep up with Dave on his website and listen to full tracks from various Wayfarer artists at the label's page at www.wayfarerrecords.com.