There's nothing as powerful as a truly immersive experience. Whether it's learning a new language or skill, or watching the latest blockbuster, we love to see, hear, and fully surround ourselves in all aspects of our chosen passion.
Home ownership is no different. Whether a first time homebuyer or a family in the market to upsize, downsize, or simply relocate, the ability to explore the new property, grounds, neighborhood, and amenities is crucial. On March 12 and 13, make time to join the festive ribbon-cutting for Olympia's newest community The Village at Mill Pond.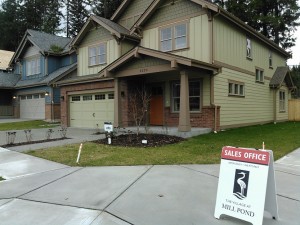 Open seven days a week from 12:00 until 6:00 p.m., The Village at Mill Pond is Thurston County's first "neighborhood village." The 2400 Lilly Road NE location will soon house single family homes, apartments, townhomes, and commercial storefronts so residents can truly enjoy the live, work, and play lifestyle.
Over the Open House weekend, visitors are welcome to tour the development, view model homes, and chat with RE/MAX Parkside brokers. These skilled brokers are happy to answer questions about the Village's 11 different Craftsman-styled floor plans, lay-outs of community access parks, trails, gardens, and ponds, or even the sale of your current home.
To date, the first resident of The Village at Mill Pond will move in May 1. But with only a 90-day estimated build time and the ability to accommodate a wide range of time frames, it won't be long before the wide, elegant streets are buzzing with activity.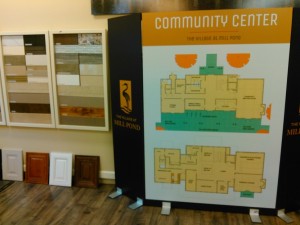 A partnership between locally-based brokers, developers, builders, and architects, The Village at Mill Pond showcases the best of Thurston County. With a name extrapolated from our region's long-standing logging history, the neighborhood highlights the Northwest's love of hiking, fishing, and outdoor activities. The Chehalis-Western Trail borders the community and no home is more than one block from a park.
There will also be stocked ponds to fish, centralized garden plots, shopping, and both city and school-bus access. With wide streets, generous sidewalks, and pet-friendly neighbors, residents of all ages can enjoy a small-town feel in the heart of the city.
The National Association of Realtors reports that "in 2014, 44% of all buyers used an open house as a source in their home search process." In 2015, that number had risen to 48%. They also consistently report that "driving through neighborhoods is one of the top buyer activities, and if the house is open, they will stop on in!"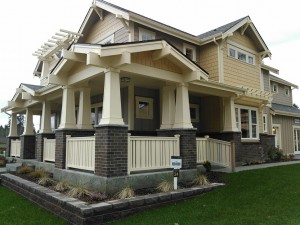 Before visiting the community on March 12 or 13, take an online tour of the Village's many available layouts, read about the state of the art Community Center, and explore exciting nearby activities. If you're ready to buy or sell in the near future, prepare questions for the knowledgeable and experienced RE/MAX Parkside brokers. But then, take the time to experience the project first-hand. As Zillow recommends, "Today, buyers can easily vet potential homes by looking at photos and floor plans online…But there's only so much you can glean from that. By visiting a home, you can see how the online floor plan actually looks in the 'real' world. You can see details you'd probably miss looking at photos."
Until then, you can find construction updates and current photos on The Village at Mill Pond Facebook page. There you can read 5-star reviews, see interior photographs, and find almost daily status reports. Feel free to email questions to millpondoly@gmail.com or call 360-972-8623.
In 2016, home sales "are expected to reach the highest levels since 2006." Outstanding developments like The Village at Mill Pond make that prediction one sure to come true.
Sponsored