By Ken Balsley for Lacey 50th Anniversary Historic Committee
Panorama's history as a retirement community officially started in 1963 when the first residents, the McGandys, moved in. But the story of the property and those who settled on it dates back to April 8, 1845 when 17-year-old orphan Elizabeth Harrison married 20-year-old David Chambers in Tennessee.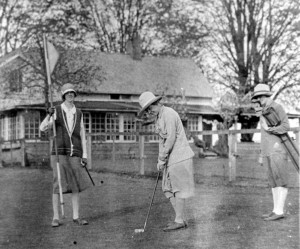 Elizabeth knew that she had married into a family that was about to leave life in Tennessee and move to the Pacific Coast. According to Elizabeth's own account in 1910, after the wedding the entire Chambers clan packed up with the intention of continuing West.
Joining up with others headed West, the Chambers family had five wagons, 70 head of cattle and 18 horses as they headed out on the Oregon Trail in 1846.
They settled first in the Willamette Valley, but by 1848 had journeyed across the Columbia River and joined family in an area already called Chambers Prairie. There they built a small cabin on a lake still known today as Chambers Lake.
They settled on 640 acres of land, built a house and produced crops and seven children. "This was the home for which we had endured the hardships of crossing the plains and the dangers of a frontier country," she later said of Chambers Prairie. When her husband died in 1896, she moved to California to be with her only daughter, her only regret being far from her other children, "all of whom are on this plane of life with me at this date 1910."
The Chambers farm passed to one of the children and in 1917, Walter Chambers and his wife, Mary, sold 130 acres of the property to the Olympia Golf and Country Club.
Among those buying the property to build a golf course was C.J. Lord, an Olympia banker and financier for many of the logging companies in southwest Washington. His home would later become the State Capital Museum.
The farm was converted into Mountain View Golf Course, a fairly common endeavor at the time. Lacey had become a destination resort area and people came from all over the country to enjoy the lakes and the recreational activities they offered. And now they also had an opportunity to play one of the nation's fastest growing sports – golf.
One of those who used the golf course was Art Eckhout who played in the 1922 U.S. Open in Los Angeles. This pro-golfer would later became its owner.
Art and his wife, Mary, purchased the golf course in 1953 and lived in the old Chambers house which also served as the clubhouse.
In 1961, the Arbutus Building Company purchased 130 acres of land, including the 53 acres that comprised the Mountain View Golf Course. Primary partner of the company was Morris J. Loveless, known as "Moe." Lacey's first dentist, Dana Kintner, was a silent partner.
Moe was interested in building a retirement home on a portion of the property and had been surveying different types. "I must have looked at 50 [nursing homes] between Seattle and Portland," he said in a 2007 interview on Panorama TV.
One day Margaret Whyte came into his office and began talking with him about a new concept in retirement living. Whyte had been the Secretary of the Washington State Council on Aging, and had heard that Moe was looking at doing something different in retirement living.
She had just come back from a meeting in Washington, D. C. where she had seen the newest style of retirement home. She convinced Moe to adopt the new style of housing, built with seniors in mind, and he adopted the idea.
"I didn't have a lot of money so I put together a finance-yourself plan," Moe said. If a house cost $18,000, I'd charge a deposit of $20,000 and use the money to finance future construction, he said. "I was selling life care. I wasn't selling sunshine. I am pleased that residents enjoy this life so much."
The first three homes were built in 1963. By 1964 there were 70 units and by 1965 there were 220.
The company experienced financial problems and a consortium of 11 financial institutions took control in 1971. In 1977, two Portland brothers, Jack and Chuck Lewis took control of Panorama in a 12-hour stockholder's fight. The next year, Chuck Lewis died in a plane crash and Jack Lewis took full control. Using his personal fortune, he paid off the debt and began investing in new facilities.
By 1983, Panorama was billed as a "city within a city" offering its residents all of the services, activities and medical care they might need. For a security deposit and a monthly service charge, residents are guaranteed a place to lease for life.
In 1987, Panorama Corporation became non-profit and came under the ownership of the residents.
J.T. Quigg became president of Panorama in 1987. Quigg was from a Grays Harbor family of building contractors. He had served in the Washington State Legislature and was well-liked and popular.
Joseph DiSanto was hired in 1996 and serves as president to this day. DiSanto has an extensive background in property management and hotel management. Under his leadership, Panorama has grown to 1,200 residents and more than 800 housing units.
Sources:
Panorama History, The First Fifty Years, compiled by Berta Kasmar, 2011
Lacey Museum Research Files: Panorama, Mountain View Golf Course, Chambers Family