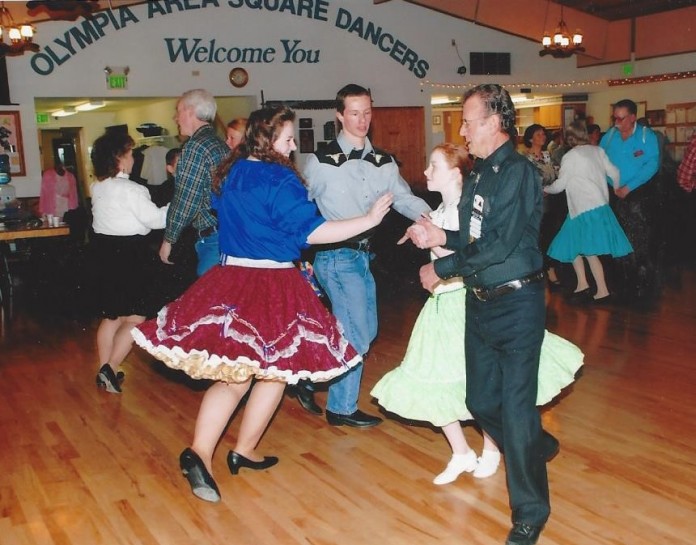 Submitted by The Olympia Area Square Dancers
The Olympia Area Square Dancers are offering a Free Introduction to Square Dancing class at 6:30 p.m.on Thursday January 14 at Lac-A-Do Hall, 1721 46th AVE NE, Olympia. Square dancing offers many health benefits as well as lots of fun.
You walk and dance 3 or 4 miles in a typical square dance session. This kind of exercise is like a magic pill. Nothing enhances your health more than physical activity. Scientists have found that staying physically active:
Helps prevent or delay many diseases and disabilities.

Square dancing is not only fun, but a great form of exercise.

Is an effective treatment for many chronic conditions.
Helps manage stress and improve your mood.
Helps your brain function.
Improves your sleep, helping you fall asleep more quickly and sleep more deeply.
Builds endurance, strength, balance, and flexibility.
The social side of square dancing – having fun with friendly, supportive people – is also a huge benefit. This kind of social support:
Leads to a happier outlook on life,
Helps you avoid illness, sleep better, live longer and recover better from medical problems.
Reduces stress. Laughter alone acts as a stress reducer. So, add that laughter to an enjoyable, friendly environment, and you've got a powerful stress reducer.
Olympia Area Square Dancers welcome couples, singles and families ages 10-110. Almost everyone can learn to square dance. We all learn at a different pace, but that's part of the fun. The only people who may find that lessons are too fast-paced are those with moderate to severe developmental disabilities or who cannot walk for 10-15 minutes at a time.
We look forward to seeing you soon at Lac-A-Do Hall! Visit our website for more information.
Listen to caller Glenn Raiha speaking about Square Dancing Sunday on Dick Pust's MIXX96 It's Your Community Radio Program.
Call Nancy at 360-438-1284 for more information.