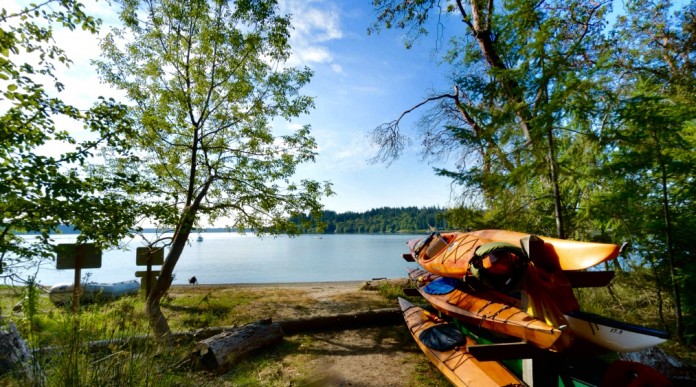 By Douglas Scott
Deep down in the southern reaches of the Puget Sound, a small state park is waiting for your adventure. Located between Budd Inlet and Oyster Bay, Hope Island sits alone, removed from the mainland by about a half a mile.
Unlike most state parks around America, Hope Island isn't accessible by car. Instead, the only way into this park is by private boat, with the majority of visitors paddling kayaks from one of two nearby launch points. While that may be a deterrent for many, those who do get out to Hope Island State Park are rewarded with stunning views, amazing wildlife and isolation that only an island can bring.
The allure of staying on an island for a night or two isn't something everyone experiences. Yet, for some, the pull of solitude is too much and exploration of this distinct setting beckons. Those who answer the call are faced with finding transportation to the island and then paddling up to a mile and a half across the southern end of the Puget Sound to reach the island.
To get to Hope Island State Park, your two best options are launching from either Boston Harbor, north of Olympia, or from Arcadia Point boat launch, located east of Shelton. Boston Harbor tends to be more popular, as the marina offers kayak rentals and is 1.5 miles from the island. However, for those already with a boat and seeking a short paddle, Arcadia is just seven tenths of a mile from the park.
Once on the island, there are eight campsites to choose from, all located on the southern end of the island. However, you don't have to camp overnight to explore the 106 acre island. There is a 1.5 mile long beach, a historic homestead, and two miles of hiking trails through pristine forests. With deer commonly seen, eagles overhead and seals off-shore and sometimes on the beach, exploring Hope Island State Park is a quintessential Pacific Northwest activity.
What makes Hope Island unique is it has only been open to the public for 25 years. Before that, it was a homestead and vacation destination for the Schmidt family of Olympia Brewery fame. The Schmidt's homesteaded the island over 100 year ago, constructing a farmhouse, a well and windmill, and even established and maintained a five acre vineyard on the southeastern end of the island. Today, the house, windmill, numerous artifacts and the vineyard can be explored at the tallest point of the island, with trails through forests and to the beaches spread out in every direction below.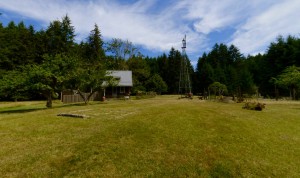 Rarely in life are you able to completely disconnect from the rest of civilization in the way Hope Island State Parks offers. There is no television or internet, no cars or stores – just miles of wilderness and history to explore.
While the trip to Hope Island can enjoyed over and over, many will not get a chance to see the park. That is why, with the help of Jonathan Nelson of Kenmore Cameras, the Washington State Park's Foundation (WSPF) has created virtual tours for everyone to enjoy. The virtual tours bring people to parks through their screen of choice, something WSPF is eager to expand.
"Screens can bring people to parks. We are currently working on getting Lime Kiln State Park the ability to live stream orca migrations," explained John Floberg, the executive director of the Washington State Park's Foundation. "If you could see more about life in parks, you can emotionally connect with a region. The virtual parks are a step in the right direction, allowing classrooms around the state and country to connect kids with nature."
The virtual tour of Hope Island State Park helps the State Parks communicate to potential visitors the terrain, views and layout of the park, all in an attractive and modern format. In the past, you could read about a park and see a few photos. Thanks to the virtual tour, you can now explore Hope Island State Park in every direction. Online you can look up to the tops of trees, out across the Puget Sound, and even around the old homestead. The virtual tour helps show off one of the many amazing locations in our State Park service, and will help to inspire you to explore in person.
"The parks are our jewels, located in some of the most important and beautiful areas in the state," beamed John Floberg. "They represent some of the most historical and cultural sites in the state, including 700 archaeological and historical building sites. State Parks help get people started in nature, getting their feet wet, literally. With ranger programs and facilities that don't exist in our national parks or forests, our state parks are great stepping stones to the wilderness."
Hope Island is one of the amazing jewels of our state, and is a great starting point for amazing adventures. While few take to time or effort to paddle out to this isolated island, those who do are rewarded with solitude, adventure and the knowledge that they are one of the few each year to camp or day hike on an uninhabited island in the Puget Sound.
With beaches and old growth forests, Hope Island is sure to get you excited for a life of wilderness exploration. The best news is that it is waiting for you and your fellow explorers year round.
For more information about Hope Island State Park, please visit the WSPF website or the Washington State Park's website.
Thrifty Thurston highlights inexpensive family fun in Thurston County. The weekly series focuses on family-friendly activities throughout our community. If you have a suggestion for a post, send us a note at submit@thurstontalk.com. For more events and to learn what's happening in Olympia and the surrounding area, visit our complete event calendar.