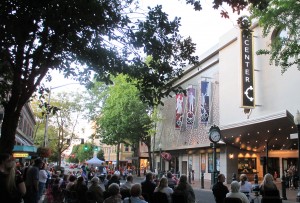 If you haven't been to downtown Olympia for a while, this Friday, September 11 may be your moment. Local businesses are joining The Washington Center for the Performing Arts and the Olympia Downtown Association to host the 2nd annual Washington Street Block Party. "This is a chance for people who don't normally visit downtown to come and explore," says Anne Larsen Matheson, Marketing Director for the Washington Center.
Washington Street between 5th Avenue and Legion will be closed to through traffic from 5:00 p.m. to 8:00 p.m. while stores and restaurants extend their hours during this "Rock around the Block"-themed party.
The event will include live music and a variety of prizes donated by local businesses, including 200 parking tokens donated by the PBIA (Parking and Business Improvement Area Board), and toy store Captain Little will have games available for visitors to play on the street. Thurston First Bank and Compass Rose are also sponsoring the block party.
"We really want to show that this little part of downtown can be a destination," says Matheson. "It has coffee shops and great places to eat like the new Lanai Cafe, which serves Hawaiian food. The main request we got after last year's event was more places to eat. This year, Darby's and 5th Avenue Sandwiches will be staying open for the evening."
Inspiration for the event came from the hugely popular Fall and Spring Arts Walk, which brings thousands of people downtown every year. "That's the best event Olympia does," says Matheson. "It's family friendly and people go into shops that perhaps they haven't visited before. We want to recreate that on a smaller scale."
After kicking off the event last year, the organizing committee is looking to build on that initial experience. "It went really well, and everybody was excited to do it again," says Matheson.
The idea is to support the business community in a celebratory way. "It's a chance for people to come into a shop that they haven't been into before or window shop and want to come back downtown," she says. "We want people to realize that there's a lot of unique, locally owned businesses downtown that offer great products and fantastic customer service. This is a pretty vibrant section of town."
2nd Annual Washington Street Block Party
Friday, September 11
5:00 p.m. to 8:00 p.m.
Join the community for an evening of live music, food, family friendly games, and more. For more information, follow the event on its Facebook page or visit The Washington Center for the Performing Arts online.