Summer may be winding down, but the real estate market in Thurston County is robust. According to recent data, the median price of homes is up 7.5 percent from last year and total sales are up 20 percent. This means there are a lot of people in the market and many of them have discovered a new way to buy or sell their home. They've found the technology-powered real estate brokerage called Redfin.
Sheila Bueche first discovered Redfin in 2008. She was an Olympia-based real estate agent during the start of the recession. In order to weather the economic downturn, she followed real estate opportunities to Arizona. It was there that she first discovered Redfin.
"I worked with Redfin agents for the first time and was really impressed," Bueche said. "I started using Redfin.com with my clients and continued to do so when I moved back to Olympia while working for a local broker. At that time Redfin did not have a local office."
Based in downtown Seattle, Redfin operates in 36 states and the District of Columbia. The brokerage works with buyers and sellers in King, Pierce and Snohomish counties, as well as Bainbridge Island. Expanding to Thurston County was a natural progression.
"When I found out there was an opportunity to join Redfin as an Olympia/Thurston County agent, I didn't think twice about it," Bueche said.
The Redfin Difference: Technology, Customer Service and Savings
When Bueche talks about what impressed her enough about Redfin to join its new Olympia office, she says there are three main features that caught her attention.
First, she says that Redfin is reinventing real estate with its incredible technology. "Redfin is now the most popular brokerage website in the U.S. We have powerful tools, like 'Book It Now,' which allows clients to instantly schedule home tours online," she explained "We have a team approach and this tool helps us maintain organization."
The other Redfin tool Bueche believes is changing the business is 'Hot Homes,' a feature that highlights newly listed homes that are likely to sell quickly. To create Redfin 'Hot Homes,' Redfin data scientists developed a mathematical formula, or algorithm, that analyzes hundreds of attributes about the homes themselves, such as square footage and the number of bedrooms and bathrooms. The algorithm also layers in buyers' preferences for those attributes. "Tools such as 'Book It Now' and 'Hot Homes' are especially useful in our competitive market, and this technology gives buyers an edge over the competition," Bueche said.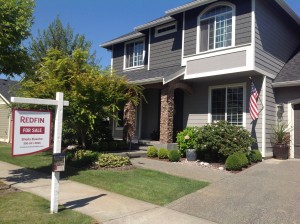 Saving Money at Closing
Redfin has a fee structure that is different from traditional brokers. When you sell your home with a Redfin agent, you pay only a 1.5 percent listing fee, rather than the usual 2 to 3 percent. When you buy with a Redfin agent, you are refunded a portion of the buyer's agent commission, saving you thousands at closing. Redfin agents receive a salary and high-end health benefits, as well as bonuses based on customer satisfaction. Every client is surveyed, whether a deal closes or not, and every review is published on Redfin.com.
"Some clients prefer to work with one agent," Bueche explained, "and others have a few that they work with. We are very flexible and our clients just love that. The team-based approach means that someone is always available and that our clients feel catered to."
High Level of Services
Bueche says whether a customer is already familiar with Redfin or simply stumbles upon the company's website for the first time, homebuyers and sellers choose to work with Redfin agents because they love the high level of customer service they receive and the money that they save.
"Once someone goes on a tour, we begin relationship building," Bueche said. "And, yes, the market is hot and homes are selling within two weeks, but we are very patient when it comes to someone's search for a home. We understand that the process can take months, but finding the right home is worth it. This is what I mean by relationship building. It is very important to me, and it is very important to Redfin."
Buying or selling your home is a big decision, which is why knowing that you're in experienced, caring hands through the process is important. If you are in the market to sell or buy a new home, Redfin invites you to explore its website (no registration required), connect with a real estate agent, and schedule a tour of what could be your next home.
For more information about Redfin, its agents and Olympia-area homes for sale, visit Redfin online or call 888-973-3346.