By Mary Ellen Psaltis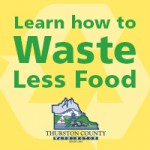 Eat a lot – like a bear! When was the last time anyone gave you that health advice? Probably never. But when it comes to summer vegetables, it's true. Pile your plate and eat until you are sated. Allow the glossy produce at the Olympia Farmers Market to lure you closer. Enjoy one-stop shopping at the Rising River Farm stall, where owner Jennifer Belknap is likely busy displaying her just-picked vegetables.
The purple cabbage and fat shell peas inspired me, filling my head with dinner ideas. Belknap and her husband, Jim McGinn, own, operate and farm a property south of Olympia in Rochester. They have been organic stewards of the property for years, dedicated to creating nutrient rich soil that creates healthy vegetables and herbs.
I liked showing up to the market early on Thursdays when the crowds are thinner. Another early shopper was Lisa Owen, owner of The Mark. She was picking up a box of greens and making arrangements for more. Her vegetable suggestion? "Lightly, lightly sauté your selections, add a splash of extra virgin olive oil and top with fresh basil. Keep the greens bright (that means briefly over the heat)" The Mark is an organic, rustic Italian restaurant and event space in downtown Olympia, known for its quality of food and extensive cocktail creations.
That same morning Loretta Seppanen was filling her basket with snow and snap peas, kohlrabi, and carrots. All great potluck food, she noted, as all are "easy to eat." Seppanen serves on the Board of Slow Food Greater Olympia, an international organization that encourages the pleasures of the table with a commitment to preserve the environment, the community and the culture. The local convivia (group of members) hosts numerous events (all involving food) and on certain Sundays during the summer have demos set up at the Olympia Farmers Market. Seppanen suggested taking the purple kohlrabi and cutting it into thin strips, so that there are white pieces with purple tips. It looks inviting and has a bright, refreshing taste.
Belknap mentioned the new potatoes were "super sweet," which instantly brought back memories of steamed potatoes under of a sprinkling of fresh parsley all resting in a pool of melted butter. We all sighed in unison. Yum.
If you are a planner, check out the recipes on the Rising River Farm website and buy accordingly. Last time I looked there were many salads, which are perfect for any meal and required limited, if any, cooking. The couscous salad with fresh parsley, mint and cucumber can be put together with a bit of chopping and 5 minutes of stovetop cooking. The website recipes are vast: soups, main dishes, sides, and even desserts, plus a helpful and comprehensive guide to herb and vegetable pairing. If you forget to check out the recipes before you shop, don't worry. There's a recipe for about anything you end up bringing home!
When vegetable buying, there are no mistakes and no rules – except to spend a minimum time cooking, if any at all. My dinner last night featured green beans, broccoli, carrots and cabbage with sautéed tofu on top. The liquid came from tomatoes and a little spaghetti sauce. The big hunk of cabbage that came in my farm share turned into carrot-confetti slaw that will top our green salad and also be rolled up into fish tacos for another meal.
Canning season has come early this year, Belknap told me as she pointed to bags of cucumbers. She confirms the flavors are really good now.
Remember to keep your meals simple. Our Pacific Northwest summer produce is best eaten naked or nearly so. Extra calories won't come from excessive vegetables – but perhaps from the sauces or dips that accompany them. Just for fun add a shake of cheese or a pat of butter and a few grains of salt. Eat lots of berries for dessert. The bears had it right. Summer bliss – eat up!
Eat Well – Be Well