By Douglas Scott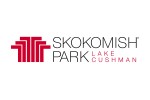 Nestled in the foothills of the southeastern Olympic Mountain Range, set perfectly between the snowcapped peaks and the Hood Canal, Lake Cushman is waiting for your camping adventures. From the shores of Hood Canal at Potlatch State Park, to the wilderness of Olympic National Park, and everything in between, the perfect weekend getaway is ready to be explored. With 100 miles of trails waiting to be hiked, 23 miles of shoreline eagerly awaiting swimmers and boaters and views that will leave you speechless, Lake Cushman needs to be your next camping destination.
What makes Lake Cushman an amazing place is the wide variety of activities one can have while staying at one of the hundreds of campsites around the lake, in the wild and along Hood Canal. Hood Canal is an amazing place to pull up crab pots, scuba dive, get oysters, fish, catch shrimp, and kayak, all mere miles from a handful of campgrounds. For freshwater lovers, the lake itself is quite popular for boaters, kayakers and swimmers, with the latter typically congregating on a huge rock near the entrance to Olympic National Park. With stunning views, great restaurants, countless activities and a lifetime of memories to make, Lake Cushman needs to be your next camping destination.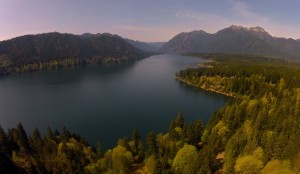 Skokomish Park
Cost: Sites start at $23 for walk-in sites, $28 for campsites, and $34 for RV sites
Number of Sites: 94 sites
More Information: http://skokomishpark.com
Named 2015's Second Best Campground in Washington State according to KING5 Evening Magazine, Skokomish Park gives campers access to 41,500 feet of stunning shoreline along Lake Cushman. With plenty of picnic areas, boat launches, and incredible views, as well as access to 9 miles of trails on the property, Skokomish Park is considered by many to be the best place to stay in the region. To top off the great fun available, Skokomish Park is also mere miles from some of the most iconic trails on the Olympic Peninsula. If that isn't enough, the campground at Skokomish Park has mountain biking, fishing, and kayaking adventures at the beach, and is close to the historic town of Hoodsport and the great food and fun at Lucky Dog Casino.
Potlatch State Park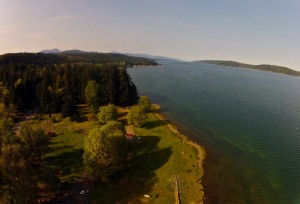 Cost: Primitive sites start at $12, while standard campsites range from $25-$35. RV sites cost $30-$45, depending if you want full hook-ups or not.
Number of Sites: 73 Sites
More Information: http://www.parks.wa.gov/569/Potlatch
Offering 9,570 feet of shoreline along the always-scenic Hood Canal, camping at Potlatch State Park was a winter tradition by the Skokomish Tribe, and now the backdrop for thousands of summer time visitors to the region each year. The campground at Potlatch State Park is on the opposite side of Highway 101 from Hood Canal, but that shouldn't stop you from staying here. Potlatch is close to the cities of Shelton and Hoodsport and a short drive from the stores and casino on the Skokomish Reservation. With boating, clamming, crabbing, diving, fishing and oysters all possible activities, this campground is sure to be a family favorite for years to come. Wildlife is commonly seen in the area, with eagles, blue herons and hawks the most frequently seen.
Lake Cushman Resort
Cost: Sites start at $20 for tents and $30 for RVs
Number of Sites: 69 Sites
More Information: http://www.lakecushman.com/index.html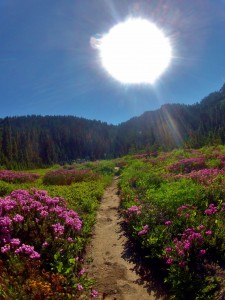 If you love campground communities with general stores that sell groceries, souvenirs, fishing supplies, hiking gear, swimming, food, firewood and even DVD rentals, Lake Cushman Resort will have you coming back to Lake Cushman for years to come. Best known for its boat rentals and swimming areas, Lake Cushman Resort is also a short drive from the communities along Hood Canal, and close to mountain goat-filled mountains, amazing panoramic views and stunning wilderness along rivers full of salmon. The campground also has cabins for those interested in glamping, though they do fill up quickly. When staying at Lake Cushman Resort, enjoy the colors of the sunsets and sunrises over the great view of Mount Ellinor and Mount Washington.
Staircase Campground
Cost: Sites for tents and RVs range between $15-$22
Number of Sites: 49 Sites
More Information: http://www.nps.gov/olym/planyourvisit/camping.htm#CP_JUMP_755458
Staircase is a no frills campground, located along the North Fork of the Skokomish River in Olympic National Park. While it may lack amenities like showers and hot water, it makes up for in beauty, nature and access to some of the greatest wilderness in America. Staircase campground is the only car accessible campground on the eastern side of Olympic National Park and is also one of the more beautiful locations to pitch a tent. Located a few miles from the Hood Canal, Staircase Campground is perfect for those in the South Puget Sound Region to get to quickly. If you are new to camping, Staircase offers family-friendly trails, cool places to explore and access to some of the more remote and under-rated hiking destinations in the state.
Backcountry Camping in Olympic National Park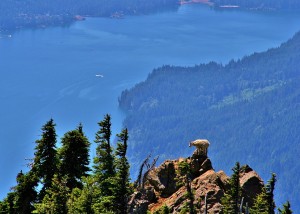 Cost: $5
Number of Sites: 50+
More Information: http://www.nps.gov/olym/planyourvisit/wilderness-permits.htm
For those who are looking for something a bit more removed than a traditional campground, the backcountry camping in Olympic National Park is some of the best in the world. The most popular sites are located along the Skokomish River Trail, which leads to a myriad of backcountry destinations. Flapjack Lakes is an incredibly popular spot, with views of the Sawtooth Range of the Olympics, and a scenic lake to fish, swim and enjoy. Further up the river, the Home Sweet Home Camp gets you out of the forest, and into the sub-alpine valleys above the Skokomish and Duckabush Rivers. While those two are for more-seasoned backpackers, there are also plenty of sites along the river and next to high alpine lakes that are great trips for backpackers of all levels.
All photos courtesy Douglas Scott.